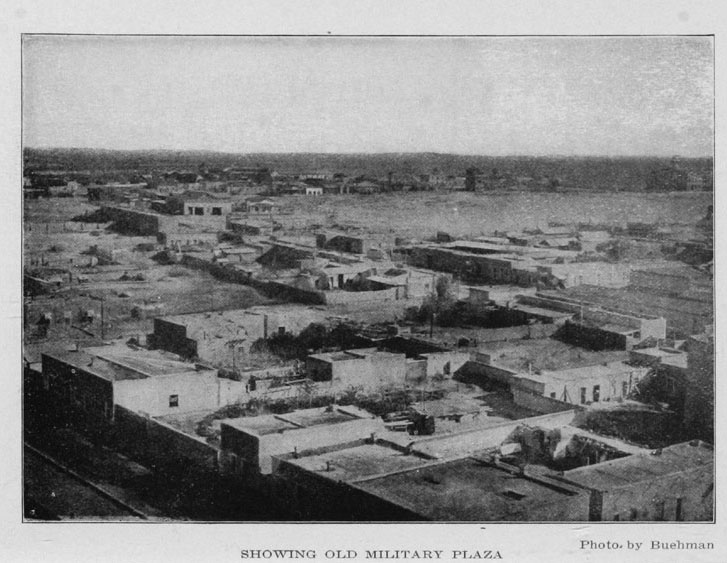 Photo: The old military plaza in Tucson in the eary 1900's.
Tucson's modern history, as we know it, began hundreds of years ago, although humans have been continuously living in the Tucson-area for possibly 15,000 years.
Hohokam, O'odham, Sobaipuri tribes lived throughout the Tucson basin for centuries. They roamed from the Santa Cruz River to the Canada del Oro to the Rillito Rivers depending on the seasons and available water. Even though they fought with neighboring tribes, when the Spanish first trekked through in the 1550s, they had no idea of the changes that would come from these outsiders visits and eventual conquest.
Tucson in the 1600s remained relatively serene until the end of the century when a new wave of Spanish infiltration began with the journeys of Father Eusebio Kino. The Tucson of the 1700s was shaped by the effort of the Jesuits and the Spanish miitary to exploit mineral and human resources as they settled the Tucson valley. The Royal Spanish Presidio of San Augustin del Tucson was established on August 20, 1775.
Each year, Los Decendientes del Presidio de Tucson, Los Cascarones, and other local organizations host events to celebrate Tucson's official birthdate in 1775. The annual Tucson birthday celebration is held the 3rd week of every August. This special event recognizes the five different flags that have flown over the city of Tucson since its founding in 1775.
San Xavier mission plays a large role in the establishment of Tucson's long history. Other evidence proves humans have inhabited the Tucson area for tens of thousands of years.
Tucson's other early mission- Mission Santa Catalina de Cuitakbagu. Somewhere near the the Cañada del Oro, north of Tucson, Arizona, there may have beem another early Jesuit mission called the "Mission of Santa Catalina (Catarina)." There is a legend of a lost mission in the Santa Catalina mountains that was destroyed by Apache Indians.
Read more about the Tucson's history timeline year by year as Tucson grew from a tiny Indian pueblo.
Treasures of the Santa Catalina Mountains is one of the most comprehensive books written on the legends and history of the Catalina mountains, north of Tucson. Learn about the Iron Door mIne, Buffalo Bill Cody's mining interest in the Catalinas and how the lure of gold brought prospectors to the Cañada del Oro– the Canyon of Gold. The story of the the lost mine, the lost city and the lost mission. Read sample chapters online and download a free PDF sample of the book.