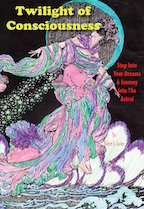 Twilight of Consciousness
How to Control Your Deams with Astral Projection
"Twilight of Consciousness" by publisher and author Robert E. Zucker, examines the dream state and how to achieve astral projection using simple, easy to follow, techniques.
In our dreams, we become completely engrossed in acting out a kaleidoscope of situations and fail to realize we are in a different place than in the working world.
A dozen elephants could be roller backwards down a freeway and this scene may not even phase the unaware dreamer. The dream would be less likely remembered after waking. The Astral Plane becomes lost in a dream.
We visit the Astral Plane every night while asleep and remember our experiences as dreams after we awake.
Most of us, unfortunately, are swept across the Astral Plane unaware of anything between falling asleep and waking up. The Astral becomes a nighttime fantasy clouded over by the veils of sleep and quickly slips away from consciousness.
As soon as the morning alarm jolts us into wakefulness the rushing of thoughts and concerns for the coming day turn an evening of bizarre adventures into a confused, often fragmented, series of hazy memories.
Waking, resting, sleeping and dreaming are different phases of consciousness.
Conscious dreaming, or lucid dreaming, is still another "world" that we can become aware while having a dream
A vivid, or lucid awakening (astral projection), will enable you to taste and apple you pluck from a tree or you might reach out and touch a wall and feel the plaster or brick against your fingers. Maybe you can even see your fingers move through the wall.
Read sample pages from Twilight of Consciousness and learn how to control your dreams and project into the astral world using Kabbalah techniques.