San Marcos is known for having some of the best restaurants in North County.
Old California Restaurant Row features a large concentration of restaurants offering a variety of cuisines. All of the following are available: steaks, fish, burgers, health food, and a variety of ethnic cuisine (reflects the local diversity of Asian, European, Latin American, Middle Eastern and Pacific Islander groups). San Marcos also features a variety of English pubs in proximity to "Restaurant Row" which is the home of Market Street Cafe & Bistro.
Other popular restaurants include The Old Spaghetti Factory, Applebee's, the newly-opened Elephant Bar & Grill, Pat and Oscar's, Market Street Cafe, and Sammy's Woodfired Pizza. Additionally, there's a landmark Asian restaurant called Pei Wei (operated by P.F. Chang's) with delicious yet affordable Asian food. (Source: Wikipedia: San Marcos, California)
San Marcos Discount Restaurants Coupons and GiftCrads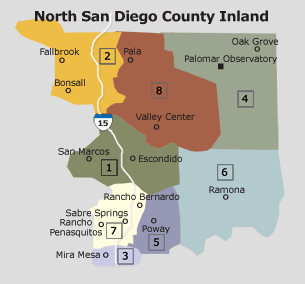 Some restaurants in North inland San Diego County, California participate in the Restaurant.com discount dining coupon program. The restaurants want you to try out their menus. So they will discount their dining bill to get you to visit.
Purchase online $25 dining gift certificates for $10. Some restaurants offer $10 gift certificate coupons for only $3.
Print out your coupons from your computer and use them tonight. Stock up on coupons. Look for expiration dates and restaurant participation on offers.
Check to see what restaurants provides and their restrictions. Find participating restaurants tha accept Restaurant.com Gift Certificates: Save up to 60% off your next meal!