Shawn King, wife of Talkmeister Larry King struts her stuff
Shawn Kings opens in Las Vegas for the broadcast extraordinaire
BY: LYNN MARIE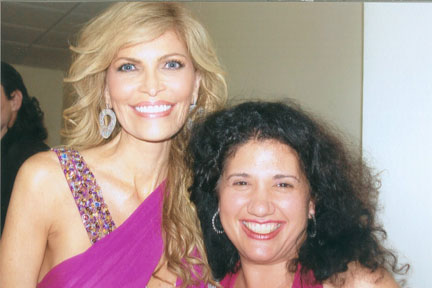 (Photo left: Lynn Marie with Shawn King. Photo credit Shirley Campagna. 2009.)
The Encore Theater in Las Vegas was the place to be Friday evening (6/19/09). Shawn King, wife of Talkmeister, Larry King performed as the opening act.
She's very charming and her performance with her eight piece band was divine. From Motown to standards she entertained the audience with her crisp, country voice.
She even sang along with the video of the delightful duet she did with Willie Nelson, "I Give." She has an apparent love for her craft and stunning presence.

Following her performance King took the stage to what turned out to be an extraordinary evening for all in attendance. After an astonishing 50 years in broadcasting and more than 40,000 interviews, Larry King has much to chat about. The performance benefited his charity, the Larry King Cardiac Foundation, which provides funds for cardiac procedures for individuals who would be otherwise unable to receive necessary care.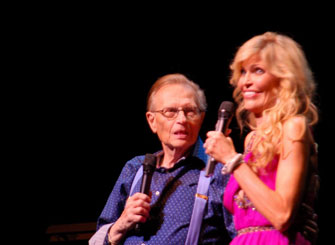 (Photo right: Larry King, left, and Shawn King. Photo credit Shirley Campagna. 2009.)
It was a night of fun, laugher and entertainment. He recounted tales and anecdotes from some of his more infamous guests and legendary experiences, which have created his longevity. King is an enchanting and charismatic individual. He really pulled you into his life with his story-telling. Larry King is not only a television host but also puts on quite a comedy act.
He talked about being kissed on the lips by Marlon Brando and said his most memorable interview was with Martin Luther King, Jr. Others that he was fond of were with Sinatra and Nelson Mandela. He introduced his invited guest Warren Buffett to stand and then thanked Steve Wynn for bringing him to the Encore Theater. (Mr. Wynn dared King to bring his act to Encore) When he finished his set, King opened up the floor to a Q & A session.
The Kings have been married for 11 years and have two sons, Chance and Cannon. Larry King is truly the "King" of talk television.

Photo left: Larry King.

Photo right: Lynn Marie posing in front of a Larry King promotion sign.

Photo credit Shirley Campagna. 2009.)
© 2009 EMOL.org. Celebrity Entertainment Magazine. All rights reserved.
TV Collectibles:
Shop ABC-TV Official merchandise for Boston Legal, Dancing with the Stars, Desperate Housewives, and more!
Shop NBC: NBC Universal Store Favorite TV merchandise. Dwight Schrute Bobblehead!
NBC Universal Store DVDs, Soundtracks, Clothing, Accessories and Collectibles from your favorite NBC Universal Shows, Movies and Sporting Events.
Sports Collectibles:
Fathead, Sports collectibles, super size graphics.
Movie Collectibles:
Fantastic Four, Spiderman, Elektra, Captain America, The Hulk and more! CLICK HERE
New Line Cinema Exclusive merchandise - Lord of the Rings, Austin Powers, Blade and more.
Warner Bros. Shop
Shop for toys, clothing, posters and more from Warner Bros. favorites like Harry Potter and The Wizard of Oz.
Free Promotional Offers: