Entertainment Magazine: Celebrities
Deana Martin: A star in her own right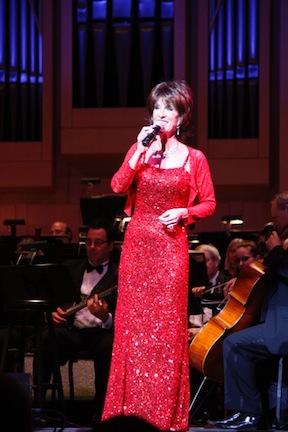 By: LynnMarie
In concert, Deana Martin frequently honors her iconic dad, Dean Martin while setting the standard for excellence and showmanship.
She sings and swings effortlessly from Jazz and Blues to Classic Pop. "I'm Dean with an A," the daughter of Dean Martin says. "I am proud to be his daughter. He had such a positive influence on people, and I want to pay tribute to him."
As the industrious, faithful keeper of the flame of her singer/actor/comedian father Dean Martin's rich, colorful showbiz legacy, the singer/actress Deana Martin tours tirelessly throughout the country presenting entertaining, funny and heart-felt musical tributes to her famously laid-back Dad known as "The King of Cool."
Martin has a huge repertoire of music to choose from when she is in concert. She can pay homage to her father and draw from the Great American Songbook to find a combination of songs to perform for her audience. Her repertoire allows her to perform in a variety of venues.
Ironically Martin has never performed her Big Band Swing Show in Las Vegas. Normally she is there with her quartet of fabulous musicians. "This time we decided to go really big and wanted to dosomething very different, said Deana. "I have, of course, performed for years songs from the Great American Songbook and all the songs of my dad and Uncle Frank and Uncle Sammy," explains Martin. "The room at the South Point reminds me of the old Copa room at the Sands Hotel."
Martin well remembers the mood of the Copa Room in the days her father headlined at the Sands, which was demolished in 1996 to make way for the Venetian.
"When I would go to Las Vegas as a little girl and watch him, it was astonishing, I'd be there in the audience at the Sands Hotel, sitting ringside, and the stage would be dark. You'd hear the drum roll and the announcer dramatically intoning, 'Ladies and gentlemen, the Sands Hotel is proud to present the star of our show directly from the bar…DeanMartin!'
"The South Point showroom has that vibe for me. All my albums have been made with amazing arrangements, with 42 piece orchestras and I have done many shows with the Big Band but I haven't brought it to Las Vegas and it's just the perfect fit and so much fun being able to different songs."
Of course Deana's show will include hits like "Mr. Sandman," and "The Summer Wind". "I can't get on stage without singing "Memories Are Made of This," "Everybody Loves Somebody," and "That's Amore" and of course those are the songs that everyone wants to hear, Martin says and I'm so thrilled to do that."
Deana's Godfather Jimmy McHugh wrote hundreds and hundreds of songs including "I Won't Dance," and "I Can't Give You Anything but Love Baby." Martin says she found a song he wrote entitled "Diga Diga Doo" "It's a really jazzy and different piece and this I thought to myself would be a great opening number with the lights and the vibe of the showroom and being in Las Vegas."
As an internationally acclaimed entertainer, hit recording artist and an in-demand performer, playing to sold-out audiences worldwide, Deana Martin has become an instantly recognizable voice and figure in the pantheon of The Great American Songbook.
Deana's 2006 debut CD release, "Memories Are Made Of This," stayed in the top ten for 40 consecutive weeks. In 2009 another hit CD, Volare, was released; it debuted on the Billboard charts at #7 and the Jazz chart at #22. White Christmas was another chart buster, released in 2011; it remained on the top ten throughout the Christmas season in 2011 and 2012. Deana's 2013 critically acclaimed CD Destination Moon, has reinforced her renewed status as hit recording artist.
Deana will also treat audiences at her upcoming Las Vegas performances with a duet entitled "True Love." "There is a wonderful video with photos and home movies, she says. "Sometimes I can't get through it. It's hard to hear my dad's voice especially seeing the pictures." The performance will be fun, swinging and tender and I think the audiences will be surprised."
What: Deana Martin Live in Concert
When: 7:30 p.m. May 29th-May 31st
Where: South Point Hotel Casino, Las Vegas, NV
Contact: South Point Show Tickets 702.797.8055
---
---
© 2015 EMOL.org. Celebrity Entertainment Magazine. All rights reserved.