Donald Trump Signs for Record Speaking Fee - $1,000,000 an Hour
Agrees to Speak for Learning Annex in Three Cities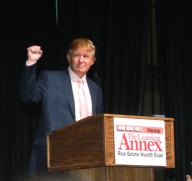 Just before getting married, Donald Trump closed a deal with Learning Annex.com for a record breaking $1 million dollars an hour ($16,000 a minute!) to speak for them at their 2005 Real Estate Wealth Expos in Los Angeles - May 1st, New York - October 23, and Chicago - November 6. (PRNewsFoto) NEW YORK, NY USA 01/21/2005
When Donald Trump does almost anything, he likes to do it in a very big way, and speaking fees are no exception.
He's reached an Agreement with the Learning Annex to present three classes in 2005 titled "How to Succeed in Real Estate." Trump's fee will be a cool one million dollars for each one hour class. That's over $16,000 a minute! He's scheduled to teach in three cities -- Los Angeles on May 1st, New York October 23rd and Chicago on November 6th.
Since it was founded in 1980, the Learning Annex has featured hundreds of celebrity teachers including Sarah Jessica Parker, Tony Robbins, Deepak Chopra, Barbara Bush and even Henry Kissinger. The previous highest fee paid was $28,000 -- paid to Ron Wood nearly 20 years ago when he was a member of the Rolling Stones.

In each city Trump will be the featured speaker at the Learning Annex Real Estate Wealth Expo which will include many other real estate experts as well.

According to Learning Annex President and Founder Bill Zanker, Trump's TV show The Apprentice has made him the world's biggest celebrity and there is now far more interest in his classes than anyone would have possibly imagined.
"The last time he taught for us over 20,000 students came -- and this year he's even bigger. I know that a million dollars an hour will get him into the Guinness Book of World Records -- but he's worth it!"

The Learning Annex Real Estate Wealth Expo is a two-day weekend event where consumers learn about the latest real estate opportunities, and how to create wealth for themselves. They are given the opportunity to do business with 100's of exhibitors on the show floor and learn from the best in the business.

When Donald Trump last spoke at the Learning Annex, he urged his students to "Think Big -- If you're going to think at all -- Think Big!"
Web site: http://www.learningannex.com/
NEW YORK, Jan. 21, 2005 /PRNewswire/ --
Enroll in the Donald Trump University! Click here:
2005-2008 EMOL.org. Celebrity Entertainment Magazine.
Donald Trump is one of the world's most famous businessmen, and the name Trump is synonymous with success. When it comes to ENTREPRENEURSHIP and REAL ESTATE, there is no stronger brand. Trump University is a dynamic business education company that delivers the knowledge and experience of Donald Trump and his hand picked team of experts in a world-class curriculum. One thing that most people have in common is a desire to become wealthy. Trump University shows you how to become financially independent.
The Donald Trump Talking Doll
NBC's hit show "The Apprentice" starring Donald Trump has fast become a pop culture phenomenon. The 12" Donald J. Trump speaking doll features 17 phrases that include advice from Mr. Trump as well as his trademark boardroom dismissals. Among the 17 sayings are, "I should fire myself just for having you around", "The one's easy for me...you're fired", "That was a tough one", "Think big and live large", and "I have no choice but to tell you, you're fired". WARNING: Choking Hazard - Small parts. Not for children under 5.