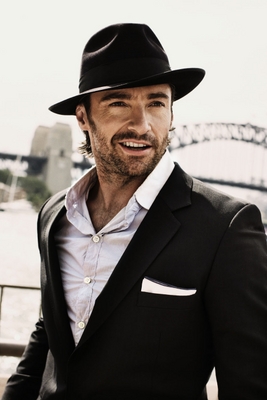 BEVERLY HILLS, CA –– Hugh Jackman will be the host for the 81st Academy Awards® telecast, producer Laurence Mark and executive producer Bill Condon announced. This is Jackman's first time center stage at the Oscar show, although he has previously been a presenter.
"Hugh Jackman is a consummate entertainer and an internationally renowned movie star," said Mark and Condon in a joint statement.
"He also has style, elegance and a sense of occasion. Hugh is the ideal choice to host a celebration of the year's movies – and to have fun doing it."
Jackman stars in the current release "Australia," directed by Baz Luhrmann. He will next be seen in "X-Men Origins: Wolverine," having nportrayed the title character in the previous three smash-hit "X-Men" movies.
His other film credits include "The Prestige," "Flushed Away," The Fountain," "Happy Feet," "Van Helsing," "Kate & Leopold" and
"Swordfish."
A native of Australia, Jackman won the 2004 Tony Award for Best Actor in a Musical for his performance in "The Boy from Oz." He has served as host of the Tony Awards ceremony and won a 2005 Emmy for that assignment.
Jackman's other stage credits include "Carousel," "Oklahoma!" "Sunset Boulevard" and "Beauty and the Beast.
Academy Awards for outstanding film achievements of 2008 will be presented on Sunday, February 22, 2009, at the Kodak Theatre at Hollywood & Highland Center, and televised live by the ABC Television Network. The Oscar presentation also will be televised live in more than 200 countries worldwide.
Mark and Condon to Guide 81st Oscar Telecast
Producer Laurence Mark is selected to produce and writer/ director Bill Condon to executive produce the 81st Annual Academy Awards® telecast, Academy of Motion Picture Arts and Sciences. It will be their first involvement in the production of an Oscar show.
"Larry and Bill are fresh thinkers who will bring a unique perspective to the Oscar show," Ganis said. "That fact, joined with their enormous collective talent and enthusiasm, will serve the 81st awards proceedings perfectly."
The filmmakers each already had distinguished careers when, in 2006, Mark produced and Condon wrote and directed "Dreamgirls" – their first time teaming. The film was nominated for eight Academy Awards and won two Oscars, including one for Jennifer Hudson for Actress in a Supporting Role.
"What a thrill to produce the Oscar show," Mark said. "I'm excited about this opportunity and look forward to the challenge of a live television show that celebrates the very best in film."
"The Oscars are the ultimate recognition of excellent work in movies, and I'm so pleased to be part of putting the show together," Condon said.
Mark is currently in post-production on "Julie and Julia," starring Meryl Streep and Amy Adams and written and directed by Nora Ephron for release next year. His other credits include "I, Robot," "The Lookout," "Finding Forrester" and "Jerry Maguire," for which he received a Best Picture Oscar nomination. He also served as executive producer on "As Good As It Gets" and "Working Girl."
Condon is writing a film about Richard Pryor for The Weinstein Company, which he will direct. He wrote the Oscar-nominated screenplay for "Chicago" and wrote and directed "Kinsey," as well as "Gods and Monsters," for which he won the Academy Award for Adapted Screenplay.