Film: "All About Us"
All About the Swansons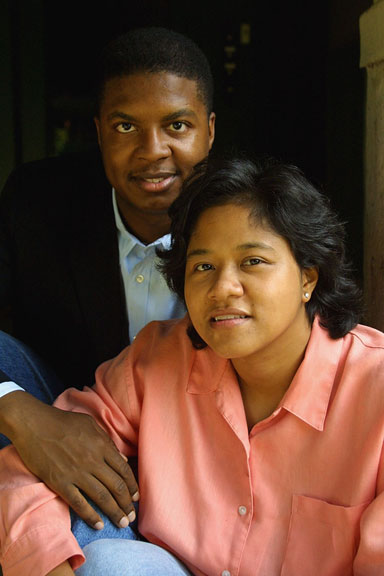 Photo left: Acclaimed husband and wife filmmakers Michael & Christine Swanson
Michael Swanson and Christine Swanson are a team – in more ways than one. They have been married since 1994, have three children, own Faith Filmworks, and have made two feature films, All About You (2001) and All About Us (2007). They are about to begin pre-production on their third feature, Preacher Man.

All About Us, based on their own journey as a couple and as filmmakers, played the film festival circuit this past year. That included the Heartland Film Festivall in Indianapolis, and I had the opportunity to talk with the Swansons about their filmmaking partnership.
When writer-director Christine Swanson originally entered the University of Notre Dame, she had majored in finance and Japanese. She had chosen Notre Dame because her paramour, producer Michael Swanson, was a year ahead of her and already attending the home of the Fighting Irish. They were both film enthusiasts. When she was growing up, Christine would spend entire afternoons at the movie theater.
Yet… the power of film remained somehow out of reach – until the day a certain director came to campus discussing his groundbreaking film, Do the Right Thing (1989). Spike Lee was finding ways to fight the Power. That included sharing the power, speaking at college campuses like Notre Dame and Indiana University.

Suddenly, the power to participate in representing culture – in creating culture – seemed tangible. Christine explained, "I had the realization that one can make movies for a living. We both had that epiphany. We both changed our majors to communications, Michael specifically in film production, and me in film theory."

Fresh out of the hallowed halls of Notre Dame, Christine and Michael tied the knot in 1994. But they did not stay in the Midwest. "We took a pit stop in Princeton, New Jersey," Michael said. "I attended Princeton Theological Seminary for one year, and then 1995 was when Christine started NYU Film School. I worked at NBC and sold commercial space for shows like ER, Seinfeld, and The Today Show."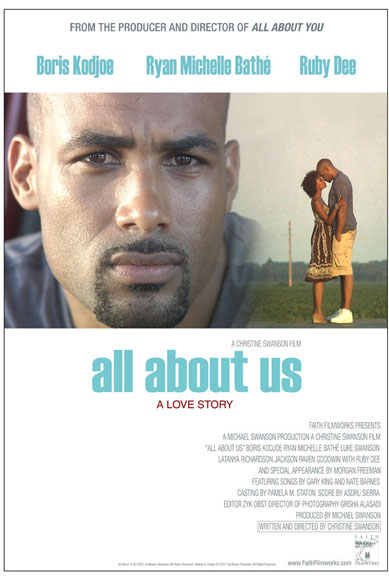 While at NYU, Christine had none other than Spike Lee as her directing teacher. And she had her husband as her producer. "While I was at NBC, I produced Christine's graduate films for her assignments," Michael explained. "I guess we really started to work together while she was at NYU."
The crowning achievement to Christine's graduate work was Two Seasons (1997), a romance. Michael was, of course, her producer: "We did a short film called Two Seasons, which did well on the film festival circuit and was nominated for a Student Academy Award. We were invited to the Sundance Film Festival, and CNN did a piece on us.

"We realized this short film was opening a lot of doors for us. We decided that when Christine finished at NYU we would relocate to Los Angeles and jump with both feet into the filmmaking industry. So in January 1999 we started Faith Filmworks, our production company. Since then we've been doing this full-time – making movies, documentaries, commercials, public service announcements."
Two Seasons evolved into their first feature film, the romantic All About You (2001). It stars Renee Goldsberry (One Life to Live), singer Terron Brooks (The Temptations television movie), and Debbie Allen in a supporting role. Unlike the vast majority of romances, the lead couple (and most of the cast) is African American. It won a number of awards at film festivals and is available on DVD at places like Blockbuster.

Their second feature is this past year's All About Us. According to Michael, "about 85% of the story" is based on his and Christine's frustrating experiences trying to sell All About You for theatrical distribution and land Morgan Freeman for their next script. While Freeman did end up reading their script, he turned it down but agreed to a cameo in All About Us.


This film is also a romance, but in a different way. Edward Brown (Boris Kodjoe, Brown Sugar) and Stacey Brown (Ryan Michelle Bathe, Boston Legal) are a married couple, with a baby, struggling in their decision to pursue their filmmaking goals. Another highly respected veteran actress, this time Ruby Dee, lends support in a small role.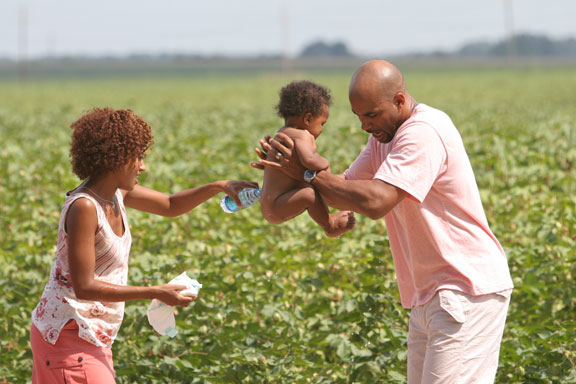 Photo left: Boris Kodjoe, Ryan Michelle Bathé and Luke Swanson in the film "All About Us."
It was with a chuckle that Michael told me they had yet other projects over the last several years: "Three small projects were having our three children, between the two feature films. Our oldest, Cole, is 7; our middle son, Kenji, is 4; and our baby, Luke, who is one of the actors in All About Us, is 2. Using Luke as the baby in All About Us meant he was 'a free baby'."

Christine interjected with a laugh that you can "use your baby" without worrying about the child being someone else's. "When he was tired, we let the camera keep rolling and let him cry because we needed that."

Michael added, "And a lot of creative editing helps as well."
As for commercials, they are proud of a series of ads they created for the University of Notre Dame. "They called and asked us to develop some commercials they could air on NBC during football games," Michael said.
"So we created a commercial featuring Regis Philbin, who is a Notre Dame graduate. And we created one with Martin Sheen who, at the time, played the President on West Wing. That character was a Notre Dame graduate. That was fun."

Christine has worked on other film scripts, such as Woman Thou Art Loosed (2004), directed by veteran TV director Michael Schultz. But she is really a writer-director, very much interested in making her own films – with her husband alongside her.
"A script isn't ready until he's looked it over and given me his notes," she explained.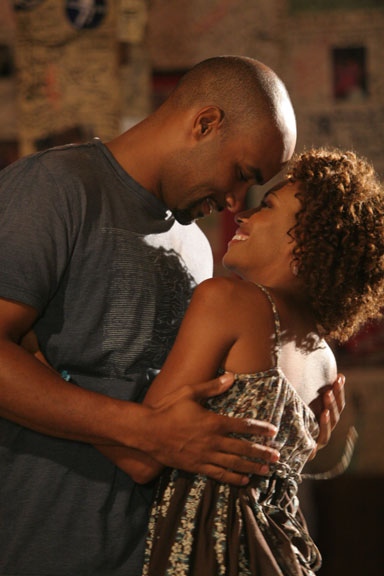 Photo left: Boris Kodjoe and Ryan Michelle Bathé in the movie "All About Us."
"He has a keen sense on a lot of things that I may not be aware of as I'm writing. From a business point of view, he can let me know 'This is not going to work' or 'We can't shoot in a coliseum' – things that help me realistically gauge whether we can do certain things. Not to mention things like 'This character needs more development'. He's definitely a creative producer."

But Michael has little interest in directing or writing. "Christine does that so well, that I have no desire to do that." His praise for his wife was quickly matched by her praise for his directing talents in a different genre.

"But Michael has directed some very good documentaries, which I have no patience for. He's very good because he has a longer attention span than I do."
When I asked Michael to elaborate, he told me about his most recent documentary, Derby in Black (2007). "It examines the history that black Americans have played throughout the horseracing industry and in particular The Kentucky Derby. They won so many races, including the first one, for the first decade of that race. And then there was a 79-year period where not one black jockey rode in that race until 2000.

"It was just completed and debuted at the American Black Film Festival in October. The executive producers are working on striking a TV deal with The History Channel, or some PBS affiliates, or ESPN. That project was brought to me, and I was hired to produce it and create the story. As a result, I became director by default. But I really enjoy producing – that's my first love."

When I asked Christine about her goals as a filmmaker, she said, "Two Seasons was my first attempt at the Great American Romantic Drama – but with black people. I'm still trying to write that perfect romantic drama. I don't think I've mastered it yet. I think every film I've done since then has been an attempt to add on to what I've been trying to accomplish as a filmmaker in that genre.

"A perfect romantic drama is Terms of Endearment [1983], directed by James L. Brooks. I thought it was emotionally explosive on so many different levels, but I have yet to see black people on screen in a drama of that level. When I saw To Sleep with Anger [1990] by Charles Burnett, I had such an appreciation for watching black people on the big screen emoting on so many different levels. I don't typically get to see that. So those inspired me to make films at that level – with us.


Photo right: Actress Ruby Dee on the set of "All About Us."
"I'm influenced by foreign films and I'm always amazed by how quiet they are. People express emotions in subtle ways and with silence. We see a lot of black movies, but we don't get to be quiet and just express. We're often loud, obnoxious, and yelling. Emotions are universal, and film is such a visual medium that this is where craft comes into play. It can be manipulated to tell stories with subtext and subtlety. That's what I love to do.
"But the pressures that black filmmakers face are 'It has to be a comedy,' 'You have to have top comedians in it'. You know what happens? They tell jokes. You're already on the path to a loud movie, in my humble opinion. I have yet to see a black Terms of Endearment. I know for me as a filmmaker, I would love to make films where we're expressive, that use this visual medium in all its splendor."

Michael interjected here that "Sometimes they think inside of a box. They use formulas that they think are effective. If it doesn't meet certain criteria they have, then they don't know how to market the film. And they look at the numbers."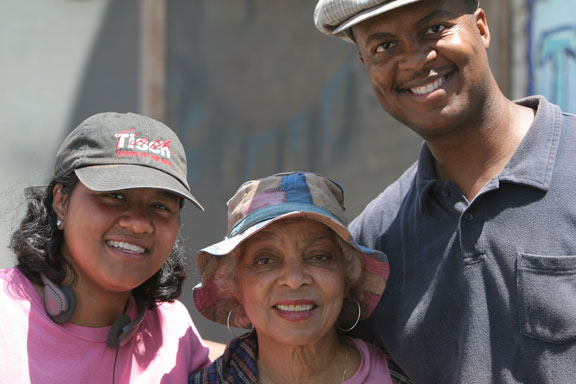 Photo left: Writer-director Christine Swanson, actress Ruby Dee, and producer Michael Swanson on the set of "All About Us."
As for the future and upcoming projects, there are three to mention. First, All About Us will be coming out on DVD in late spring, available by the end of May 2008. Second, they are about to commence pre-production for that next feature film, Preacher Man.

Christine said it's a script she originally wrote six years ago for HBO. "It's about a Southern minister who goes prime-time in television and becomes a big televangelist. It's an examination of the underbelly of that whole televangelistic world. I think the climate is right for that. We're ready to do it, and we hope to start pre-production in the spring. Long before I ever visited, I picked Charlotte, North Carolina, as the location for the story. So it's ironic that we live here now."

The third project, still in the writing stages, is All About Them. With it, Christine is returning to romance. "The whole series has been about finding love, examining love, and then appreciating love. To tie in with the other two films, I would bring back two of the actors I've used in the past to play in All About Them – not necessarily as the characters they played. Actually, the story will be very different from the other two."

And in actuality, the title of All About Us did not start out that way. "All About Us used to be called Clarksdale. People were having trouble with that title. They kept calling it Clarksville, or they thought it was an historical drama. So Michael thought of All About Us."

And it really is – all about the Swansons. In many ways, Edward and Stacey Brown are Michael and Christine Swanson up there on the screen. They are dedicated filmmakers, doing what they love and persevering in the face of a tough industry. They are parents who saw the stultifying limitations of the LA-based film world. They want to deliver on the promise, of long before Spike Lee's Do the Right Thing, that film can be a positive and productive ideological force.

That determined visionaries can help change the world, one film at a time…
© 2008 Film Entertainment Magazine / EMOL.org. All rights reserved.
Film Entertainment Magazine
Photo above: Film producer Michael Swanson (far left) and his wife, writer-director Christine Swanson (far right), join cast members Ryan Michelle Bathé, Boris Kodjoe and the legendary Ruby Dee for the recent red carpet premiere of their new movie "All About Us" in Charlotte, NC. Photo credit: Luis Roman. All Photos courtesy of Faith Filmworks
Nicole Taylor (Renee Goldsberry) postpones law school to be with Robbie, the love of her life. Ambitious, intelligent, successful and irresistible… he was everything a woman wanted. Until one night at a party celebrating Robbie's success, she painfully discovers that she was just a pit stop on his roadmap through life. She leaves Los Angeles to start a new life in San Francisco, where she moves in with her best friend Lisa (LisaRaye) and gets a job waiting tables at Toomies, a jazz supper club. Nicole's caught by surprise when Lisa leaves for a month, subletting her room to Brian (Terron Brooks), Robbie's estranged younger brother. Brian has wandered the globe the past few years escaping the pressures of his family name and all that comes with it. Forced to share living and work spaces, Nicole and Brian can't avoid each other. As their attraction grows, they are also forced to deal with their painful pasts to open themselves to another chance at love…
• Actors: Renee Goldsberry, Terron Brooks, Debbie Allen, LisaRaye, Lou Myers
• Directors: Christine Swanson
• Format: Color, Dolby, DVD-Video, NTSC
• Language: English
• Region: Region 1 (U.S. and Canada only.)
• Aspect Ratio: 1.33:1
• Number of discs: 1
• Studio: Urban Works
• DVD Release Date: March 9, 2004
• Run Time: 100 minutes