By Kalynn Huffman Brower
[email protected]
Earlier this year, when Executive Producer Michael Uslan finished watching the final cut of BATMAN BEGINS with his family, he said to them, "I can retire tomorrow."
But when I heard him tell the story, he didn't sound like a man ready to put his feet up and rest.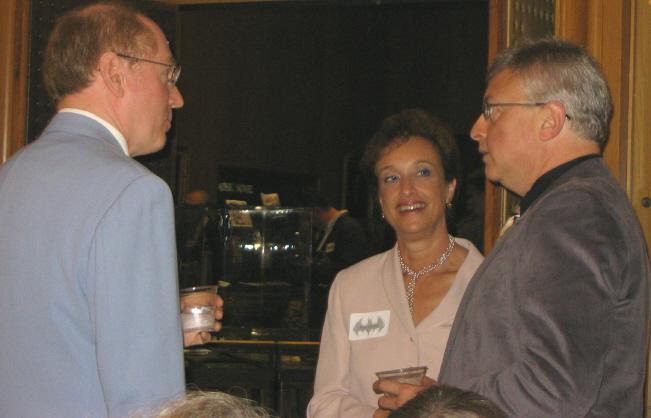 Barely three months after his film's release date, Uslan traveled to his alma mater, Indiana University, where he electrified students and me with tales of his life journey. He had returned to I.U. because this is the place where he first envisioned a motion picture adaptation of his favorite superhero over thirty years ago. He had cause to celebrate.
USLAN: "All the dreams and goals I had career-wise – of producing a dark, definitive version of Batman, true to the spirit of its creators had come to pass. . . . BATMAN and BATMAN BEGINS /are bookends of my career."

Hold that Bat-thought. Dark? True to the spirit? Yes, that describes the two bookends. But what about the movies that came in between the first BATMAN in 1989 and BATMAN BEGINS, in 2005.

To appreciate the wildly different film versions of Batman and his story world, you must first understand that over the decades the comic book Batman has evolved, too, reflecting the cultural influences of the times.
USLAN:* "If you grew up with Batman in 1939, he was a lonely, creature of the night, stalking criminals in the shadows. If you grew up in the 1940's, he was this semi-mysterious figure with Robin, fighting the most grotesque villains ever created.
If you followed him in the 1950's you could read comic books such as "The Super Batman of Outer Space." If you followed him the 60's he was that campy guy. If you followed him in the 70's he was an adventurous, mysterious hero returning to his roots. In the 90's he became almost vampiric, cold, somewhat soulless. So, many different interpretations of the same character."

The man knows his stuff. Among devotees he's considered a knowledgeable comic book historian who has always believed in the artistic and literary value of the comic book form. From the time he was eight he dreamed of writing for DC Comics, in particular Batman comics.
As a young man he achieved that goal. By the time he earned the job of producing his first Batman movie, many years later, he knew what he wanted to see in a film adaptation. He brought director Tim Burton up to speed.

USLAN: "It was just as important, for a guy who's not a total Batman geek like I was, that he not see the versions of Batman we didn't want him to see. We didn't want him colored by the campier style... So I very, very carefully selected which issues from which era by which artists and writers he would be exposed to in order to formulate his creative vision and figure out how to execute. So what I showed him primarily was the first year of Batman material.
From 1939 to the first Robin story and that was it. Then from the 70's there were two great runs. Denny O'Neil, writer, Neil Adams, artist, who were responsible for taking Batman, who had become a campy character, and slowly evolving him back to his darkest roots, as the mysterious creature of the night. They did really impressive material. They got him outside of Gotham City and took him on adventures. They introduced new love interests. And they introduced two of the greatest Batman villains . . . Ra's Al Ghul and Man-Bat.

And then the most highly stylized version, that I can recall, came from Steve Englehart, the writer, Marshall Rogers, the artist, and it was a run they did on detective comics for about a year. This was a
mysterious, romanticized Batman. . . . I compare to Frank Langella's portrayal of Dracula on Broadway. It was just wonderful. There was an art deco look to it. Quite magnificent and compelling in it's day. So these are the things I wanted Tim to see and these are the things that really shaped that first film."

Uslan is and has always been passionate in his belief that comic books are an indigenous American art form.

In the 1970's, while still an undergraduate, Michael Uslan developed a course idea for the Experimental Curriculum program at I.U. A professor in the Department of Folklore agreed to sponsor "The Comic Book in Society," the first accredited course on the serious study of comic books, because he immediately understood that Norse, Egyptian and Greek gods evolved into contemporary, spandex-clad superheroes. That comic books are our homegrown cultural mythology. (See Part I – "Comics as Cultural Mythology")

USLAN: "I think by the time of the second film, Tim was into the then current Batman comics of the 1990's, Which was a much darker, I call it a soulless, almost vampiric period for Batman As a result of all of that BATMAN RETURNS, 1992, was a significantly darker, drearier film."

Though motion pictures two through four are clearly not Uslan's favorites, he respects the creative efforts of bringing the different interpretations to the screen. His affection for all of comic book history is clear. Remember, he's been collecting since he was eight.

* *

USLAN: "By the time Joel Schumacher came into it, the studio wanted a lighter, brighter, more family-friendly version of Batman. Joel turned to the 1940's to early 50's material. And when you look at that, it was brighter than the old, darker Batman comics.

Batman and Robin were together and there was this punning going on between them in the comics. And Bill Finger, the writer, used to love to set them in giant props. So there would be giant typewriters, and they would be fighting villains hopping from key to key. Everywhere you turned – giant-sized globes. This was an on-going Bill Finger motif... Without question BATMAN FOREVER totally captures that mid-40's to mid-50's Batman and Robin."

Uslan is generous in crediting so many family, friends, teachers and mentors who have helped him over his lifetime. Ben Melniker, his business partner, mentor, second father, and Nancy Uslan, his life partner, are at the top of his list. They and others have believed in him and sustained him during the years before his initial Batman success and in the 'tween years, when he produced a surprisingly diverse list of film and television. (For example, the American Playhouse picture, THREE SOVEREIGNS FOR SARAH, a faithful account of the Salem witch trials, and the PBS series, WHERE IN THE WORLD IS CARMEN SANDIEGO?)

USLAN: "BATMAN & ROBIN /was a kiddy friendly movie. It emulated the Batman of the '60's, the comics, and a bit of the TV show. And for that audience, those nostalgic for the old TV show that was their true Batman. Today the kiddy friendly version is carried out in the TV series. And the movie version is more for the adults."

The movie version he's talking about is, of course, BATMAN BEGINS Uslan's artistic stamp is all over his latest installment. The tone has been reset to closely resemble his favorite period, the comics of the 70's. The film reintroduces the notorious villain, Ra's Al Ghul, expanding his story and his ongoing struggle with Batman. The settings, from the mountains reminiscent of /Lost Horizon/ to the burning embers of the Wayne mansion, feel at once both epic and real. Uslan gives the studio full credit for backing the creative team that could realize his vision.

USLAN: "[Screenwriter] David Goyer comes out of DC comics. Which is great because then you know you've got a writer who totally understands the legend, the mythology and the history. . . . It's a great story, and that's what comic book movies have always been missing. A great plot intensive, character driven story. Batman deserved that. . . .

"BATMAN BEGINS was the movie I hoped the second movie would be. And it's been worth the wait. . . . [Thanks to director Christopher Nolan] this is a film with heart and soul, with important themes. It's everything I'd ever hoped for."

Uslan has every right to bask in the success of his latest film. But retire? That must have been a momentary thought punctuating a sense of completion. More is already on its way.

His next project is a Seuss-like picture book, Chatterbox: The Bird Who Wore Glasses, which he wrote for his wife in memory of her favorite pet parakeet. (due out in bookstores this December 2005)

And for a comic book lover, this is something of a golden age.

USLAN: "Comic Books have grown up. Comic books are no longer synonymous with superheroes. They're out there experimenting . . . willing to take on any subject. There are stories based on characters without emphasis on action. It's more like reading a novel. It's the expansion of the graphic novel as weighty, literary, meaty material."

What else does Uslan see in the coming golden age of comic book films?

More Batman? The BATMAN BEGINS SEQUEL has just been announced with anticipated release date in 2008.

More comic book adaptations in the works? SHAZAM! is expected out as early as next year.

Something with international flavor? Uslan says he's inspired by the Monga comics that appeal to a broad segment of the female audience and that already dominate the entertainment industry in Japan.

What about original mythic characters? Characters with heart and soul? Characters who live in our dreams. I hope so.