---
---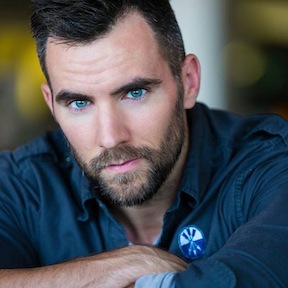 By Fred Grandinetti
Film and television actor, Cuyle Carvin, has appeared in front of the camera in numerous productions. He has appeared in the horror films, Alien Opponent, Assault of the Sasquatch, Fog Warning and the award winning web series Revelations.
His television credits include; NCIS, CSI: Crime Scene Investigation, The Mentalist, Hawaii Five-0, The Brink, Criminal Minds and NCIS: Los Angeles. For all of his work in front of the camera the actor loves being behind the scenes. This is especially true when it involves the horror genre. I had the opportunity to speak with Cuyle Carvin regarding the formation of his own production company.
Written & Directed by Cuyle Carvin Produced by By the C Productions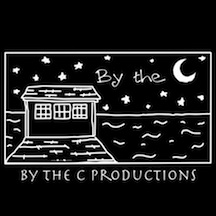 FG: What motivated you to begin your own production company?
CC: I've always been a huge fan of independent horror films. There's something I love about low budget productions. You can tell when people made a film for the love of it versus the business side being the priority. There's a certain spirit to these films, and I don't mean ghostly spirit. I've viewed so many low budget horror films that I can't even remember if I've watched them before - does that make sense? I've seen some which looked like they were made with $18.00 and neighborhood friends. I've also viewed productions with a higher budget and some kind of name actor is attached. I prefer to watch the films with $18.00 budget and friends. I wanted to give it a shot figuring I couldn't do worse than some of the crap out there. I ventured out and started writing and producing films - fly by the seat of my pants kind of thing.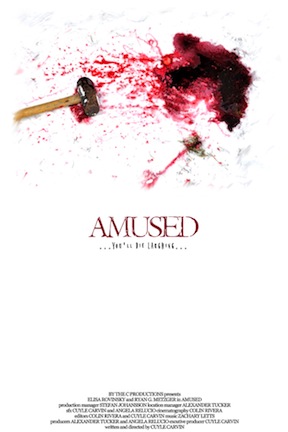 FG: What are your biggest obstacles?
CC: They're not really too many obstacles. I'm not in it for the business aspect so much so it alleviates any kind of pressure. If I had to choose an obstacle money is always an issue. Waiting on others for post-production work is another problem. Although because I'm not paying my actors and crew a ton money the waiting is understandable. Right now I produce out of my own pocket. Even though my films are produced on a low budget I don't want each to look or sound cheap. It has been expensive buying equipment over the years - then trying to keep up with technology. Generally though, I work with great people and we all do it for the love of the game right now. I think a lot of people focus on how much money they need to make a film. This can deter them from ever doing anything. While some things definitely cost money, there's always a cheaper way to do it without much of a sacrifice. The point is, just make your bloody films and put them on the internet.
FG: Where do you get your story ideas from?
CC: I could say they're original thoughts and stories but it's not really true. I don't actively try to borrow horror film ideas, or at least most of them, but it seems everything is similar to something which has been done before. I try to add unique spins on whatever the story is, just something different than what might be expected. Even if it is a new death scene – that's cool enough for me. I haven't done any zombie projects yet but they're my favorite creature.
FG: Walk me through the time frame of a project; from writing, casting, production, and post-production.
CC: That can really depend on many variables. My first film, Amused, took about two years to finally finish. Not that it was difficult but it was my first film and there was a big learning curve. I filmed it in 2010 although writing it took place in 2009. It didn't play in festivals until 2012. I took a long time in post-production because I wanted to do all the post work myself. I could at least be familiar enough with the whole process for future films. I had to learn editing software, sound mixing, sound design and color correction. I also wanted to create the poster though not having an idea how photo shopped worked. I had some great help along the way from Colin Rivera of Vintage Youth Productions, and later Zach Letts on the score. Their help prevented the production process from taking even longer. Now the films seem to be taking a lot less time. I'm working on an anthology of short horror films right now with two partners, Robert Michael Ryan and Lindsay Seim. We're producing these pretty quickly, usually turning a film from the initial writing to casting to filming to final edits in a matter of two or three weeks.
FG: How do you locate your talent both on screen and behind?
CC: It's all from people that I have met and worked with in the past. This includes finding the crew for the productions. Although lately, I have been trying to learn more about the crew side of things. I want to become more hands on in all departments.
FG: Is it difficult, being an actor, appreciating a performer bringing their own vision to a role and not think how "Cuyle would have done it". Or, in your role with By the C, do you want your performers to play each part as you would?
CC: Cool question. There's definitely some of that going on. When I write something I envision it being a certain way. When I see it performed, it's usually better than I envisioned in the first place. Other actors do it better than I would have so that's awesome. Being an actor for over a decade has really allowed me to understand this point of view. If there's anything I have learned its actors all have their different methods and ways of doing what they do. And they're pretty great, much better than most of them think they are. Which is great, because I also have to keep that in mind for myself.
FG: Your films seem to focus in the horror genre. Particular reason why?
CC: When I was younger, my family had a lot of weekend movie nights. There was a video store in my hometown that had an awesome deal - rent three movies and get one free type of thing. So the rules were that we had to rent at least two family friendly movies and then two others. My dad loved horror films and I got into them through him. My original experiences came from watching my dad enjoy them so much. He would laugh at the violence and I would do the same enjoying the experience even more. Every weekend we scored some VHS rentals and you could count on at least two horror films making their way into our old school console TV. Producing horror films is fantastic - you can honestly be completely creative in your structure of the film. Anything goes and it's all appreciated. The horror fan base is ridiculously loyal and forgiving - I love that. Plus, more often than not, you really are having more fun doing these no matter what your job is on it. There is just inherit fun on set when your biggest worry is getting the blood to spurt at just the right angle.
FG: Do you see yourself branching out with non-horror stories?
CC: I've tinkered with them and have actually produced two non-horror films. Honestly, they're fine but it's just not as fun and not really what I gravitate towards. I can certainly be a sap but as far as writing a dramatic story - I don't enjoy it. Not to say I never will again but I'm not a great writer and horror films are just so damn cool.
FG: Where have your films been seen? Is the distribution process a challenging one?
CC: Amused is being distributed on DVD through The Hillbilly Horror Show, which is an awesome showcase of cool short films. DVD's are available online via major sites like Amazon. My film, Amused is on the very first volume of the show. Check it out at http://hillbillyhorrorshow.com/. Other than that, everything is online and I'll probably always keep it that way. I'm not concerned with distributing my work via the traditional ways. Of course that's easy for me to say as I'm not doing features yet and there's no real money or business involved. I have had some play at various festivals around the country but other than that, you can watch them online once they've had their festival run. I don't know too much about the game of distribution other than it's extremely hard to get your money back once you've spent a certain amount on a film. I've seen some real crap via Netflix, Hulu, etc. that really made me wonder how they got on those sites or any distribution at all. I've also seen some fantastic horror films that are still sitting on a director's shelf, unable to find any interest. Eventually they are self-distributed but with no success. It's a strange world and I think distribution has become extremely difficult since the market is completely flooded by thousands of films each year. It's hard to get someone of the right importance and status to focus on any one film.
FG: Name the films produced thus far and where people can locate information about each.
CC: Thus far I've produced Amused, Ax, Wake, and The Purpose of Apples. Forthcoming this fall is the horror anthology called Dark Corners. For information on all people should check out www.BytheCproductions.com . In addition to information on each film you can watch trailers, entire films, meet the cast of each and much more.
FG: What type of reaction have the films received from the public?
CC: Well for all the hundreds of people which have seen them, it has been pretty positive. I'm completely positive of what people are saying about my work. I have received positive responses comprised of family and friends - and even then it's somewhat mixed. Some horror dedicated sites have had positive responses. I'm not concerned either way though. I hope an audience will enjoy my work but if they don't its fine. We all like different things. They're just not invited to my funeral.
FG: Where do you see By the C heading and how did you decide upon this name for your production company?
CC: I just want to keep having fun making films. Hopefully I will do features at some point but other than that I don't have any major plans. As the film industry changes and grows more digital - it may affect future plans but that's something I will deal with if I become more serious about the business side. The logo of By the C is inspired by a photo that I took in Salem, Massachusetts. At Salem Willows park there is a small shed which sits right at the edge of the ocean. It's a boat or fishing rental place, just a small little cabin. I don't even know if it is in business. But there is serenity in Salem that I love and this isolated shed on the edge of the ocean is one of my favorite pieces of inspiration and wonderment. Someday I would like to live in Salem and make that the home base of By the C (By the Sea).
FG: Where can one learn more about By the C or become involved?
CC: Updates and more can be found at www.BytheCproductions.com You can also follow us on Facebook and Twitter.
https://www.facebook.com/BytheCproductions?fref=ts
---