Through the Glass Darkly: Phoebe in Wonderland and Director Daniel Barnz
By Madelyn Ritrosky and Jared Winslow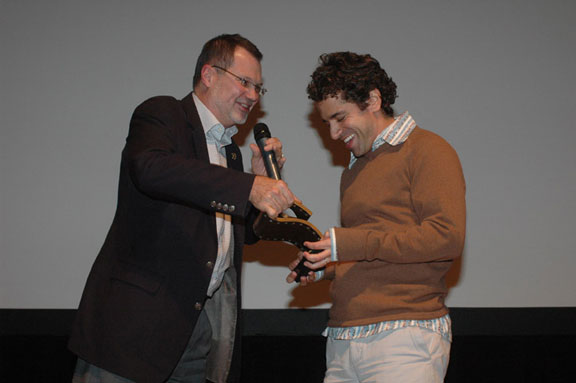 Photo: Heartland director Jeff Sparks presents Daniel Barnz with the Truly Moving Picture Award for Phoebe in Wonderland.
Jared and I saw Phoebe in Wonderland as the Closing Night film at the 2008 Heartland Film Festival. Playing a number of film festivals in 2008, it will be seen in theaters in March 2009. It stars Felicity Huffman and Bill Pullman as the anxious parents of Elle Fanning's increasingly disturbed Phoebe. Patricia Clarkson plays the rather mysterious and wise Miss Dodger, the drama teacher who gives Phoebe an outlet.

Phoebe in Wonderland comes from first-time director Daniel Barnz, who also wrote the script. It's a story that was, as Barnz put it, "a very long time in the dreaming." Barnz attended the Heartland event, and Jared and I got the chance to speak with him.

The very first draft was written eleven years ago – before Elle Fanning was born. But Barnz said the film is much better for it. Originally the screenplay was more about Phoebe, her viewpoint, her problems. It still is, but in the meantime, Barnz had two children, now five and seven, and the story's focus broadened to encompass the parents to a much greater degree. He said, "Now I am a parent and I have a new perspective."

While Barnz said he always wanted to write a story about a "different" child, it turns out Phoebe's difference is not emotional or familial but rather neurological. Since the film keeps you guessing as to the root of Phoebe's problems, I will leave it at that. Yet it still allowed Barnz to tell a story that's "anti-conformist in spirit." And he achieved that.

As an actor too, Jared was interested in how Barnz came to cast Elle Fanning in the lead role and how he approached this serious subject with a nine-year-old lead. Barnz said, "There are not many experienced nine-year-old actresses, and Elle had already done some other films. I wanted someone with experience because I was a first-time director." Generally, Barnz would take his cues from Fanning, often letting her do the first take without too much discussion about her role. He felt he could "digest the scene after that," and sometimes they proceeded to talk about it in more detail and do more takes.

When Jared asked about the casting of the other children in the film – Phoebe's classmates and fellow drama clubbers – Barnz said it was difficult because there were so many good actors with film experience among the younger set. With a smile, he half-joked, "Never should a first-time director tackle a film with twenty kids in it."

Barnz had fantastic luck starting out the process of finding his primary cast. Living in the same neighborhood as Felicity Huffman, he would see her jogging by and decided to approach her. She agreed to read the script. Turned out she not only liked it, she loved it. Patricia Clarkson then read it and loved it. Barnz said, "They were both passionate about it."

Huffman was cast in Desperate Housewives only a few weeks after reading Barnz's script, so it wasn't too long before her star shot up. Once these actresses were attached, financing followed. As the writer-director added, "It was happenstance and luck."

Barnz has worked on other screenplays, such as Sugarland and Rogue, but said he came into screenwriting as a way to direct. He held onto Phoebe in Wonderland, hoping to eventually direct it, even though there were others along the way who expressed interest in directing it.

He said it was because of film festivals and word of mouth that the film attracted some distributor attention. It wasn't an easy sell, though, because it's a film that doesn't fit neatly into a particular niche. A child – and a girl at that – is the lead and other children figure prominently, yet it's not really a kids' film. However, Barnz has observed that girls of about Phoebe's age tend to identify with her.

Even boys of that age can identify, as Jared's experience can attest. It was a different take for him, but it was still kids of exactly his age.

Look for Phoebe in Wonderland in theaters March 6, 2009.
© 2009 Film Entertainment Magazine / EMOL.org. All rights reserved.
Buy Fandango Movie Tickets Online
Buy advance tickets to the Toy Story 1 and 2 Double Feature in 3D and get points for posters, DVDs and more!
Buy 1 movie ticket on Fandango and receive a second ticket to the same show free when you use your Visa Signature card.
Disney Store
Links to online only deals on costumes and entertainment. Outlet store discounts. Save up to 60% on collectibles. See this weeks deals at the Disney Store
Warner Bros. Store
Shop at the Warner Bros. Shop : WBShop.com
Toys, games, clothing, posters and more from your favorite Warner Bros. characters like Tweety & Superman and from your favorite WB movies like Harry Potter
RealPlayer Plus
It's everything people want in a media player including; pristine audio/ video playback, built-in music store, access to worldwide radio.
Receive RealPlayer Plus free with your free 14 day SuperPass trial.
Hollywood Mega Store
Officially licensed products include celebrities, movies, sports, NASCAR, TV, Marvel, DC Comics and much more. Largest selection of Movie Night & Hollywood Theme Party Supplies, Decor, Favors, and unique items. Very popular Hollywood Trophies. Hollywood and Nostalgic Gift Sets and Gift Baskets. Favored Home Theater Decorations including Reels, Commemoratives, Cinema Lamps and more. Collector items including NECA Action Figures and Head Knockers, Shotglasses, Celebriducks, Tin Signs and Zippo Lighters. Most sought after Posters, Prints and Framed Celebrity Prints. Most popular celebrity, movie and music T-shirts. Hollywood theme T-shirts, Tote Bags and Caps. Very hot JH Design Jackets and Hoodies for men, women, and kids, in all sizes. Celebrity and Novelty License Plates. Rare Vintage License Plates. California Traffic & Street Signs.
MGM Movie Store
Shop for all of your MGM favorites at MGMStore.com - Rocky, Pink Panther, Stargate, and more!
Celebrity and movie clothing, Toys & Games, Jewelry and more from MGM movie titles. Collectibles and Gifts.