Entertainment Magazine: Film: Heartland Film Festival: 2010: The Rock 'n' Roll Dreams
Not Your Usual Rock Star: The Rock 'n' Roll Dreams of Duncan Christopher and Director Justin Monroe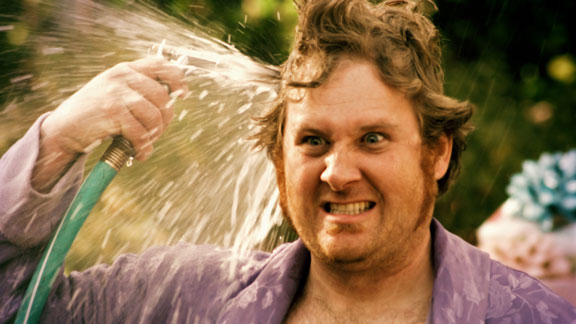 Awkwardness. Embarrassment. Dreams. Determination. Throw in some love and it's all worthwhile.

That's what you see, hear, and feel in The Rock 'n' Roll Dream"s of Duncan Christopher. It's an offbeat movie with an upbeat message.
We discovered the film at the 2010 Heartland Film Festival, where we met director Justin Monroe, who also plays Duncan's rock legend father, Arthur Christopher, in flashbacks.

There's an endearing goofiness to this film as the characters come to life through their human foibles, their awkwardness, their dubious dreams of hitting the big time... Tulsa.
That's what makes for the odd charm that creeps up on you. Sometimes you laugh with Duncan. Sometimes you laugh at him. Sometimes you cringe. Did I say there's karaoke in this film?

In the end, you realize Duncan Christopher (played by writer-producer Jack Roberts) has earned your admiration. One of the biggest laughs, however, is the very last shot of the film, after all the credits have rolled. It's a fake "Call now!" TV ad for the film's star karaoke dude – dark glasses, dressed in black, cowboy hat, strutting like he owns it all – who goes by the humble moniker Simply Irresistible (Aaron Moreland – though he introduced himself as SI at the festival).

So, let's get to the heart of Duncan's dreams via the insights of director-producer Justin Monroe.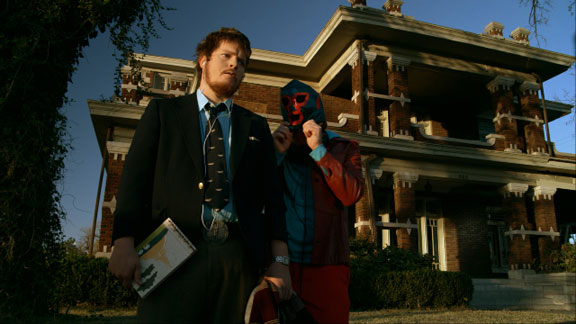 Where did the idea for the film come from?

Jack Roberts wrote the movie – he also played Duncan Christopher. The idea of the film came from Jack combining a few different life experiences into one overarching idea. Like a lot of wild boys without much supervision (me included), Jack always wanted to be a rock star growing up. Take this backstory and add to it his experiences of being a manager at Peet's Coffee on the Sunset Strip in West Hollywood, which was right next to The Viper Room rock venue, and the stage was set for Duncan Christopher to emerge.

During a hiring phase at Peets, Jack met a young man who would be the final life-spark to the character of Duncan. This wannabe rocker kid pretty much gave the perfect example of what-not-to-do in an interview – complete with "I want to build my rock career, so I thought it would be good for me to find a job next to The Viper," and my personal favorite, "I make chicks uncomfortable."

After the interview, Jack began to wonder what life circumstances would create a guy like that. He thought it would be interesting if that kid had a father who was a true rock legend in the '70s, but went crazy with the lifestyle and moved to the middle of nowhere and had a few kids. What if the father died when his son was young, leaving the boy to grow up in social isolation beneath the shadow of his father's legend. And so the story of Duncan Christopher was born.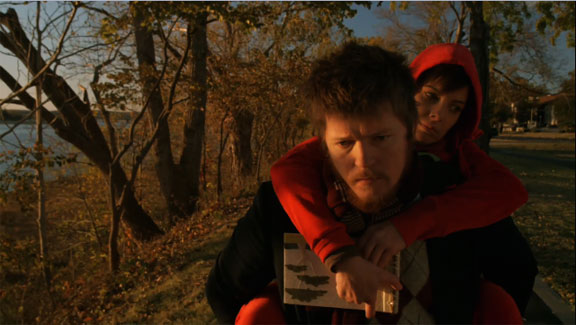 You said "awkward" was the operative word for this film. I think you all did a nice job capturing that feeling of awkwardness that pervades so much of the film. Can you expound on that as a theme of the film?

Jack and I both grew up in broken homes, and anyone who's lived that life knows the concept of family can be pretty awkward. When you have step-mothers, step-brothers, step-uncles, and step-dogs, who themselves are all from different families, gathered around the dinner table, the conversation can go down some pretty interesting roads.
We both discovered firsthand that the most awkward situations can be the most entertaining experiences on the planet. However, we also discovered they can lead to the most vulnerable and moving experiences as well.

With Duncan, we explored the classic – a boy chases his dream and gains himself a story. But we thought if he had to overcome a mountain of awkwardness as he chased his dream, we would feel more for him and in so doing connect to ourselves. Let's face it – we're all pretty awkward if we're willing to admit it. We couldn't think of a better place to set that story than inside the world of karaoke, which just happens to be one of the most beautifully awkward scenes known to man.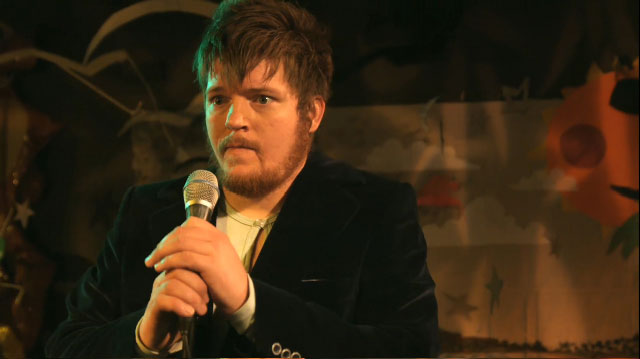 Were there any films, books, or music that were especially influential or inspirational on you or Jack Roberts in creating your film?

With the title being The Rock 'n' Roll DREAMS of Duncan Christopher, I knew the film had to have a dreamy, stylized quality. I drew my inspiration from films like Amelie, The Royal Tenenbaums, and Eternal Sunshine of the Spotless Mind. All of these films have a childlike magic, yet explored some pretty heavy themes. The style helped the heavy be more palatable - I really resonated with that idea. However, where those films maintained their almost Brechtian style all the way through, I wanted to ease off the childlike style as the film progressed to match the journey of Duncan becoming a man.

Jack, of course, was inspired by all sorts of books and movies as he created Duncan (The Curious Incident of the Dog in the Night-Time, Lars and the Real Girl, Little Miss Sunshine). But most of all, Jack drew his core inspiration from his own heart's journey of becoming okay with himself. He knew he had to put his very life into the film or the silly, awkward little Duncan Christopher wasn't going to connect.


Which came first, the film or the environmental/Oklahoma promotional group/project? What more would you like to say about that?

Hmmm…the ole chicken or the egg question? Well, I would have to say in this case it was the chicken. The idea of Hearth was born in the hearts of Jack Roberts and Heather Roberts a good year before Jack started writing Duncan. However, it was because of the egg that the company had its earthly birth. Duncan was the guinea pig project of Hearth, which is where I folded into the company.

When I was asked to produce and direct the film and then learned more about the vision of Hearth, everything changed for me. I left all my projects in Los Angeles, moved to Oklahoma, and threw myself in completely. With Duncan being the first project of Hearth, we had to see if our grand ideas of marrying an awkwardly comedic feature film with a social/environmental/civic project would actually work in reality. I am so grateful to know now that they did.

The basic values of Hearth are pretty simple… Heart, Art, Earth, or h(earth). Use our hearts to create art that will leave a lasting, positive impact on the earth.

And we are 1001% committed to each value individually and collectively. Meaning – we don't make "mission movies" to proselytize anything, but we are definitely on a mission. Our hope is that anyone would reach for our movie on a shelf because of its entertainment, authentic, and artistic merits alone, but then discover that proceeds of the movie helped rebuild a community that was in dire need, or dug a water-well in Africa. Every project we do will have a plan to help at the local and global level. And it's not just a one element kind of support plan – with each film we do, the giving back starts immediately, it's multi-faceted, and it aims to never stop.



Can you describe your festival experience with the film thus far?

With Duncan now coming to the end of its festival run, we are so very grateful that our awkward, little movie has not only connected with audiences all over the United States, but it has played to sold-out crowds internationally as well. To date, Duncan has been an Official Selection of more than 20 festivals, including Mar Del Plata International, Denver Starzs International, Heartland, San Diego International, London United, Edmonton International, and Method Fest.

We have received 11 awards along the way, including several Best Feature Audience Awards, several Best Feature Jury Awards, Best Score, Best Actor, Best Soundtrack, and Best Marketing. Simply put, this festival experience has been a dream come true. And we are now headed toward a pretty exciting distribution path.


Are you and Jack collaborating on the next project too?

Absolutely. When Jack and Heather injected the plan of h(earth) into me, I knew I had to leave all that I was doing in Los Angeles and jump inside this vision completely – and that wasn't a small thing. In L.A., I owned a thriving boutique production company that had 2 feature films in development, a completed documentary, a finished television pilot, and a growing client base. However, you can't argue with a call – the only choice is to respond or not.
Right now, Jack and I are living in Portland, Oregon, headed toward production on 2 features together, writing 2 more, and tirelessly working on building the structure of h(earth).


Wow... Hearth is a vision whose time has come. The art 'n' earth dreams of Jack Roberts and Justin Monroe are more than dreams – they're becoming reality. We definitely look forward to those next projects and to supporting them. Thank you.
Photos courtesy of Justin Monroe. Photos in order from top:
Justin Monroe as Arthur Christopher
Jack Roberts as Duncan Christopher (left) and Peter Bedgood
as Charlie
Jack Roberts as Duncan Christopher and Lizz Carter as
Geneveve
A Duncan Christopher awkward moment
Aaron Moreland as Simply Irresistible
---
© 2007-2011 EMOL.org Film Entertainment Magazine / EMOL.org. All rights reserved.
Fandango
Check movie listings. Read film reviews or add your own. Buy Fandango Movie Tickets online so you won't have to stand in line. See this week's Fandango deals.
Don't get sold out! Buy advance tickets for Harry Potter and the Deathly Hallows: Part 1.
Blockbuster
Try BLOCKBUSTER Total Access FREE! Get the convenience of renting movies online with a choice of how to return them: send them back by mail or exchange them for new movies or discounted game rentals at participating BLOCKBUSTER® stores. See this month's special deals at Blockbuster.com.
Warner Bros. Store
Toys, games, clothing, posters and more from your favorite Warner Bros. characters like Tweety & Superman and from your favorite WB movies like Harry Potter. See our links to the Warner Bros. Shop.
Disney Store
Links to online only deals on costumes and entertainment. Outlet store discounts. Save up to 60% on collectibles. See this week's deals at the Disney Store
Buy Costumes

Shop BuyCostumes.com - fulfill all your costume needs all year round! Dress as your favorite celebrity, action hero or character. See our links to special deals at BuyComstumes.com.
Hollywood Mega Store

Officially licensed products include celebrities, movies, sports, NASCAR, TV, Marvel, DC Comics and much more. Largest selection of Movie Night & Hollywood Theme Party Supplies, Decor, Favors, and unique items. Very popular Hollywood Trophies. Hollywood and Nostalgic Gift Sets, Gift Baskets and more.
Walmart
Walmart soon offers online movie rentals. Get the value of the day at Walmart. Buy online and pick up free in store. Visit our links to special deals at Walmart.com.