Entertainment Magazine: Film: Pennock
Mourning the Loss of Dark Shadows Star Chris Pennock
By David Block

Chris Pennock, 76, who acted on TV and in movies and on stage for over 40 years, died on February 12, 2021.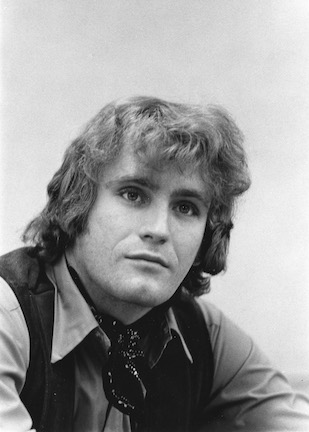 Photo of Christopher Pennock, casual Dark Shadows studio plain background, 1970. Photo courtesy of Dan Curtis Productions.

It took me a while to write about it because he was my friend. We shared special experiences together.

The one I will never forget was when he volunteered to be my guide runner at the 2000 New York City Marathon. I needed one due to my partial blindness, so Chris decided to help me. He flew from California to New York to spend that weekend together. Chris had an injured knee and he still completed the marathon.

My biggest regret was that during the marathon, I was mad at him. I was too upset because I thought we were in last place. I wasn't just blind, visually. I temporarily forgot that he was one of my favorite actors from Dark Shadows. I didn't stop to remember that he made me feel so special at Dark Shadows festivals. I traveled there to the festivals by myself felt out of place. Besides being legally blind, I am on the Autism Spectrum and I have social anxiety. Because Chris allowed me to spend time with him at the festivals, when he could have easily had security guards usher me away made me feel better about myself.

During the marathon, I pulled and dragged him practically the whole way. I am glad that he forgave me.

He wrote a comic book about our marathon adventure together: Fear and Loathing at the New York City Marathon. In the book, he portrayed me as the Philly Flasher. (We both knew that I never flashed anyone.) I was glad he put me in the book because that made me feel important. I got to sign autographs along with the other Dark Shadows stars - my idols from childhood.

I had the honor of interviewing Chris several times.

He was on Dark Shadows from 1969 until the show's conclusion in 1971, where he played different villains in several storylines. The most notable was the 1840 flashback where he played wheelchair user Gabriel Collins. One day when Gabriel's father Daniel Collins (Louis Edmonds) berated him for being in a wheelchair, Gabriel stood up. He confessed that he was able to walk for years and then he committed patricide.

"l loved it because it was cathartic," Pennock told me during one of my interviews with him. "I had problems with my father, so it was like being set free."

Fellow Dark Shadows actor Kathryn Leigh Scott, shared her memories of working with him.

"This is such a sad time for all of us who loved Chris Pennock," said Scott. "Celebrating his glorious life and soaring spirt while grieving his loss is hard. I'm afraid grief in losing a beloved colleague and dear friend is the dominant sentiment for me and many of us who've known him more than fifty years. He was so vibrant and full of life, it's very hard to imagine our world without him. He'll always be in my heart."

An additional Dark Shadows star maintained a close friendship with Chris, even toward the end of his life.

"We lived in the same town (Idyllwild, Calif.)," said Storm. "We saw each other about every other day. We enjoyed each other's ability and talent. It's now hard walking through town and he's no longer there. There's a big hole."

Jim Pierson, Director of the Dark Shadows Festivals also paid tribute to him.

"He just had this great energy and karma," said Pierson. "we all thought of him as the eternal hippy. He was a great advocate for social causes for all people. He loved nature and animals."

Chris Pennock had many acting successes after Dark Shadows.

From 1977 to 1980 Chris was on General Hospital as Mitch Williams, a wealthy junior senator. He said that one of his most memorable scenes was when his wife caught him philandering on their wedding night, yet he still easily persuaded her to forgive him.

One of his most memorable movie highlights was portraying Frances Farmer's husband in Frances (1982). The movie starred Jessica Lange as Frances Farmer.

"I was in heaven working with Jessica," said Pennock in an interview with me.

These are just a few of Chris Pennock 's many accomplishments.

A special thank you to Dark Shadows Festival Director Jim Pierson.
---
Sci Fi Channel put together about Chris Pennock and David Block running the 2000 NYC Marathon.

https://www.youtube.com/watch?v=f08cxuvP14w
---
---
© 2021 Film Entertainment Magazine / EMOL.org. All rights reserved.