STARRLIGHT
Mary Pickford
By Steve Starr
In 1918, the twenty-five year old actress known as "Little Mary" proclaimed, "I can't live on $10,000 a week!"
Gladys Marie Smith was born April 8, 1893, in Toronto, Canada. Alcoholic Mr. Smith abandoned his family in 1895, and died of a cerebral hemorrhage three years later. To pay the bills, Mrs. Smith worked as a seamstress and took in boarders. At the age of seven, one of her boarders helped little Gladys make her stage debut in The Silver Key.
"Baby Gladys" was a sensation, and such a success that she drew her mother, sister and brother into show business. Charlotte Smith began to drill into her daughter the notion that her family's future depended on the exploitation of Mary's looks and talent. Soon, the entire family was hired for a touring show and paid a total of $20 per week. It was Gladys, however, who at 13 in 1907, opened on Broadway in The Warrens of Virginia. The producer suggested she change her name to Mary Pickford.
When the show closed in 1909, Mary looked for extra work at D.W. Griffith's Biograph Film Studios in New York, although at the time, film work was considered demeaning for theatre people. Griffith himself considered Mary "too little and too fat".
Still, she obtained a few small parts, and was soon earning $100 a week. In 1910 she was billed as "Little Mary" in The Little Teacher, and exhibitors were swarmed with requests to see more of her. Thousands of Nickelodeon machines presented her image to millions of people and she became the first recognizable figure in movies.
In 1911, Mary wed actor Owen Moore. By 1913, Mary Pickford had appeared in 141 short one-reel films. Her brother Jack also became a movie star and borrowed his sister's popular last name, but tarnished his career with drugs and the mysterious death in Paris of his beautiful actress wife, Olive Thomas, in 1920.
In 1918 Mary was making $10,000 a week at Paramount Studios. Concluding this was hardly enough income for her, she moved to First National Studios for $675,000 a year. At the age of 26, Pickford became Hollywood's first millionaire. She was, according to pollsters, the most popular woman in the world, and she held that title for fourteen years. She was also considered the movie industry's most valuable asset, and the main focal point of the entire film colony.
In 1919, realizing no studio could continue to afford her as well as Charlie Chaplin, a star of a similar magnitude, Pickford joined Chaplin, Douglas Fairbanks and D. W. Griffith to create United Artists Studios.
In 1920, Pickford divorced Moore, whom she had been separated from for years, and married Fairbanks. Together, they became "The King and Queen of Hollywood," and built an elaborate mansion, "Pickfair", where, surrounded by swimming pools and manmade beaches of imported sand, the famous guests and crowned heads of Europe dined on solid gold plates and lounged in ultimate luxury. An invitation to Pickfair, often referred to as the "West Coast White House," was the height of social accomplishment.
Douglas, an athletic, colossal star, developed a maniacal jealousy over his wife, often rudely ejecting guests from Pickfair for the way they looked at Mary, and he demanded that she never, ever dance with another man, not even a visiting king or prince. A fanatical, snobbish teetotaler, he disapproved of Mary's drinking, and had affairs with several Hollywood starlets, including a 1927 liaison with the tempestuous Lupe Velez. While vacationing alone in England, Fairbanks had a lengthy affair with Lady Sylvia Ashley.
While well into her thirties, Mary continued to play teenage girls on screen, and was still referred to as "America's Sweetheart." Finally, in a grown-up role, at age 36, Pickford won a Best Actress Oscar for her first talking picture Coquette (1929). Her next three films, Taming of the Shrew (1929) co-starring her husband Douglas Fairbanks, Kiki (1931), and Secrets (1933), were all expensive failures, and she retired from movies. Pickford had starred in 52 feature films.
In 1934, she published a short autobiography, My Rendezvous With Life. By 1935, Mary had enough of her husband's indiscretions, and divorced him. In 1937, she married bandleader/actor Charles "Buddy" Rogers, famous for his role opposite Clara Bow in Wings (1929), the first movie to receive the Academy Award for Best Picture. It is reported that when Fairbanks died in 1939, Pickford wept to her new husband, "My darling is gone."
Mary and Buddy lived happily at Pickfair, while rumors of comebacks buzzed around the film world. Pickford was frequently heard on radio programs, produced films, and in 1937 formed the Mary Pickford Cosmetic Co. In 1953, she and Chaplin sold United Artists. In 1955, she published a more extensive autobiography, Sunshine and Shadow.
After a trip to Paris in 1965, Pickford announced she was tired. She took to her bed and remained there, drinking whiskey and watching television. Communication with visitors was only by telephone, and photos were banned at Pickfair. The tired, faded, and ancient golden girl had announced, before becoming a recluse, "People remember me as a little girl with golden curls. I don't want them to see me as an old lady".
However, in 1976, Pickford was awarded an Academy Award for Lifetime Achievement, and she agreed to come out of seclusion to be filmed standing at the gates of Pickfair, where the world did see an old lady, a tiny, round, 84-year-old silent film star offering her heartfelt thanks to her industry, her fans, and to a generation who did not know who she was.
Mary Pickford, still married to Buddy Rogers and considered by historians as the most popular star who ever lived, died May 29, 1979. Buddy Rogers, who appeared in 39 films and produced several others, also appeared on various television programs, and died in 1999.
Sources:
The Great Movie Stars by David Shipman
The Movies by Richard Griffith and Arthur Mayer
Who's Who of the Cinema by Ann Lloyd and Graham Fuller
The Hollywood Reporter Star Profiles by Marc Wannamaker
The Movie Stars Story by Robyn Karney
Mary Pickford websites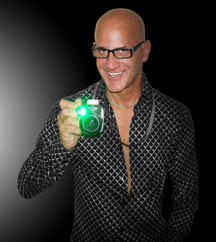 Steve Starr is the author of Picture Perfect-Art Deco Photo Frames 1926-1946, published by Rizzoli International Publications. A photographer, designer and an artist, he is the owner of Steve Starr Studios, specializing in original Art Deco photo frames, furnishings, and jewelry, and celebrating its 40th anniversary in 2007. His personal collection of over 950 frames is filled with images of Hollywood's most elegant stars.
Steve Starr's column, STARRLIGHT, about movie stars of the 1920's, 1930's, and 1940's, appears in various publications including Entertainment Magazine Online-wwwEMOL.org/reporters/Starr, The Chicago Art Deco Society Magazine, and the Windy City Times.
Visit www.SteveStarrStudios.com where you can enter The Starrlight Room and view a portion of his collection, read Starrlight Stories, and enjoy photographs, autographs and letters he has received from some of his favorite luminaries.
Steve Starr is a Nightlife Photographer for CLUBLINE Magazine, a photo contributor to several other periodicals, and the House Photographer for the gorgeous Rumba Restaurant and Nightclub, 351 West Hubbard Street, Chicago. STARRGAZERS-Radiant Photography by Steve Starr is available for portraits and events. For further information phone 773-463-8017. Photo of Steve Starr in Chicago, September 2, 2006, by Patrick Hipskind
2007 Film Entertainment Magazine / EMOL.org. All rights reserved.