By Steve Starr
The enormous crowd of mourners became a disgraceful throng, pushing and shoving in a mad effort to view the casket of the once startlingly handsome star.
People picnicked on the cemetery lawn, trampled graves, and cheered for their favorite luminaries when they arrived to show their respect. A kid fell screaming into a pond, and hundreds strained to hear the eulogy given by the dashing Cesar Romero. It was a carnival on the peaceful grounds next to a lake in the Hollywood Memorial Park Cemetery.
Tyrone Edmund Power Jr. was born May 5, 1913, in Cincinnati Ohio, to Shakespearean actors who had worked with some of the most famous players of their time.
Tyrone Power Sr., whose grandfather was a famed Irish comedian, descended from a long line of actors and was an esteemed leading man in theatre who later made movies.
His wife, Patia, gave up her career to become a drama coach when their daughter Anne was born the following year.
The Powers decided it was best to take their beautiful but frail, sickly son, and his sister, to the warmer climate of southern California. Settling in a small apartment in San Diego, the boy was restored to health. While his father toured, Patia Power taught little Ty breathing exercises, and coached him in articulation, pronunciation, and enunciation. Years later, in 1946, her son was given the International Sound Research Institute Award for Diction.
After his parents divorced in 1920, young Tyrone returned to Cincinnati with Anne and Patia. Ty attended school and developed an obsession for acting. He corresponded often with his dad, who encouraged his aspirations. While performing in Quebec, Tyrone Sr. invited his son to visit, and gave him a personal crash course in acting.
In 1931, upon graduation from Purcell High School, ecstatic Ty was given a small non-speaking part as an old man in his father's stage production of The Merchant of Venice, held in Chicago's Civic Theatre. After the run of the show, the pair took off on the Super Chief, to Hollywood, where Tyrone Sr. was to play the lead role in the film The Miracle Man. During production, father and son settled into the Hollywood Athletic Club, where the elder Power had a sudden heart attack and died in his son's arms December 23, 1931.
Tyrone persisted in his dream of acting, and constantly made the rounds of casting agents. Finally, he won a small part as a cadet in Tom Brown of Culver (1932), and again as a cadet in the Busby Birkeley musical Flirtation Walk (1934). His family decided to move to Santa Barbara, and Tyrone decided to head for New York hoping for a stage career.
On the way, he stopped in Chicago to see the famed Century of Progress Exhibition, where he gained employment as an actor, along with his friend Don Ameche, in an exhibit on Hollywood moviemaking. He also acted in Circuit Theatre productions, radio shows, and an eight-week run in Romance at the Blackstone Theatre.
In New York Tyrone obtained roles on Broadway, which led to a screen test with 20th Century Fox, and landed him a contract. After a few minor parts, producer Darryl F. Zanuck took a chance and cast him in the lead role in Lloyds Of London (1936) with Madeleine Carroll.
Zanuck said of Power that he was..."the truest, handsomest, best of the lot." Within a year, the five-foot-ten beautiful man with ebony hair, black eyes, impossibly long black lashes, thick brows, and an electric smile became a leading man in Hollywood. He adapted easily to both modern and period movies, where his looks often led to exotic and Latin roles.
In 1937 Power dropped Jr. from his name and basked in huge movie stardom, appearing in enormously popular films that include Thin Ice (1937) with Sonja Henie, In Old Chicago (1937) with Alice Faye and Don Ameche, Alexander's Ragtime Band (1937), with Alice Faye and Ethel Merman, Marie Antoinette (1938 ) with Norma Shearer, Suez (1938) with Loretta Young and Annabella, Jesse James with Henry Fonda, and Power's first color movie, Johnny Apollo (1940) with Dorothy Lamour.
Tyrone created his signature role in the elaborate The Mark of Zorro (1940) with Linda Darnell, and the following year he appeared in gorgeous Technicolor opposite the spectacular Rita Hayworth in Blood and Sand (1941).
The stunning 28-year-old actor joined the Marines in 1942. He returned from World War II a changed man. Still handsome, but with noticeable lines on his perfect features and fatigued eyes, he developed a sad, grim quality. He had logged over eleven hundred hours of flying time, frequently under enemy fire, and was discharged as a First Lieutenant January 14, 1946.
Tyrone settled back in Hollywood where his early matured looks served him well in The Razor's Edge (1946) with Gene Tierney, Nightmare Alley (1947) with Joan Blondell, and Captain From Castile (1947) with Cesar Romero.
He won acclaim in The Long Gray Line (1955) with Maureen O'Hara, The Eddie Duchin Story (1956) with Kim Novak, and in his last film Witness For The Prosecution (1957), with Marlene Dietrich, Charles Laughton, and Elsa Lanchester. Tyrone Power had completed 53 films throughout his career.
Power married his Suez co-star Annabella, who was five years his senior, on April 23, 1939, and they divorced seven years later. Tyrone had an affair with Lana Turner, and the couple was so physically gorgeous that their presence drew gasps from the crowd when they entered a room or a restaurant.
Lana told the press, "Ty Power's the only man I've ever loved."
On January 27, 1949 he married one of the world's great beauties, actress Linda Christian, who played Annabella's maid in Suez, and their elaborate wedding in Rome drew over 10,000 spectators. The union produced two daughters, Romina and Taryn, but Power and Christian divorced in 1956.
Tyrone Power had relations with various men, but due to the climate of the times, he kept his affairs as private as he could. Power savored physical encounters with men, yet was able to avoid emotional connections with his partners.
Some believe that his three marriages were covers for his homosexuality, but it seems that he enjoyed both sexes. A friend of his, Kurt Kasznar, once characterized the type of woman Tyrone liked, "A real whore in bed excited Tyrone."
On May 7, 1958, the star married one Deborah Ann Montgomery Minardos, in Mississippi. Six months later they flew to Madrid, Spain, for Power to begin filming Solomon and Sheba.
While playing the King, after shooting the eighth take of an intense dueling scene with George Sanders, Power, like his father, had a heart attack, and died November 15, 1958. He was only 44 years old. Patia Power was never told of her son's death, and she followed him to the grave ten months later.
\ It was always very important to Tyrone that someday he would have a son who would perpetuate the family name, and shortly before his demise he spoke of this desire.
His wish was fulfilled when slightly more than two months after his death, on January 22, 1959, Deborah gave birth to Tyrone William Power IV, who grew up to look like his father, and made his film debut as Tyrone Power Jr. in Cocoon (1985) with his dad's old friend Don Ameche.
Cesar Romero, also once a matinee idol, summed up his friend in his eulogy when he remarked, "He was a beautiful man. He was beautiful outside, and he was beautiful inside." Six Marines carried the flag-draped casket to its burial site beside a lake, and Annabella told the press, "The most wonderful man in the world is gone."
Tyrone Power is interred at what is now called Hollywood Forever Cemetery. His tombstone is decorated with the masks of Comedy and Tragedy, and inscribed with the words "Good night, sweet prince..."
Sources:
The Great Movie Stars - The Golden Years by David Shipman
Tyrone Power The Last Idol by Fred Lawrence Guiles
The Secret Life of Tyrone Power by Hector Arce
Tyrone Power Websites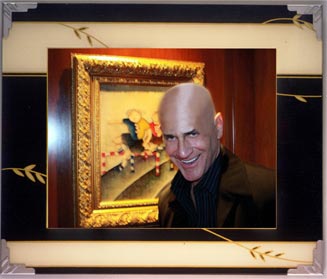 Steve Starr is the author of Picture Perfect-Deco Photo Frames 1926-1946, published by Rizzoli International Publications, 1991. A photographer, designer, artist, and writer, he is the owner of Steve Starr Studios, specializing in Art Deco artifacts and photo frames. His collection of over 950 gorgeous Art Deco frames is filled with images of Hollywood's most elegant stars.
Steve Starr's column, STARRLIGHT, about movie stars of the 1920's, 1930's, and 1940's appears in various publications including Entertainment Magazine Online, the Chicago Art Deco Society Magazine, and the Windy City Times.
Visit www.SteveStarrStudios.com where you can enter THE STARRLIGHT ROOM and view a portion of his collection, read Starrlight Stories, and enjoy photos, autographs and letters he has received from some of his favorite luminaries.
In Chicago, visit the Steve Starr Satellite Studio at the Ravenswood Antique Mart, 4727 North Damen Avenue, Chicago, Illinois 60640.
STARRGAZERS- Radiant Photography by Steve Starr is available privately, for events, and at particular locations in Chicago that include the beautiful Rumba Restaurant and Nightclub, the Seneca Hotel's Chestnut Grill and Wine Bar, Katerina's Restaurant andd Nightclub, The Cabaret Cocktail Boutique, the Kit Kat Lounge and Supper Club, Cornelia's Restaurant, the Club "3160", the Baton Show Lounge, and the Whitehall Hotel's Fornetto Mei where Starr will photograph you and your friends, print, sign, frame and deliver your photo to you on the premises for just $10. For further information or current schedule phone 773-463-8017. You may email Steve at [email protected]
Photo of Steve Starr at the Whitehall Hotel, Chicago, January 28, 2006, taken by NBC News Director Harold "Sandy" Whiteley
Web Editing by Maryellen Langhout