About The Production
"I've always believed with hard work and a little bit of luck,
it's only a matter of time before I'm discovered!"
-- Remy
From Academy Award®-winning director Brad Bird and the amazing storytellers at Pixar Animation Studios comes RATATOUILLE, the most original comedy of the summer about one of the most unlikely friendship's imaginable. The film's protagonist is a rat named Remy who dares to dream the impossible dream of becoming a gourmet chef in a five-star French restaurant. Together with a down-and-out garbage boy named Linguini, the pair carves their own imaginative path to becoming the greatest chef in Paris.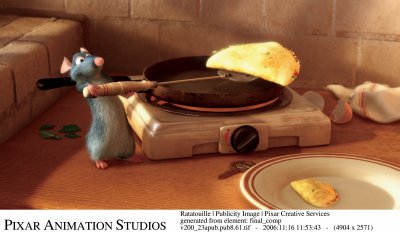 All his life, Remy, has had a gifted sense of smell and a most unusual dream for a rat: to cook in a gourmet restaurant. Undeterred by the obvious problem of trying to make it in the world's most rodent-phobic profession, not to mention his family's urgings to be satisfied with the usual trash-heap lifestyle, Remy's fantasies are filled with flambés and sautés.
But when circumstances literally drop Remy into the Parisian restaurant made famous by his culinary hero, Auguste Gusteau -- whose mantra "anyone can cook" has been Remy's life-long inspiration – he soon finds that being discovered in the kitchen can be alarmingly perilous if you've got whiskers and a tail.
Just as Remy's dreams look like they will go up in smoke, he finds the one thing he needs, a friend to believe in him: the restaurant's shy, outcast garbage boy who is about to be fired from his job. Now, with nothing left to lose, Remy and Linguini form the most improbable partnership – with Linguini's clumsy body channeling Remy's creative brains – that will turn Paris upside down, leading them both on an incredible journey of comical twists, emotional turns and the most unlikely of triumphs, which they could never have imagined without each other.
Disney•Pixar presents RATATOUILLE, directed by Brad Bird, the film is produced by Brad Lewis and executive produced by John Lasseter and Andrew Stanton. Bringing to life a wide-ranging roster of memorable characters is a voice cast that includes popular stand-up comedian Patton Oswalt, Golden Globe® Award-winner Brian Dennehy, Emmy® Award winner Brad Garrett, comic star and Emmy® nominee Janeane Garofalo, Academy Award® nominee Ian Holm and the legendary 8-time Academy Award® nominee Peter O'Toole.
THE RATATOUILLE RECIPE:
BRAD BIRD BLENDS TOGETHER A UNIVERSAL TALE OF
FAMILY, FRIENDSHIP AND FOLLOWING ONE'S OWN PATH IN LIFE
Pixar has repeatedly taken audiences on totally original adventures with a host of cinema's most surprising and unforgettable characters. From toys coming to life ("Toy Story" and "Toy Story 2"), to a group of monsters terrified by a little girl roaming their world ("Monsters Inc."), to a tiny fish lost in a vast ocean ("Finding Nemo"), to superheroes trying to lead suburban lives ("The Incredibles"), to a hot-shot race car waylaid on Route 66 ("Cars"), the cutting-edge animation studio has consistently presented unique stories full of emotional and visual excitement.
This summer, with RATATOUILLE, that storytelling tradition takes yet another wild leap, this time into an uproarious, and unprecedented, animated riff on classic physical comedy. As the film follows a young rat named Remy's quest to leave his garbage-eating roots behind and really cook, it takes him into a world where he's at once creatively inspired and in constant danger – a circumstance ripe for all kinds of comically chaotic situations and side-splitting stunts. Just as it looks like Remy's one big chance at finding his way into a five-star kitchen is in trouble, he strikes up an unlikely friendship with the restaurant's down-and-out garbage boy, coming up with a clever, if literally hair-raising, plan that will allow these two outcasts to achieve great things together.
Amidst the perils and pratfalls, the film also traverses through universal themes: the bonds of friendship and loyalty; the battle against family expectations and finding your own independence in spite of them; and most of all, the importance of being true to who you are, even if you're not quite what anyone expects.
Says the film's director, Brad Bird: "I think we all have impossible dreams and we do what we can to pursue them – and Remy's dream might be the ultimate impossible dream of them all."
Comments John Lasseter, chief creative officer Walt Disney and Pixar Animation Studios and a two-time Academy Award®-winning director: "The idea of following one's creative passion against all odds is one that Brad Bird cares deeply about. And it shows because he's created an amazing film that's deeply funny in an original way and has a real emotional core to it, which is so important to us. There's a level of depth, complexity and humor to this film that I don't think any Pixar film has had before."
For Bird, RATATOUILLE was a chance to choreograph a kind of Buster Keaton or Max Sennett-style physical comedy full of dashing, leaping, chasing and catapulting — yet also imbued with the spirit of die-hard characters tackling the implausible and triumphing over all the adversity that comes their way.
The story's original mix of witty repartee, acrobatic hijinx, tightly choreographed comic timing and resonant emotional themes was an exciting next step for Bird, who made his Pixar debut with the Academy Award®-winning hit "The Incredibles," an animated feature so humanly complex and moving that it was included on numerous year-end Top Ten Lists right along with its live-action cousins, breaking down the barriers between the two.
"I was really intrigued by the possibilities of RATATOUILLE's premise," says Bird. "The story has such a great and relatable hero because in order for Remy to do the one thing he loves, he has to go into a world that's completely hostile to him. He wants to express himself in a way the world doesn't expect him to, and I think a lot of people know that feeling," says Bird. "The question is: just how bold and clever can this little guy be in pursuing the thing that matters most to him, and what will he discover along the way? The story is in the tradition of that kind of timeless physical comedy that spans all languages and cultures, but it's been given a fresh twist."
Bird was especially excited about injecting the film with wild twists and turns from nail-biting suspense to no-holds-barred comedy, from navigating the whitewater rapids of Paris's famously intricate sewers to the high-pressure hustle of a restaurant serving dinner with a critic in the house. "Part of the joy of RATATOUILLE is simply that it is so unpredictable," Bird notes. "If we've done our job right, when you think it's going left it goes right, and vice versa, hopefully all in a way that's not only humorous but from the heart."
The enchantment of RATATOUILLE begins with the charm of the characters, developed by Bird and Jan Pinkava, who first invented the film's premise, and whose characters join the Pixar pantheon with real and relatable inner lives. At the center of the tale's emotional appeal are Remy's many different relationships – including those with the affectionate but flummoxed father who doesn't understand the road he has chosen; with the ghost of the legendary French chef he has idolized all his life, despite their different species; and especially with Linguini, with whom he forms an unusual symbiotic friendship based at first on their mutual desperation but which turns into something truly life-altering for both of them.
Though rodents have a long and storied history in animation, right down to Mickey Mouse himself, rats are often cast as villains and rarely as screen heroes. But Remy manages to bust through that taboo as he finds wily ways to evade detection inside the kitchen, often by a mere whisker, while whipping up recipes that become rousing successes. His courage comes to the fore as he uses one of his species' most inspiring and human-like qualities -- a spirited affinity for taking on a perilous world far larger than themselves – in remarkably inventive ways, including pairing up with Linguini to make an invincible team in the kitchen.
For Brad Bird, the many barriers that appear to stand between Remy and success – from his family's lowly expectations to the health inspector's impending visit -- made the storytelling process that much more humor-filled and exciting. "When you have a lead character with such big obstacles to overcome, that's really juicy stuff for animators. There's so much inherent conflict and drama to grab onto," the director notes. "I've always liked stories that take advantage of how far character animation can go, but this goes to a new extreme."
Indeed, with its fast-and-furious comic pacing, its madcap antics and its painterly beauty, RATATOUILLE features some of the most sophisticated visuals yet seen in a CG animated film, once again nudging the technical bar for animated filmmaking skyward. Among the film's many unique qualities is its locale -- an ornately magical imagining of Paris. Then there is the food. Not just any food, but the most delicious, scrumptious, artistically presented gourmet meals imaginable. All of which takes audiences into a realm of sublime visual delights previously unexplored in CG animation and helping to create an utterly authentic world in which audiences might even believe that a rat could be a chef in the kitchen.
Yet the technological achievements of the film are always in service to spinning an even more enveloping and laughter-filled tale that celebrates the challenges of being true to friends, family and the search to find real happiness in life. Notes John Lasseter: "These characters are so charming and so emotionally believable that the audience isn't likely to even realize they are seeing new technology. You're just too caught up in their story."
Producer Brad Lewis believes that Brad Bird was the perfect man to take on this mission of pushing the boundaries of animated comedy in the name of innovative storytelling – in part because of his Remy-like refusal to believe anything is impossible. "Brad Bird is as intense and passionate as Remy is in the film," Lewis muses. "I've never seen someone so locked into what's going to make a story work creatively and emotionally. He's got these skills of perception where he always hones right in on what's going to make things a little more natural, or a little more funny or a little more true. And he's a genius with physical comedy."
Bird ultimately hopes the film will take audiences on a journey that keeps them constantly off guard, yet rooting for Remy to achieve the seemingly impossible and save not only himself but his new friends at Gusteau's Restaurant. Sums up Bird: "When you can get audiences to believe in something that might seem inherently unbelievable, that's the real magic of movies."
THE COOKS IN THE KITCHEN:
BRINGING TO LIFE THE CHARACTERS OF RATATOUILLE
As with all Pixar films, the heart of RATATOUILLE lies in the characters who – whether homo sapiens or genus rattus – bring their own unique personalities, quirks and passions to the story's mix. Their life-like natures and wonderfully familiar dilemmas – from family squabbles to job headaches to standing up for friends -- are the result of a collaborative artistic effort that starts with a stellar voice cast and continues with the film's cutting-edge animation, filled with a layered artistry that makes both the film's animal and the human characters stand out creatively in the CG world.
The cast of RATATOUILLE spans the gamut, from some of the greatest actors in cinema to character-obsessed in-house Pixar staff, which is just the way Brad Bird likes it. "Great voices inspire great animation," he explains, "because it's those little nuances in the voice that animators can grab a hold of and use physically. Pixar has been very good about casting people who are right for the roles, whether they're famous or not. So on the one hand, we have some of our talented in-house artists doing voices and on the other we have acting legends such as Brian Dennehy, Ian Holm and Peter O'Toole – yet they each bring something really specific and special to their roles. We also were lucky to cast Patton Oswalt, Janeane Garofalo and Brad Garrett, who are all gifted stand-up comedians. I think they give the film a special comic edge. In every case, the voice performers provided the animators with a creative turbo charge."
It all began with Remy, who might be a rat but had to be a true underdog hero at heart. Behind his whiskers, tail and perked-up ears are aspirations and dreams to which anyone could relate. "What I love about the character of Remy is that he doesn't settle," says Bird. "He's always looking to the horizon for a new experience. Of course, that's why he's the skinniest of all the rats – because he only wants to take in the very best. He always wants something more from life, and I like that about him."
To bring Remy's voice to life, the production considered a wide range of actors, but it was only when Brad Bird heard comedian Patton Oswalt doing one of his outrageous routines on the radio, that a light went off. "In one of his routines he was actually talking about food, besides being hilarious, I was really impressed by his passion, exuberance and volatility," Bird recalls. "He has a great voice that sounds like it's coming from a smaller being but there's also a tremendous force of personality. To me, that was Remy – a small guy with very big feelings, who can be passionate one minute and outraged the next, and you believe it all."
Oswalt, who was chosen by Variety as one of ten "comedians to watch" and was Entertainment Weekly's "It Comedian" in 2002, was already a huge fan of Pixar's movies, so getting offered the role of Remy was like a dream come true. "I can't even call it a dream," he corrects, "because it was so far beyond anything I ever could conceived of as happening. It was on the crazy list, along with getting the secret powers of Shazam." While secret powers were not forthcoming, the role of Remy now belonged to Oswalt. He quickly fell in love with the tiny fellow and his irrepressible yearning to be who he is no matter what obstacles stand in his way. "He has such a huge hurdle to his goals, because the one place he wants to be – a gourmet kitchen – is made worse by his very presence!" Oswalt notes. "But Remy is one of those guys who is openly, unapologetically passionate. His enthusiasm is infectious and he isn't going to give up. He decides to put everything on the line to try to make his dreams happen. The little guy has quite a journey ahead of him." Oswalt also had quite a journey. "Playing Remy was exhausting," he laughs. "I've actually never done more physical stuff than in playing this pure voice role! Trying to conjure up all these different actions and emotions while standing in one place, it's like a kind of Kung-Fu…Voice-Fu, perhaps."
He was thrilled to be guided along the way by Brad Bird. "Brad is an even bigger animation geek than I am. He has the entire universe of the movie in his head and he is so creative that it seems he can always give you that one tip that really makes for a great line or scene," says Oswalt. "I'm also a big foodie and a lot of people on this movie are foodies, so that was a lot of fun. The food itself in this movie is a landscape of deliciousness that is just so artistically done. I love that Pixar is always deepening and deepening the experience of animated movies."
When it came to forging Remy's features, Bird wanted to give him as much opportunity for expression as an animated rodent could possibly get. "The facial articulation of characters is getting better and better all the time, and we wound up with about 160 individual controls for Remy's face," Bird explains. "It's like having more keys on a keyboard, because it opens up so many more possibilities. Still, one of the big challenges for us is that a rat's face doesn't necessarily shoot well from all angles. Because rats have such a long snout, the mouth can be kind of hidden underneath if Remy's head is angled down, for example. So it was something we tried to work around quite a bit, to make sure the audience is always really getting to know him."
Remy's dreams would never get a chance to come true if it weren't for Linguini, the lowly garbage boy at Gusteau's who discovers the rat's talents and finds them changing his own fortunes. Although they start out partnered together out of mutual desperation – Linguini needing to hang onto his job and Remy hoping to finally get his chance to work in a real live restaurant kitchen -- Remy and Linguini slowly become buddies who learn they can truly count on one another.
Says Oswalt: "Linguini is the one human Remy can sort of trust and they wind up collaborating in a very funny and unique way. You just so want to root for poor Linguini."
In some of the film's most uproarious scenes, Linguini lets Remy literally control his own attempts at cooking. Explains Bird: "Linguini is somebody who doesn't like to attract attention and thanks to Remy he gets a huge amount of it. He's a great example of someone who thinks they aren't anything special, but when the going gets tough, they find it within themselves to be amazing and do the right thing." Character supervisor Brian Green admits he had another contemporary movie character in the back of his mind when it came to Linguini – "I thought of him a little bit like Napoleon Dynamite; he's appealing, he's funny and somehow you can't help but root for him," he says.
Adds directing animator David DeVan: "Linguini was really fun to animate because he's got this great quality of always being kind of wide-eyed and witnessing everything for the very first time." Also a challenge for the filmmakers was Linguini's hair, which is not only a key to his character, but becomes the kind of "joystick" with which Remy controls his brilliant cooking moves. "Linguini's hair is wild and out of control, just like him," notes groom supervisor, Sanjay Bakshi. "It's a type of style we haven't done before."
To play Linguini, Pixar ultimately went in-house, tapping Lou Romano, who had served as a production designer on "The Incredibles" and had voiced some smaller roles in earlier productions. When Bird heard Romano doing Linguini's voice on a temporary track, he was struck by how beautifully it worked. "He's studied for years and he's a terrific actor," says Bird. "Knowing the whole process so well frees him up to be very inventive. The film wouldn't work without him. Lou has a certain shy hesitancy but he also has this reserve of passion where he can become very assertive and powerful, just like Linguini. And Lou acted Linguini just crazy enough to make it believable that he'd let himself be controlled by this little rat."
"It was really exciting when I heard that I would be cast," recalls Romano. "To be a great filmmaker, I think you have to already have a real appreciation and understanding of performance. People at Pixar have that appreciation and what's great is that the studio allows a lot of us the chance to voice the characters they create."
Adds Romano, "Of course Linguini is very insecure and completely out of his element in the kitchen, so I was able to draw on my own experiences of feeling out of my element for the role."
Definitely in his element in the kitchen is Auguste Gusteau, the legendary chef who was Remy's lifelong idol – and is now an inspirational apparition. Of Gusteau, Brad Bird says: "He was once the toast of the culinary world and he just exudes passion and authority. He's kind of Remy's mentor or conscience, like a Jiminy Cricket or Obi Wan Kenobi, who inspires Remy to be more courageous and inventive."
To play Gusteau, the filmmakers recruited popular comedian Brad Garrett ("Everybody Loves Raymond"), a veteran of past Pixar films who, despite being featured in "Finding Nemo" and "A Bug's Life," was very excited about his role in RATATOUILLE. "This is the first time I don't have fins or nine legs," laughs Garrett. "Gusteau is a great character who also has a lot of heartfelt moments."
"Brad Garrett is another piece of wonderful casting," says Bird. "He has an innate sense of comic timing and that great basso profundo voice that is perfect for Gusteau. It was also tremendous fun to work with him because he's always got something funny to say."
The character required special technological touches. "We had to create a special rig for him because he has so much fat that sloshes around, and he's so flexible and as a figment of Remy's imagination, he's able to fly, so he's a really unique character," says Brian Green.
To voice the role of Skinner, the dictatorial head chef of Gusteau's kitchen who is dubious of Linguini's new found cooking talent, the filmmakers found themselves blessed with an Academy Award®-nominated, Shakespearean tour de force: British star of stage and screen Ian Holm, who recently played the hobbit Bilbo Baggins in Peter Jackson's "The Lord of the Rings" trilogy.
"You simply can't do better than Ian Holm," remarks Bird. "He's such a wonderfully gifted actor that he challenged me as a writer to give him a lot of colors to play with. The character reminds me of Inspector Dreyfus in the 'Pink Panther' movies because he really believes Linguini is incompetent but he can't quite catch him in the act. It's a wonderful comic situation and I think Ian hits it out of the park."
It was the story that lured Holm to the part. "It's very touching and moving and there's lots of laughter, so you have that great combination," he says. "I'm really proud to be in a Pixar movie." But Holm acknowledges that it wasn't an easy gig. "I think it was Tom Hanks who said that doing 'Toy Story' was the hardest work he'd even done in his career. I understand that sentiment – and I would go along with that."
In drawing the 3' 6"-tall Skinner, the filmmakers had a lot of fun. "The big challenge with Skinner was his expressiveness – the way his lips are really big and how they move and the way his neck jumps around," says Green. "He's very dynamic."
Laughs Holm: "I don't think he look likes me! He's small, he has a very large eyes, a tiny pencil moustache and a comb-over. He's really quite an unpleasant looking fellow. It's actually quite a shock to see this character you've helped bring to life."
Golden Globe®-winner Brian Dennehy, who is well known for playing tough and imposing men on screen, was cast this time as a tough and imposing rat – Remy's father, Django, who can't quite understand why his son is drawn to a world where his kind has never been welcome. Dennehy was also drawn to the thrill of joining a Pixar production. "Just to be a part of this is a kick because you're working for the most cutting-edge company and unquestionably some of the most creative people in the business. It's some bunch," he sums up. "It's also hard to resist a clever, funny, beautifully written story set in classic Paris."
For Brad Bird, Dennehy was the perfect choice for Django. "Django represents the kind of wisdom of the Old World, from the time when rats and humans didn't mix. And Brian has such a sense of authority in his voice that I think he really sounds like someone who's been around awhile and has gained a lot of knowledge. He's a marvelous actor."
As the voice of Collette, one of the cooks struggling to remake Gusteau's restaurant, the filmmakers cast popular comedienne Janeane Garofalo, who dons a French accent for the role. "Colette is a female chef in a world populated mostly by men," notes Bird, "so she's someone who comes in hard as nails, very determined, but is really a softie underneath. Janeane is also a tough cookie who can also be very vulnerable. She's a very gifted actress. The animators loved working with her voice and she was very game to do a French accent."
Garofalo enjoyed the character's open-minded approach, putting the quality of the food above all else. "Colette doesn't have any 'us versus them' feelings about rats and she is ultimately willing to live peacefully with them. I admire that about her," says the actress.
Once she saw her character's look, Garofalo also came to admire her ravishing, ultra-shiny hair, which is cut into a typically chic bob. "We wanted to make her hair very striking," says Green. "She's very French and very elegant in the way she is designed. I thought of her as a kind of flower who hasn't quite blossomed yet, and you really see her grow in the course of the story."
Also joining the main cast is one of the greatest actors of our time, 8-time Academy Award® nominee Peter O'Toole as the hard-to-impress restaurant critic Anton Ego. "The proudest casting moment was when Peter O'Toole agreed to voice Ego," says Bird. "I was over the moon. I'm a huge Peter O'Toole fan and I had written every line of Ego hoping against hope that Peter O'Toole would agree to be our guy. His voice is the one I heard in my head as I was writing."
O'Toole enjoyed the character's supreme powers as an unforgiving critic. "His opinion can and does make or break restaurants," says O'Toole. "If he says 'the Yorkshire Pudding was splendid,' you're in business but if he says 'the New England Clam Chowder was ghastly,' you're out!"
Yet O'Toole was not without sympathy for Mr. Ego. "His saving grace is that he loves food," he says. "I can always forgive any critic if they are criticizing something they love."
Most of all, O'Toole had a blast just watching Pixar do what Pixar does. "The whole thing for me was a revelation. Bit by bit, I've come to understand the process more and more, but I'm still getting over it. The way the non-human characters become even more human than the human figure is astounding, as is the beautiful use of camera angle, dimension and perspective," he says. "I've really enjoyed it thoroughly."
Another in-house Pixar story artist and animator who had a blast taking on a major role is Peter Sohn, who was tapped to play Remy's garbage-loving, pear-shaped brother and taste-tester, Emile. "Emile is a very relaxed dude," notes Sohn. "He's chubby and he'll basically eat anything, so he and Remy, who has this very peculiar high taste, have an interesting dynamic. But, also, Emile will always be there for Remy. His feeling is 'I guess you've got to be who you are.'"
Topping off the cast is the so-called "Pixar good luck charm": John Ratzenberger, who came to fame in the role of lovable postman Cliff Claven on the hit television "Cheers," and has been in every single one of the studio's movies since "Toy Story." From the school of fish in "Finding Nemo" to The Under-Miner in "The Incredibles" to Mack in "Cars," it's become an enjoyable puzzle for Pixar fans to figure out which voice is his in every film. In RATATOUILLE he plays the waiter Mustafa, who he describes as "always in a panic. He's very smooth with his customers, but once he crosses the threshold of the kitchen he's always worried the food isn't coming fast enough, the soup isn't hot enough, etcetera."
Once the voices were recorded, the animators faced the unforeseen challenge of animating characters who speak with French accents which meant that their mouths would have to move in mysterious new ways. "When someone's speaking with a French accent, the mouth shapes are different," notes supervising animator Mark Walsh. "We had to find a way to capture that, not only in the voice performances, but to infuse some of those authentic gestures and mannerisms into the animation."
For inspiration, the animators literally watched the French…being French. "We even watched classic French films and modeled some of the characters from great French actors," says Brian Green. Ultimately, the faces of such French icons as Brigitte Bardot, Serge Gainsbourg and even Charles de Gaulle helped to inspire some of the character designs.
Sums up Brad Bird of the interaction between the voice actors and animators: "The situations in the story and the great vocal performances were like catnip to the animators!"
THE RATATOUILLE CHALLENGE:
CREATING ADORABLE BUT BELIEVABLE RATS
With so many original characters and situations, RATATOUILLE constantly inspired the filmmakers to push the technology to new limits. Notes the film's supervising technical director Michael Fong: "There were so many technical challenges to tackle on this film, starting with lots and lots of furry characters, as well as very complex human characters, intense water scenes with rapids and the recreation of the beloved city of Paris. Along the way, we significantly changed the way we shaded models, the way we light the scenes and the way we do cloth. We took technology from our previous films and found ways to make it even better. And all of this contributes to a really different, original look that audiences will experience along with all the fun of the story of RATATOUILLE."
The challenges began with animating a whole new species never tackled before. The animators at Pixar have created all manner of menageries from toys to bugs to fish and even monsters, but even for them, rats were an unexplored – even forbidden -- species. Often type-cast in bad guy roles in cartoons, rats haven't always received a fair shake in the animation world. But for RATATOUILLE, the filmmakers decided to look at these new furry friends from a fresh perspective, re-assessing some of their most amazing talents and qualities, and analyzing every aspect of how they interact with the world, from the swish of their tails to the twitch of their whiskers to the amazing shapes they can assume, to find the joyfulness and expression in their beings.
Since the best way to get to know rats is to spend time with them, the offices of Pixar were soon adorned with curious pets in cages. Although it took some getting used to, many of the filmmakers quickly found themselves feeling quite affectionate towards the socially minded critters, which inspired their designs even further. Explains the film's character supervisor, Brian Green: "We spent a lot of time at first just observing and getting to know the rats and then incorporating all their behavior into models so that, ultimately, the animators were able to give them such compelling performances. Living with rats, you really get to see all of their little mannerisms. They're really quite social animals. They'll play with you and even cuddle on your arm."
Continues supervising animator Dylan Brown: "We like to respect the real nature of the animals who become characters in our films and then build caricature and personality on top of that. With RATATOUILLE, the challenge was to find ways to get these little guys and their world to be very appealing just as we found ways to make fish, which aren't really thought of as being that cute, appealing in 'Finding Nemo.'"
Watching their new pets lead their daily lives also gave Green and his team plenty of fun ideas and opened up new areas of exploration. "One of the things that became very important to the film is that we began to realize how squishy rats are. A rat can do all kind of amazing things with its body – they go through tiny holes you would think impossible or shrink into a little tiny ball because their rib cages are so small and flexible – and that was something that we knew would be a lot of fun inside the story. But first, we had to create special technology to simulate that and try to capture it in a way that was realistic," Green explains.
Supervising technical director Michael Fong continues: "There are a lot of challenges in making a rat squishy. It involved a really laborious and long process where the animators and the articulators – the people who actually build the skeletons inside the characters – would test models over months on end to figure out how to create all the extreme poses with all the skin and fur and bones all moving in a way that looked both right and expressive."
Once the filmmakers had a better sense of how rats move in real-world situations, their investigations quickly moved into the fantastical -- how, for example, would a rat such as Remy hold a spoon or a pan?
"We needed to build into the rat characters the ability to interact at the human level and to actually cook with human chefs. There were a lot of challenges there, especially in managing scale," says Green. "You see the difference in scale even in a simple thing, like heartbeat. When Remy is running you can see his heart fluttering really quickly, while Skinner is breathing at an entirely different rate. Trying to capture these differences really sells the story as a believable meeting of two worlds."
Shading was also key. "Each of the rats has their own palettes to make them even more appealing and interesting," explains shading art director Belinda Van Valkenburg. "We used pointillism to mix different colors for each character. So if you look very closely at Remy's hair, he's got purple, yellow and green hair. But if he's far away, he's just a nice shade of blue." Van Valkenburg also looked to peaches for inspiration. "I wanted them to have cute little peach fuzz on their noses and ears, as well as their tails."
The biggest challenges of all came in creating Remy, who tries to straddle the rat and human worlds with often hilarious results. Bird made the decision that while all the other rats would walk around on all four legs, Remy would teach himself to stand up on two legs – to avoid the faux pas of dirty paws scampering all over the food! "Ultimately what happens in the movie is that Remy evolves," Green explains. "He starts off very rat-like, but as he goes deeper in the human environment, he picks up more and more human characteristics. It was a lot of work but it really introduced a lot of magic into the story. For Brad, the real heart of the story was always that this was an outsider trying to fit into a human world."
Rats also bring with them another tough job for CG animators to tackle: fur, which has its own highly dynamic, and not easily imitated, ways of moving with an animal. While Pixar had pioneered new methods of handling fur and hair in "Monsters, Inc." and "The Incredibles," for RATATOUILLE, the fur was literally flying. "This time, we had thousands of characters with hair, and all that hair needs to interact with everything else that's happening," Green notes. "So we had to really upgrade our 'hair pipeline' to allow for this. This meant a lot of angst but also a lot of new, clever tricks."
While real rats might have as many as half a millions hairs, that was, well, a bit too hairy even for today's computers. Instead, the filmmakers focused on some 30,000 "key" hairs per rat, which was still a massive undertaking. "We choose key hairs to simulate and then rendered the rest because otherwise we would have more data than you could possibly store," comments simulation supervisor Christine Waggoner. "Even so, we still had huge files of hair!"
The rats of RATATOUILLE might have an engaging realism, even humanism, to them, but they are also very much a part of a fairy tale – which becomes especially clear in the scenes in which Remy controls Linguini like his own chef marionette. For the filmmakers, the entire success of the film hung on getting the audience to believe in this fantastical and funny notion. "The animators worked it out so just the slightest tug of Linguini's hair creates a movement of his hand," says Brad Lewis. "It's just so funny. This film has so much old school Buster Keaton physical humor, it has you laughing your pants off without a single word being uttered."
RATATOUILLE'S PARIS:
A BREATHTAKING NEW WAY TO LOOK AT THE CITY OF LIGHT
Paris may be the most photographed, painted, written about, dreamed about and adored city in the world – but RATATOUILLE manages to take an entirely new look at it. The story of RATATOUILLE unfolds in two very different but equally enchanted sides of the city: an ethereally charming and urbane world of restaurants and cafes above ground; and the intricate, mysterious, industrious realm beneath the streets where Django's furry family makes their home.
"Paris has been seen many different ways, but never from a rat's point of view," muses Brad Bird. In revealing this whimsical vision, Bird worked closely with production designer Harley Jessup, who found himself with one of the most exciting missions any animated designer has ever been issued: not only to distill the essence of the City of Light into a CG world, but to create a landscape that is more than just a backdrop, but a character that breathes passion and life into Remy's world.
Naturally, Jessup started with an inspirational journey, along with director of photography/lighting Sharon Calahan, to France. "We were looking mainly at color, shapes and surfaces," Jessup explains of their whirlwind trip. "It really inspired us to use a very different kind of a palette than ever before. We realized that much of Paris has this kind of classical, stone quality that is then filled in with little accents of color. We'd see a woman walk by in a red coat and she would just sparkle against the gray background – and we wanted to get that in the film. That's why the palette is more muted than any other Pixar film. It was a little scary, because usually animated films are so outrageously colorful we were using colors more as accents, but I think the restraint of color can also make it much more powerful."
When it came to flourishes, Jessup was less restrained. "We wanted to create a classical, fairy tale Paris," he says. "It's already such a magical city but we made all the spires and domes a little more prominent to really accentuate the enchanted aspect of it."
Although many of the film's locations are fanciful, Jessup faithfully recreated several legendary landmarks, most notably the Pont Alexandre III, the beautiful arched, lamp-lined bridge that spans the Seine, where Linguini and Remy first form their reluctant partnership. "That's really a low point emotionally for Linguini and Remy so Brad wanted it to play out against the dramatic scenery by the Seine with the soaring Notre Dame cathedral in the background," explains Jessup. "We tried to recreate it very authentically."
Even the oft-praised Parisian skies inspired the production design. "There's a very particular look to French skies, which is why Impressionism was born there," observes Jessup. "There's a beautiful quality to the light, a slightly misty quality, and we really tried to find ways to add that touch to all the outdoor scenes."
When it came to researching for the underground world of Remy and his fellow rodents, Jessup got to literally see the underbelly of Paris, descending into the famous flowing sewers beneath the city that Napoleon himself pioneered. "We toured the sewers as well as the catacombs and the quarry tunnels where all the limestone was quarried to build all the famous structures," recalls Jessup. "It was really a trip of polar opposites – crawling around the sewers by day and dining at the finest restaurants by night! But that's also what the movie is all about: a rat like Remy isn't supposed to go to the places where humans go but that's where he winds up."
Since Jessup found the real sewers a bit too dank and narrow, he embellished upon them. "We wanted a more evocative, dramatic feeling," he notes, "but at the same time, we didn't want it to be too grand, either. We use some of the same classical shapes we use in the human world up above but in a rougher way, in a sort of mossy, algae-covered way. We also created the rat encampments to have a kind of Gypsy character. There's a very warm, family feeling that comes out of the little scraps of cloth and French wine boxes they use and the campfire they live by."
Remy's family uses their environment in all kinds of clever and creative ways. Jessup especially got a kick out of creating the makeshift boats on which they escape from the French countryside into a storm drain. "All of the little boats are made out of found objects," Jessup muses. "They're made out of barrels and watering cans and tea pots and it's a lot of fun."
Effects came into play in creating the rapids that the rats are sucked into in their ramshackle watercraft. "It's technically very challenging to deal with moving water," notes effects supervisor Apurva Shah. "There was a lot of effort that went into creating the whole environment for the river and creating that dynamism with the rain and the river and the exodus of the rats. There's been a lot of work done in the last few years in coming up with simulations to make water look and behave more realistic, and we took advantage of that." To assure authentic understanding of how rapids work, Shah and his team even took a trip down the Class III American River near Sacramento!
The piece de resistance for Jessup was designing the place where Remy first gets a taste of his dreams coming true: the kitchen at Gusteau's. "The design of the kitchen evolved over about two years," he says. "We visited lots of real French kitchens and used some very specific references from them. The main difference is that our kitchen is much more open, whereas many kitchens are a series of small, interconnected rooms that wouldn't work cinematically. But we still kept the separate areas where the baking is done, where the fish is cooked, where the meat is cooked, where the cold food preparation is done and so forth, so we needed quite a large space."
That space becomes the scene of all kinds of comic mayhem when Remy enters it, which also challenged the film's directors of photography. Although Remy loves to cook, a human kitchen is filled with dangers he has to avoid, from falling into pots to paddling through a sink filled with dishwater, which leads to much of the film's physical comedy. Says Robert Anderson, director of photography/camera: "A lot of times, the cameras are hustling just like the kitchen is hustling. In some scenes you've got Remy cooking in his own world and the camera will start out graceful and flowing with the music as he prepares this amazing meal. And then suddenly, Remy will be discovered in the kitchen and now the camera's chasing after him, as people are throwing things at him and he's almost getting run over and thrown into an oven. The camera is always right there with him."
The dining room at Gusteau's was equally important to the film's whimsical look. It was inspired by an amalgam of several famous Parisian restaurants, including Guy Savoy, Taillevent, La Tour d'Argent and Le Train Bleu, the beloved Belle Epoque dining spot in the Gare de Lyon railway station, as renowned for its grand, eclectic décor as for its classical cuisine.
"We were inspired by several French restaurants – but Gusteau's is the most ornate restaurant of all," confesses Jessup. "It's filled with huge, gilded arches, ceiling murals and thick red drapes, and it's palatial in scale, making it the perfect backdrop for tiny little Remy to try to become a chef."
THE RECIPE FOR SUCCESS:
CREATING RATATOUILLE'S DELECTABLE ARRAY OF FINE FOOD
Once inside Gusteau's, Remy gets the chance he has waited for all his life – albeit in disguise -- to completely revamp their fading menu with his own creative concoctions. For the filmmakers, bringing to life this culinary world that means everything to Remy in an accurate and exciting way was key to the entire story. So, first, they immersed themselves in the world of fine cooking. "This story is about much more than cooking, but I felt that by creating a real kitchen atmosphere and real-looking food, you could give the fantasy a believability that you otherwise wouldn't have," says Bird.
The process started in Paris, where the filmmakers' "research" consisted of eating their way from one famous restaurant to the next, sampling the mouth-watering delights and peeking behind-the-scenes at the most creative kitchens in the world. "There was some concern that we might die of eating too much good food in too short a time," laughs Bird. "But we really learned a lot that adds to the fun of the film."
Back home, the entire team got into the act with a series of cooking classes, in which computer artists more used to clicking and tapping instead learned to slice and dice like the pros -- gaining essential insight into tiny but vital details about how chefs hold a knife, chop an onion, stir a soup and interact with others in a wildly busy kitchen. The cooking classes provided lots of creative fodder – and even had some interesting side effects. "It kind of ruined me," laughs supervising animator Mark Walsh. "I used to be a Top Ramen, tuna-out-of-the-can man and suddenly I realized how much more fun it is to make something really good!"
Meanwhile, Brad Lewis was shipped off to Napa Valley, where he spent two days doing a "total immersion" internship at one of America's finest (and hardest to get into) restaurants: the French Laundry, where superstar chef Thomas Keller, lauded as one of today's most creative innovators, turns out new riffs on beloved classics from the kitchen every night.
When Keller heard about the story of Remy, he was instantly taken, and immediately began rooting for him. "I'm not as shocked by the idea of a rat in the kitchen as some people might think," he laughs. "I think instead Remy is someone that anyone can really relate to, an underdog who triumphs, which gives you such a wonderful feeling to see."
Eventually, Keller would also voice the role of a restaurant patron in the film, but first he served as a dynamic guide into the world of culinary adventure for Lewis. "Brad wanted to see what a real kitchen looks like and feels like, the energy, the dynamic, how people work together and move around the kitchen – "the dance" as we call it in our restaurant" explains Keller. "Brad and his team also took a lot of video at the French Laundry so they could study it and turn reality into animation."
Lewis, who worked until 1:30 a.m. the first night and was back in the kitchen at 5:30 the next morning, notes that it was all worth it, as he learned more about what motivates a character like Remy to be so passionate about food. "There's just tons of details and secret knowledge involved in a kitchen like the French Laundry," Lewis observes, "but the important thing I realized is that Thomas has the same kind of emotional connection to his food and his customers as we do with our movie-going audiences at Pixar. We found ourselves relating to each other on a much broader level of how much our teams care about what they do. I also discovered that I love to cook for the same reason most chefs do: because it brings people together."
Yet, even with everything the filmmakers had seen and tasted in Paris, in cooking classes and at the French Laundry, they knew it wouldn't be easy to translate the distinctive yumminess of a fresh plate of food into computer imagery. "Our mission was to create the most beautiful food you've ever seen. We wanted the audience to be thinking, 'Mmmm, I'd like to jump into the screen and actually eat that!' But it's hard enough to create such meals in real life, let alone in the CG milieu," says Michael Fong. "So the filmmakers had to cook up a series of unique creative and technical processes.
To start with, the technical team realized that they would need real-life models of the food to study. "The only way to recreate what the dishes look like when the sauces are bubbling and the steam is rising off them was to actually cook the dishes on a real stove and then photograph them," says Fong.
Enter the film's in-house culinary consultant, Michael Warch, who was a professional chef before he entered the film business, and also worked as a manager for RATATOUILLE's sets and layout departments. "Basically, I was always at the ready. The effects people would call me up and say we need to recreate the soup that Remy fixes and I would go down and make the soup," explains Warch.
Warch worked throughout the film to assure the kind of authenticity that even the snobbiest gourmand would appreciate. This was especially true in Gusteau's kitchen. "The idea was always to create something that was stylized and fun but also true to a real French kitchen," he says. "We needed to have the right French copper pots, the right French knives, the correct sense of the workflow with the chefs always in perpetual motion – right down to the way the food is plated with the different types of sauces and the architectural presentation. We wanted anybody who has been behind the scenes of a great kitchen to say 'wow, they really got it'!"
When it came to the actual CG representations of the food, there were a lot of technical challenges for the team to tackle. "One thing we discovered is that the simulation group needed to soften a lot of the food so it would meld into each other on the plate," says Fong. "That made it look more delicious. The lighting group and shading group also added more translucency which makes the food really appetizing. And finally the effects group created steam and waves of heat coming off the food. It all adds up to a yummy looking image!"
Certain foods presented surprising challenges – for example, bread, which sounds simple to create but if you want it to have a so-good-you-can-taste-it look, all kinds of difficulties arise. "Bread is challenging because it has to have a feeling of volume to it," explains Fong. "You can't just have a flat surface painted to look like bread. It has to have the air bubbles that are formed as it bakes so it looks soft and steamy. The crust has to somehow look flaky and at the same time crispy. So we had to get some really smart people together to attack these problems."
Another problem the food team had to tackle was that of the restaurant's many liquids, from thick specialty sauces to flowing red wine. "Simulating things like mandarin oranges in a sauce is very complex and can be a very arduous process," Fong notes. "Simulating water is hard. Simulating a viscous, slow-moving fluid like gravy or a delicious sauce borders on impossible because very few simulators can robustly handle the physics. Suspending things in this liquid just multiplies the difficulty." He continues: "We also needed special fluid simulations for how liquid would move inside a spoon, for example, in the scene when Remy saves the all-important soup."
The proof of the food team's work literally lay in the pudding and no less an authority than Thomas Keller found that his appetite was whet. "Some of the dishes they created truly made me want to taste them," says Keller. "They way they're plated, presented and sauced – they really captured that wonderful appeal of great food in an animation process."
FROM TOQUES TO TABLECLOTHS:
RATATOUILLE PUSHES THE ENVELOPE IN CLOTH DESIGN
Already renowned for its pioneering work in cloth motion, the team at Pixar went a step further with RATATOUILLE by creating the most complex "wardrobe" ever for CG animated film. For a long time cloth was a sticking point in creating authentic-looking CG animation because clothing, by nature, isn't static and the laws of physics – from gravity to friction – are subtly operating on it all the time. It was Pixar that first opened up new possibilities for cloth with the life-like rumpled t-shirt in "Monsters Inc." and then made amazing breakthroughs with the array of credible, retro-futuristic clothing styles presented in "The Incredibles."
RATATOUILLE features even more complex, multi-layered clothing as well such cloth props as tablecloths and napkins, amounting to the creation of over 190 different models. Much of the task fell to simulation supervisor Christine Waggoner and the simulation team, who were also involved in the simulation of hair and fur. "With RATATOUILLE the technical bar has been significantly raised," says Waggoner. "The characters have more clothing, with more layers and more motion than ever before. For us to be able to create these chef outfits with double-breasted jackets with buttons, an apron and a pair of pants all layered together, with a chef's toque on top of their hair, it was really something."
Some of Waggoner's favorite costumes are those of August Gusteau himself, who was once a very robust man but has become a ghostly sprite. "We designed the clothes first for the living version of Gusteau, then shrank them down to size for the sprite you see in the film," Waggoner explains. "But we also wanted his clothing to be very sophisticated and highly tailored. There's really no precedent for designing clothing for some of the body styles we have in the film, so that made it very interesting."
Even such simple items as tablecloths and napkins, it turns out, can be quite complex in the CG world. "There's a lot of details you have to keep in mind, for example the interaction between character's legs and the cloth hanging off of the tables," notes Waggoner.
Yet, for Waggoner who is as much an artist as a programmer, the real fun came in putting everything together into a dramatic big picture. "The primary challenge for me was really nailing the look, because Brad likes things to appear both realistic and caricatured at the same time. So it was never just a case of scientifically studying the way different cloth moves and then entering in the numbers. Instead, it was an overall subtle process of fitting every detail into the film's overall aesthetic," she says.
The result is that the clothing, along with the sophisticated body designs, for each of the characters brings the world of RATATOUILLE that much more to palpable life. "By simulating all of the clothing and having natural folds and things like that we're really moving toward more of a live-action feel," says Waggoner.
Sums up associate producer Galyn Susman: "The beautiful thing about the clothing in RATATOUILLE is that it's so natural, it doesn't really call attention to itself. It just looks right, which in and of itself is an exceptional accomplishment."
PARIS FROM THE TWO-INCH TALL PERSPECTIVE:
THE CINEMATOGRAPHY OF RATATOUILLE
Though the easy way to approach the story of RATATOUILLE might have been to start from a human point of view, Brad Bird naturally gravitated towards the less predictable path and chose to tell the story through the eyes of his rodent hero. Bird found cinematic inspiration in some unexpected places, including a classic thriller from Hollywood's past. "One sequence was a bit influenced by Alfred Hitchcock's 'Rear Window,'" the director admits. "In that movie, Hitchcock kind of eavesdrops on the lives of others through the point of view of Jimmy Stewart's apartment – and in our movie we see an apartment in Paris through a rat's point of view."
Director of photography/lighting Sharon Calahan, who previously served in the same role on "Finding Nemo," "Toy Story 2" and "A Bug's Life," knew that she had her work cut out for her on RATATOUILLE. "We wanted a really rich look, we wanted to capture the feeling of what it's like to be in Paris and in a great Parisian restaurant, we wanted to make the food look appetizing and we wanted to make these furry little characters look really cute and appealing," says Calahan of the task that lay before her.
She continues: "I'd already had some ideas in my head about how to get a kind of richer, deeper, fatter kind of look to the colors, and it seemed right for this story. This meant trying to get our illumination model to do the opposite of what it usually does, which is to add in black where there's an absence of light. I wanted it to replace that with more surface color instead, which took a lot of little tricks and hacks."
Calahan was seduced by the notion of giving the film the feeling of a perfect October day in France. "When we went to Paris, it was sunny, but the light was so silvery and diffused and everything felt very soft and warm and inviting. That was the kind of overall quality I wanted for the movie," she says. "The film isn't lit with a lot of heavy colored light and heavy colored shadows in the usual way because I really wanted to celebrate the local color."
When it came to actually photographing the food, Calahan looked to today's endless array of gourmet magazines and books for inspiration. "I spent quite a bit of time looking at all the food photography out there, trying to figure out the difference between good food photography and bad food photography and breaking it down into specific components," she explains. "Different light positions tended to make food look better. So it was a question of 'how do we make the food look more believably translucent or look wet enough to be as appetizing as possible?' And one of the things that we realized is that warm light really brings out the local color in food."
Calahan ultimately used technologies that were originally developed to make the fish look more translucent in "Finding Nemo" and to scatter light off the skin of humans in "The Incredibles" to give more realism to the food in RATATOUILLE.
As for working with the rodent characters, Calahan explains: "The key to making the rat characters really appealing was to get their fur to have just the right quality and their ears to glow. It took a lot of experimentation to figure out how to get the fur to react to light properly."
Scale was also a major challenge. "Trying to get the humans and the rats in the same world at the same time wasn't easy," she notes. "Light was a really big component in how we made those relationships work." Overall Calahan's work is much the same as that of traditional cinematographers. "I really try to think like a painter and approach the lighting in a way that makes everything more beautiful," she says. "As for RATATOUILLE, I couldn't imagine a more creatively challenging and rewarding experience. Brad Bird has a way of bringing out the best in everybody's talent."
STIRRING UP THE MUSIC:
ABOUT MICHAEL GIACCHINO'S SCORE
When it came to finding the right music to fuel the manic action and subtle emotion of RATATOUILLE, Brad Bird returned to the composer who had done such a bang-up job with "The Incredibles": Michael Giacchino, who conjured up a brassy, jazzy, percussive score that is as fun, fast-paced and French-themed as the film itself.
"Even though this film is so completely different from 'The Incredibles,' Michael's range is so great I just knew that he was the right guy for it," says Bird. "This film is more whimsical than 'The Incredibles' -- a funny, romantic journey into Paris -- and Michael did a tremendous job capturing that."
The collaborative spirit between Brad Bird and Giacchino is part of what spurred the two on to define a fresh sound for the film. "These two guys are basically able to read each other's minds," observes producer Brad Lewis. "Brad speaks in a visual language and Michael speaks in a musical language, but somehow they find a way to intertwine them perfectly in the film. Sometimes the music is subtle, sometimes it's very broad and comic and Michael has this great way of creating the right mood to go along with each moment in the story. He can get really grand and emotional, he can get really small and light, and he can get a little bit goofy, all of which we needed in this movie."
When Giacchino saw a first cut of RATATOUILLE, he knew he was in for one of the biggest musical challenges of his life. "When I saw the movie, I was really scared because I knew that the music it needed was something I'd never done before. It was a style I'd never worked in before – actually it was more than one style, it was filled with all kinds of styles. So I left the theatre and went to Brad Bird and said 'this is terrifying, but I'm happy to give it a shot,'" he recalls.
With those words, Giacchino dove into the project, yet he found that even his creative process had to transform. "Before I saw the film, I was thinking about it from a very practical point of view, but after I saw it, it became a very emotional process," he explains. "It was the scene at the end of the film where the food critic Ego is giving his review made me say 'wow, that's what this story is about' and that scene helped me to come up with the main theme for the score, which we also turned into a song for the film."
He continues: "It's a happy movie, obviously, but there's also a bit of melancholy to it – the melancholy of looking back at the things you've always wanted to do in your life – and I wanted to pull that idea out and express it musically. My biggest goal was to try to capture that feeling. At the same time, there's a lot of fun and action, but I never wanted that to overshadow what the movie is about."
In addition to the main theme, Giacchino developed off-shoot themes for each of the characters, reflective of their highly individual personalities and desires. "I really like working thematically because it's how you can best represent the characters," he says. "That's what I love about soundtracks like 'Star Wars' or 'Raiders of the Lost Ark' or 'The Adventures of Robin Hood' from the 30s – they have these great thematics that are almost operatic in their approach. Those are the scores that inspired me most growing up."
Remy, he notes, has two themes, as well as a "buddy theme" he shares with Linguini. "Remy at first has this ratty theme, which is almost like a thief-like thing, a melody that follows him around, like the genes that make him a rat even though he wants to be something else," Giacchino says. "It's prevalent in the scenes where he's running through the house and in between the floors. But when gets to the roof and sees Paris for the first time, the new theme that plays there is about his hopes and wishes and dreams. That's what is inside Remy. The first theme is what you think of when you see Remy, but when he's looking at Paris, that's the real Remy."
As for the theme that emerges between Linguini and Remy, Giacchino says: "The buddy theme only really happens when they are working together. The prime example of it is when Remy first learns how to control Linguini – that's the embodiment of their theme. Then, it progresses into a very big, kind of heroic action cue at the end of the film when all the rats band together and Linguini's on his roller skates. It's almost like a British World War II theme because their friendship has evolved to the point where they're going to get this done together."
Another key theme in the film is that of Colette, which Giacchino explains "surrounds the whole cooking process." He continues: "You hear it for the first time when Colette is teaching Linguini what to do in the kitchen and what he needs to know to be a great chef. Then, it kind of changes throughout the film, depending on what's going on. When Linguini has to come up with an off-menu dish and Remy starts improvising, that same theme is used in a much more improvisational way, the same way that Remy is just going off the cuff and making up the recipe as he goes. The themes and the music constantly change with the story." Skinner's theme also shifts with his mercurial moods – starting out with a hipster-style French jazz theme that grows increasingly frenetic and orchestral as he loses control of the kitchen. "The theme starts out cool and suave and ends up a little insane, just like the character does in the film," laughs Giacchino.
In weaving together the film's many styles and tones, Giacchino made a musical separation between the human and rodent worlds. "There's certain instrumentation that I used a lot in the rat world, including a giant thumb piano that's layered into the orchestration, and a lot of pizzicato strings," he says. "Brad really loved the sound of the pizzicato strings for the rats, but again, there was no hard and fast rule. What was right for one scene with the rats might not be right for the next, so it is always changing."
Yet, to contrast with the visual wildness of RATATOUILLE's madcap physical comedy, Giacchino kept the focus of much of his score on subtlety. "It's easy in animation to chase every single move," he notes. "but the thing I like most about film music is that the slightest thing can be suggestive. So I really tried to pull back and let the picture be the picture, just as if it were a live action film."
With such an unusually diverse score, Giacchino's next task was putting together a unique, jazz-influenced orchestra, which included such unconventional instruments as harmonicas and accordions. The composer was thrilled to be able to recruit numerous world-renowned musicians to add their touch to the recording sessions, including: Tommy Morgan, one of the world's greatest harmonica players who has graced more than 7000 recording sessions for records, television, film and more in his 50-year career; award-winning jazz accordionist Frank Marocco, considered the most-recorded accordionist in the world; bass guitar legend Abe Laboriel who has recorded with jazz greats ranging from Ella Fitzgerald to Herbie Hancock; and influential jazz drummer Harvey Mason who began his career with Duke Ellington and Erroll Garner in the 60s and has gone on to garner seven GRAMMY® nominations.
"This was a wonderful chance to get some of the greatest musicians in the world in one room for a week," says Giacchino of recording the score.
Topping off Giacchino's score is the song "Le Festin," which he wrote and then recorded with the captivating young French singer Camille, who has forged her own adventurous and contemporary chanteuse style. "She has such a unique sound and special voice, there was nobody else other than her I wanted to sing the song," says the composer. "The song is based on an old French saying which basically refers to getting together with your best friends and closest family and having a great meal together, while celebrating all that is good in life. It's a song that grew directly out of RATATOUILLE's story."