Entertainment Magazine: Film: California: Santa Barbara: Santa Barbara Film Festival: 2012
Secrets of The Secret Ingredient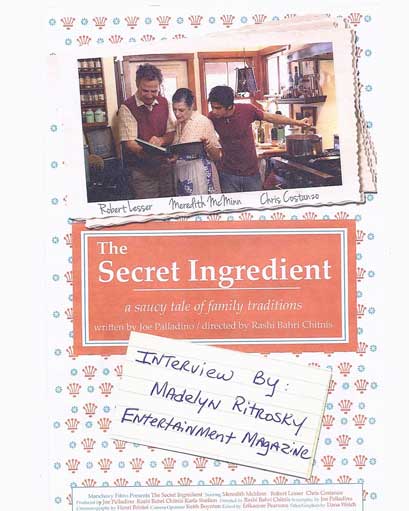 By Madelyn Ritrosky
A pinch of this, a dash of that. It doesn't take much to make a nice and tasty yet subtle dish.
And that's what The Secret Ingredient's secret is. It's a 21-minute short film that takes place in just 2 small rooms and a backyard, with 3 interrelated characters. Yet it's long on the familial bonds – and sense of belonging – among these extended family members.

The story and setting are simple. Nanna, an older woman, and her brother Mickey ruminate over family memories as they await the arrival of Damion (or Dimmie, as they call him), Nanna's college-age grandson.
When Dimmie arrives with video camera for a film class assignment, more family discussion gets prompted as they make and then enjoy Nanna's special spaghetti dinner.

The Secret Ingredient's world premiere was at the 2012 Santa Barbara International Film Festival. It was certainly fitting since filming took place in Santa Barbara.

I had the chance to talk with producer Karla Shelton, a local filmmaker with her own Traveling Bear Productions. I also found out more behind-the-scenes info from writer-producer Joe Palladino, an academic advisor in the Film and Media Department at the University of California, Santa Barbara (alma mater of yours truly, by the way). The movie was directed by Rashi Bahri Chitnis.


1. How did the writer, producer, and director hook up? Can you tell us something about pre-production?

Joe: I met Karla about five years ago when we joined a small group of Santa Barbara filmmakers. The design of the group was to work on each other's projects. I worked on a short, The Flute Player, which Karla co-produced about three years ago. We always enjoyed working together, so I knew that when a new project came up I wanted her involved.

Rashi and I met through The Santa Barbara Table, another local networking group of filmmakers. We had talked about working on a short that would be low budget and character-driven. We were excited about using members from The Table (Karla was a member too) to get the project done. The budget was just over $1,000, with most of the expenses being equipment rentals, food as props, and the crew's crazy incidental expenses. We were very lucky to get everyone to work for free, and the donation of the house as a location really brought it all together.

Karla: I was one of the producers of the day-to-day operations, also helping bring in the cinematographer when it was less than 2 weeks before the shoot. Rashi (the director) had secured someone but he dropped out because he landed another gig in Los Angeles. So I went through my rolodex to see if I could find someone to replace him.

I had worked with Henri Bristol, the cinematographer, about 5 years ago on a music video and knew after viewing his reel online that he might be the one – if he was in town and available – and if the director liked his style. The difficult part was it would be a hire for FREE. I wasn't sure I could pull those strings, but it all turned out beautifully, as you can see...


2. And then came the shoot...

Joe: We shot at the house of Perry Lang, an actor/director who lives in Santa Barbara. We shot two days inside the house and a few hours the next day for some interiors. We would have finished in two days but there was a live performance by a Tejano Band about half a mile away that drowned out any chance of shooting exteriors. The crew was great and we got 19 heavy dialogue pages done in a short time. If the actors had not made themselves available to rehearse beforehand, I don't think we could have done it as quickly.

Karla: I can't boast enough about the amazing cast and crew. We didn't have the luxury to schedule pick-up days. If it wasn't for the great collaboration and eagerness to get this film finished in the time we allotted, we probably would not have been able to premiere it in this year's SBIFF.


3. What other festivals are on the horizon?

Joe: We are looking at festivals that highlight shorts, like Palm Springs, Heartland in Indianapolis, and a few others. We wanted to test out reactions of the public because sometimes you are working in the dark until it screens in front of an audience of strangers. You can then make sure you got what you were after.


4. What other projects are on the horizon?

Joe: I am working on a feature documentary about a local classic rock radio station with my camera operator, Keith Boynton. We want to use it as a way of talking about music history and pop culture. Rashi and I are developing a short that leans less on dialogue. And I am writing a mystery set in Ventura that has a Raymond Chandler feel to it. Karla and I have always been fans of his writing.

Karla: Right now I am on a bit of a hiatus, but I am always on the look-out for material which inspires me to send a positive message out into the world.


Thank you so much, Karla and Joe, for sharing some of the secrets behind The Secret Ingredient. We hope to see you at Heartland in October!
---
© 2012 EMOL.org Film Entertainment Magazine / EMOL.org. All rights reserved.
Buy Fandango Movie Tickets Online
Buy advance tickets to the Toy Story 1 and 2 Double Feature in 3D and get points for posters, DVDs and more!
Buy 1 movie ticket on Fandango and receive a second ticket to the same show free when you use your Visa Signature card.

Netflix. Stream and Instantly watch thousands of TV episodes & movies from Netflix. See Netflix Current Offer.
iTunes: streaming movies, videos, books and apps, iTunes Downloads.
Blockbuster UK is the UK's favourite movie rental store – is now online! Get One Month Subscription
UK only.
LoveFilm the UK's premier movie and video game online source shipped directly to UK homes. Get the 30 day Free Trial from LoveFilm. UK only.
Read about Online Streaming Videos and Movies.
Disney Store
Links to online only deals on costumes and entertainment. Outlet store discounts. Save up to 60% on collectibles. See this weeks deals at the Disney Store
Hollywood MegaStore: Movie, Celebrity & TV Memorabilia & Merchandise, 3000+ items!
Visit blog.hollywoodtoysandcostumes.com and check out the new deal of the day. Find amazing discounts on a new product everyday!
Hot Topic! Designer Clothing, Accessories and Shoes, Levi's, Too Fast, Converse, Vans, Lip Service and More!
SpencersOnline.com - Your one-stop shop for all Rock and Roll Apparel, Music, Gear, Party Props and Kick-ass Decor.
Find Today's Daily Deal on Your City's Best Things To Do at Groupon.com!
Warner Bros. Store
Shop at the Warner Bros. Shop: WBShop.com
Toys, games, clothing, posters and more from your favorite Warner Bros. characters like Tweety & Superman and from your favorite WB movies like Harry Potter