Entertainment Magazine: Film: California: Santa Barbara: Santa Barbara Film Festival: 2012
Vinyl: Records or Movie – or Both?
By Jared Winslow
First off, let's put things in perspective by saying you used to be in a band and now you're together again (after a long time) with your old band mates, which means you like being in a band.
But when you ask someone you know at a record company to listen to a new single, that person says, "You're too old to be in a band. The people want hip music from young bands."

What would you do in this situation?

This is what the new movie Vinyl is all about. The former members of a 1980s band called Weapons of Happiness want to be back and have hits! This kind of thing actually happened in real life when lead singer Mike Peters and the rest of The Alarm, a Welsh-British rock group, pulled off this musical stunt in 2004. They inspired the movie.

You might ask, "Why would that be interesting?"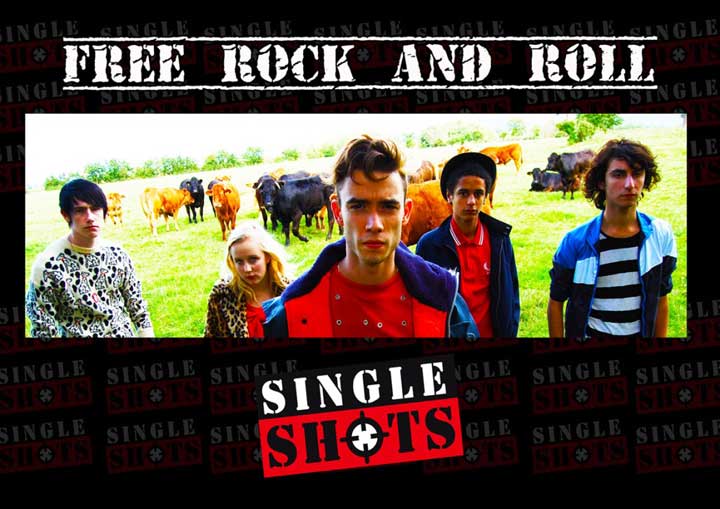 Well, the story shows how the four Weapons of Happiness guys lie to the public about the new song they recorded after they happened to meet. They get a group of teens to make as a band and lip sync to their new music. The new fake band is called Vinyl. It works for a while, but the truth comes out.

What do the kids they hire get out of it? Is it fake fame? What are the kids' reactions to this odd experience? How about the older original group's reactions when the kids get the spotlight? How could they pull it off? How do they get caught?

You'll just have to see the film to find out! It's definitely a fun film.

Phil Daniels, a well-known British actor, plays Johnny Jones, the "leader" of Weapons of Happiness. He comes up with the whole idea in the first place after the record company says they're too old.

Sara Sugarman (writer-director) and Jim Cooper (writer) found the real life incident very interesting. And Sara Sugarman actually knew Mike Peters, and Jim Cooper was a fan of The Alarm. So the filmmakers thought, "Why not make a movie about it?"

They did and it's a good movie.
Photo: #1 Shooting the fake band's music video within the movie.

#2 The fake band's new name.
---
© 2012 EMOL.org Film Entertainment Magazine / EMOL.org. All rights reserved.
Buy Fandango Movie Tickets Online
Buy advance tickets to the Toy Story 1 and 2 Double Feature in 3D and get points for posters, DVDs and more!
Buy 1 movie ticket on Fandango and receive a second ticket to the same show free when you use your Visa Signature card.
Netflix Streaming Movies
Stream and Instantly watch thousands of TV episodes & movies from Netflix. Instantly watch movies streaming from Netflix on your Wii console, Xbox 360. Free two week trial from Netflix.
Disney Store
Links to online only deals on costumes and entertainment. Outlet store discounts. Save up to 60% on collectibles. See this weeks deals at the Disney Store
Hollywood MegaStore: Movie, Celebrity & TV Memorabilia & Merchandise, 3000+ items!
Visit blog.hollywoodtoysandcostumes.com and check out the new deal of the day. Find amazing discounts on a new product everyday!
Hot Topic! Designer Clothing, Accessories and Shoes, Levi's, Too Fast, Converse, Vans, Lip Service and More!
SpencersOnline.com - Your one-stop shop for all Rock and Roll Apparel, Music, Gear, Party Props and Kick-ass Decor.
Star Wars prop replicas, statues, resin busts, limited edition Pez and more at StarWarsShop.com
.
Find Today's Daily Deal on Your City's Best Things To Do at Groupon.com!
Warner Bros. Store
Shop at the Warner Bros. Shop: WBShop.com
Toys, games, clothing, posters and more from your favorite Warner Bros. characters like Tweety & Superman and from your favorite WB movies like Harry Potter