Film: Ralph Winter
X-Man Extraordinaire:
Meet Ralph Winter, Producer
By Madelyn Ritrosky and Jared Winslow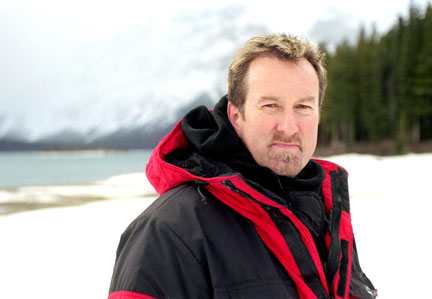 Don't know Ralph Winter? How about X-Men? Fantastic Four? Or the original Star Trek movies? Look closely. You will see the name Ralph Winter in the producing credits for these popular sci-fi action adventures.

Winter is currently a producer at 20th Century-Fox, where he has been for ten successful years. Films on his resume, stretching back to 1982, have earned more than four billion dollars at the box office worldwide. The next release from his slate will be X-Men Origins: Wolverine, the latest X-Men installment and prequel. It's expected in theaters May 2009.

But Winter wears two other hats as well. He is a co-founder and partner in the commercial production company Thomas Winter Cooke. They are pioneers in the integration of advertising and short films in 3-minute webisodes for companies that want artistic, thoughtful pieces based primarily on name association.

Finally, Ralph Winter knows what it feels like – "very scary" – when you're a small-budget independent filmmaker with a particular message aiming for a particular audience – using your own money. Namely, he has produced five films, with two partners in Kentucky, for the Christian film market. These are his "spare time" fun.

Ralph Winter is a busy man.

He is also a gracious, generous man. He recently shared experiences and insight gained from 25 years in Hollywood – 30 in media production – at the Heartland Film Festival. As keynote speaker at the festival's Heartland Film Institute Seminar, Winter talked about his early experiences making department store training videos as well as the state of filmmaking today.

When nine-year-old Jared and I sat down with Ralph Winter, Jared had his own set of questions for him…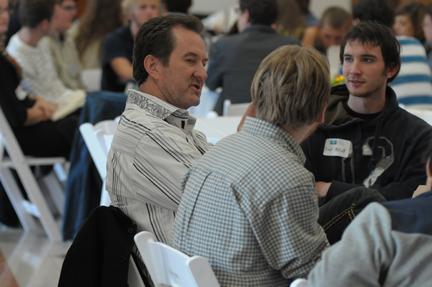 Photo: Ralph Winter talks with students at the Heartland Film Institute Seminar.

Jared: For kids, how would you describe what you do as a producer?

Ralph: For a film of any size, someone has to be the responsible one, the parent if you will. Someone has to be the cheerleader from beginning to end, and that person is the producer. It's someone who helps find the material and financing, and helps put cast, crew, story, writing, director all together. That person manages the process and is the one who makes the hard decisions – where the buck stops.

To distinguish, the director is in charge of telling the story, of visualizing what's on the page, in the script. That person knows how to stage that and work with the actors. He or she is primarily creative, focused on the story.

Jared: Is another Fantastic Four movie in development? Will it be rated PG again? Did you try to get the PG rating rather than PG-13?

Ralph: That's a perceptive question because I did fight for a PG rating. That material is lighter in tone than the X-Men – it's a younger audience, more colorful and daylight, and the Fantastic Four interact with the public. The X-Men movies are darker and nighttime. The X-Men don't interact with the public, they want to hide, and they're not as colorful. So yes, we definitely and deliberately wanted to make The Fantastic Four PG.

These properties are owned by 20th Century-Fox and I believe they are thinking about another Fantastic Four, but I don't know if there is any timetable.

Jared: How is working with kids different from working with adults?

Ralph: One way is you have less hours. With kids you have to be very focused and prepared to be sure you maximize your limited amount of time. Along with that you don't want to put too much pressure on the kids because they're kids.

Jared: What advice would you give to kids who are aspiring actors?

Ralph: Try to observe people who are regarded as good actors and figure out what makes them great. What is it about their performance or the way they approach the material that makes them valuable? Why do people want to see them?

I would also have you immerse yourself in literature and art and music. What is a good book? What is a good screenplay? What is great art? Great music? Why do those things last? Why are they compelling stories? You can learn to recognize good material as you grow. You can still read comic books and play video games, but also read the great stories. It will help you as an actor.

~ ~ ~

Speaking of books and screenplays, Ralph Winter is pursuing a particular strategy with the Christian market. Two popular Christian authors are Ted Dekker and Frank Peretti, and Winter is "trying to leverage their readers to watching film versions of the books." The authors' websites and announcements on college campuses play an important role in publicity.

That's the case with his latest effort, House, based on Ted Dekker's novel of the same name and in limited release right now through Lion's Gate. Winter emphasized that although "we're trying to tell a scary story, we're not being preachy." And although it's rated R, he pointed out that it's not a horror story with blood and guts. In fact, he claimed, "It's the mildest R rating in the movie industry. It's R because it's intense."

Interestingly, however, Winter also stated that, "For me, movies are not really about messages. Movies are best at asking questions."

These $2 million films are a far cry from something like Wolverine, whose budget, according to Winter, was over $100 million. So he sees things from both ends, so to speak. He's well aware of the transitions occurring right now in the impact new technologies, higher costs, and fragmented audiences are having on large- and small-scale filmmaking.

But when it comes right down to it, no matter what the film, Winter said, "It's all about the story." Whether your budget is $1.00 or $100 million, his advice to any and all would-be filmmakers is "Write something that's compelling."

Ralph Winter himself is a compelling speaker, whether talking informally with Jared and myself or giving a presentation to a hundred seminar participants. This wasn't his first time at the Heartland Film Festival. In fact, he originally met festival director Jeffrey Sparks when Sparks was first getting the festival off the ground over fifteen years ago. Heartland's mission to support films with positive, meaningful messages attracted Winter, and he has helped with the festival's educational offerings several times over the years.

When Winter urged his seminar audience of adults and high school and college students to "get the widest possible education," I couldn't help looking at Jared sitting next to me. He was the youngest attendee. He was clearly getting a wide education for a nine-year-old by attending this event.

Along with Ralph Winter, we listened to filmmaking partners Ryan Little and Adam Abel and magazine editor Elliot V. Kotek share their expertise. At lunch, we met local filmmakers Catherine Crouch and Sue Spicer.

We noticed that Ralph Winter was busy conversing with a group of high school students during lunch. It was nonstop education that day. It was a busy day.

For Ralph Winter, producer.
Top photo: Ralph WInter on the set of X-Men.