Entertainment Magazine: Florida: Restaurants: Marlin Grill
A trip to Destin isn't complete without a trip to Marlin Grill- Baytowne Wharf
By Lynn Marie
Elegant and sophisticated complimented with warm finishes provides a cozy, timeless atmosphere for any guest. Marlin Grill's wood-burning grill is used to cook all of the 28-day, dry-aged certified Angus beef. Fresh locally caught fish from Destin Ice and Seafood also arrives daily on a truck to ensure the freshest product possible.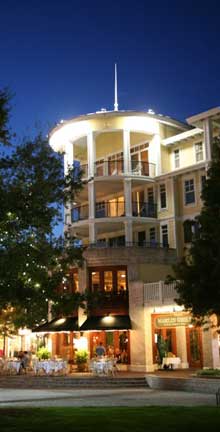 Serving patrons for over 10 years, Marlin Grill is nestled in the heart of The Village of Baytowne Wharf located at Sandestin Golf & Beach Resort. Marlin Grill is well noted for its culinary talents and award winning wine list; with over 600 wines to decide, it is guaranteed your palatable tastes will be met.

The Pan Sautéed Grouper is the mildest, freshest fish I have ever had; best fish experience.
The sides that I chose to accompany the meal were outstanding as well; this included grilled asparagus, grilled marinated vegetables and the burgundy mushrooms are sure winners.
There are no if and's or buts; you have to save room for dessert; the coconut cream pie is so light and refreshing you will want to order a whole one to go.

This past April the 26th Annual Sandestin Wine Festival exploded over Destin for a weekend like it does every year. For the first time in the 26-year history of the Wine Festival, headline wine personalities hosted a VIP private event for guest seeking the ultimate wine experience. The tasting menu lunch was provided by the fabulous Marlin Grill Restaurant.


The extensively experienced staff can help you plan your next event, whether it is a conference meeting or a wedding reception or to treat your special someone to a romantic dinner. Indulge your family and friends with a night to remember. The Cove accommodates up to eight guests and provides for an intimate evening.

Upstairs dining accommodates up to 60 guests. View the village from any of the surrounding windows or step out onto the balcony, which looks down the main street of the village. You won't find a more perfect spot then Marlin Grill.

The ambiance is "alive" and the wine list is above standard. The wait staff were knowledgeable and they all had a certain "flair" that stood out from any other waitstaff in any of the other restaurants I visited in the resort area.

The restaurant received recognition as "Most Festive Holiday Decor Award" in 2008 from the Village of Baytowne Wharf. Marlin Grill hosts signature annual events rounding up hundreds of people including a Holiday Extravaganza Champagne Walkabout and a Beer From Around Here that kicks off the Village's Beer Festival.

Marlin Grill, outstanding quality, with distinction and class! The restaurant is at 9100 Baytowne Wharf Boulevard in Destin.
For more information visit www.marlingrill.com or call 850.351.1990. Follow Marlin Grill on facebook at www.facebook.com/marlingrill
Promotional consideration provided by Marlin Grill @ Baytowne Wharf. Second photo of Chef McCanulla from Marlin Grill. Photos by Lynn Marie Squillace.
---
---
© 2007-2010 Florida Entertainment Magazine EMOL.org