Entertainment Magazine: Florida: Sandestin
27th Sandestin Wine Festival brings celebrity chefs and enormous crowds to Emerald Coast
BY: LYNN MARIE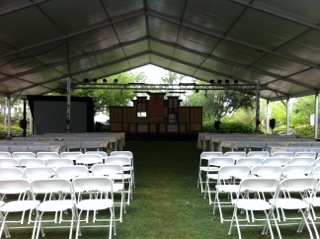 Photo left: The outdoor center stage sponsored by Coastla Living Magazine
Destin is located on Florida's Emerald Coast. Destin gets its name from its beautiful, clear green water.
The beaches in Destin have extremely fine, soft sand, so if you're a beach-walker and a wine lover this is a great destination for you.

With four days of wine tastings, dinners, brunches, cruises and celebrity cooking demonstrations, the Sandestin Wine Festival is showing why it's been called one of the premiere events on the Gulf Coast.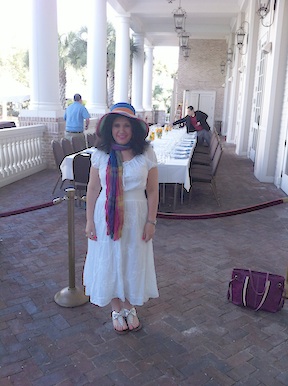 Photo right: author Lynn Marie Squillace.
This year healthy eating expert Diane Henderiks entertained guests at the Coastal Living Magazine Stage during the Grand Wine Tasting event.

Diane is a regular contributor for Good Morning America, founder of "Dish With Diane" and has appeared as an expert guest on many of the country's leading media including CBS, ABC, NBC, Fox News, CNN, BetterTV and on Martha Stewart Radio.
Diane has raised the culinary bar for healthy cooking and is renowned for her expertise in creating wholesome cuisine that is both delicious and nutritious. "Any dish can be revamped to be good for you", she says, "it just takes a little education and finesse."


Paula Deen (photo left and below), Cooking Show Host, Restaurateur, Author, and Emmy Award winning Television Personality also made a special guest appearance at this year's festival.
Deen, with her husband Michael Groover, thrilled attendees with two cooking demonstrations of shrimp and grits at the Coastal Living Magazine Stage.

Although the weekend got started on a squelchy note with temperatures in the low 50s and steady rains at the Sandestin Golf and Beach Resort.
Many organizers set up tents for the vendors around the Baytowne Wharf grounds, but the festival goers still had to walk from tent to tent using umbrellas and ponchos to try and stay dry. My feet were "soaked" and I finally gave up and sought shelter at one of the local restaurants at Baytowne Wharf.
The weather did cooperate on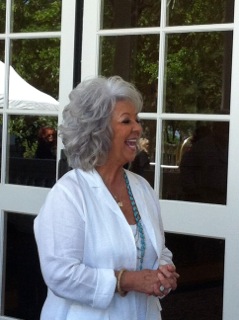 Saturday and Sunday at the festival, as the rainstorms that put a damper on Friday night's festivities cleared way for beautiful cloudless days the rest of the weekend. The festival wrapped up on Sunday with a lovely champagne brunch.

The Sandestin Wine Festival is one of the largest in Northwest Florida with hundreds of bottles of wine to choose from it's the perfect place to have a good time. There were more than one hundred wine vendors at this year's festival each with at least three different samples of wine.
There was also a retail tent to purchase your favorite wine or spirits at a special wine festival discount.