Flint Carter talks about the Iron Door Mine legend, Buffalo Bill and the Old West
Flint shares stories of the Old West on KVOA-TV

This article, and half hour 3-part video, is from an interview with historian Flint Carter with KVOA-TV's Tyler Wing in Tucson, Arizona and broadcast through YouTube on February 4, 2010.

To find out more about the Iron Door Mine legend, southwest legends, gem stones like the Cody Stone and artifacts of the Old West, call Flint Carter directly at 520-289-4566.

From YouTube and KVOA-TV. Uploaded by motownstelli:

A Tucsonan who believes his land may be home to a Spanish Mission from the 1700's hopes to preserve the history left behind.

He came to Arizona almost 40 years ago to live a secluded life at the base of the Santa Catalina's. Over those years 62-year-old Flint Carter believes the land where he lives north of Saddle Brook is a gold mine of history.

"These were all plows," says Carter showing off his collection of rounded rocks. "This whole area was farmed. "

An old miner's saying defines the definition of a gold mine as a liar standing next to a hole in the ground.

"Now everybody looks at me like I'm that liar standing next to a hole in the ground," says Carter.

Carter is the lone tenant on the land and lives in an old cowboy house built in the 19th century.

Like an archeologist, Carter dug a hole smack dab in the middle of the living room, "We think that might be the bottom of a ceremonial Mayan pit house. I stopped when I hit bones. I was afraid it might be the padre."

Carter says a state historic preservation officer assessed the foundation, "He said this first layer bricks is Costa Mesa and the next layer is Kayenta and that the foundation should be fourteen hundred years old."

He says this must be where a lost Spanish mission was later built, "We got a map that shows that in 1769 this was mission Santa Catalina."

Legendary movie stars and historical figures are said to have passed through, "Buffalo Bill was here many times. George 'Stone' Wilson and he were friends."

A film maker recently cast Carter in a Buffalo Bill documentary, "History says that Buffalo Bill Cody lost a fortune and I was the only one in this documentary that says no he didn't, he made a fortune."

Carter's dream is to preserve this area and keep its history alive, "I'd give it all away if I knew somebody could continue what I started. Those eight file cabinets are almost forty years of work."

The surrounding land is private property and neighbors say that Carter's tales of gold in "them thar hills" brings trespassers.

While sifting through debris, Carter says he'll continue his quest to preserve the land's history, one small artifact at a time, "It does pay off because I always find stuff. See there's part of a bone."

Return to Iron Door Mine Index.

© 2005-2010 Entertainment Magazine. EMOL.org. / AZentertain.com. All rights reserved.

Flint Carter on the Iron Door Legend
Part 1 (9 min 10 sec):

Flint Carter on the Iron Door Legend
Part 2 (9:05):

Flint Carter on the Iron Door Legend
Part 3 (10:18):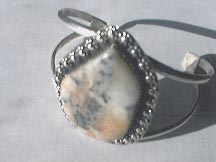 Cody Stone is from Southern Arizona, USA and designed as jewelry grade gold and silver in quartz. Cody stone specimens and hand made items are on display at the Oracle Inn Steakhouse & Saloon in Oracle, Arizona. Call Flint at 520-289-4566 or email [email protected]. Mention the Iron Door web site.

"Ballads of the Santa Catalina Mountains" CD
Listen to songs and ballads on CD about the Iron Door Mine, the Santa Catalina Mountains, the Old West by Arizona historian Flint Carter. $9.95. Call 520-289-4566 for more information and to purchase directly. Mention the Iron Door web site.
Iron Door Mine Legend Tour and Artifacts
Explore displays of over 1,000 Old West artifacts and specimens from the surrounding area with Flint Carter. Learn about Western legends. Call Fint at 520-289-4566. Mention the Iron Door web site.
"MacKenna's Gold" (1969)
Starring Gregory Peck and Omar Sherif
Attempting to do for Westerns what his Guns of Navarone had done for World War II action epics, director J. Lee Thompson crafted Mackenna's Gold as a lavish, absurdly ambitious variation on Erich Von Stroheim's Greed, resulting in a last-gasp Western so eager to encompass the genre's traditions that it turns into a big, silly, wildly entertaining mess. Gregory Peck surely had more serious intentions when he signed on, and he brings prestigious gravitas to his glum role as Marshall Mackenna, who gets shanghaied into searching for the gold-filled canyon of an elusive Apache legend. The rest of the 1969 film labors to undermine Peck's respectable demeanor; how else to explain Omar Sharif as a Mexican villain, Julie Newmar as a hot-blooded Apache temptress (with underwater nude scenes that were celebrated in Playboy magazine), and a jaw-dropping finale that's so ridiculous it's impressive in spite of itself?

Formerly blacklisted screenwriter Carl Foreman and composer Dimitri Tiomkin joined up to coproduce the film, and one can only imagine how Anthony Mann or Howard Hawks might've handled Foreman's sensible script. Thompson goes for scenic splendor, heavy action, and heavier emotions, casting everything at a fever pitch that's wildly enjoyable without betraying his "serious" intentions. A stable of Hollywood veterans (Eli Wallach, Raymond Massey, Edward G. Robinson, and others) appear in lively supporting roles--they're all dispatched in a garish Apache ambush--and Camilla Sparv is an ingénue with plenty of fighting attitude. Gold fever reaches its peak, along with some awesome special effects, and divine intervention reaches new heights of intensity. Top it off with José Feliciano's theme song, and you'll be in zany Western heaven. --Jeff Shannon, Amazon.com
DVD edition of MacKenna's Gold
. Studio: Sony Pictures. DVD format. Release Date: July 11, 2000. Run Time: 128 minutes.
Poster from Mackenna's Gold - Movie Poster - 11 x 17. This poster measures approx. 11 x 17. Rolled and shipped in a sturdy tube. This poster is from the movie Mackenna's Gold (1969).
Printed book edition of Mackenna's Gold
A Five-time Spur Award-winning Author. Somewhere in 100,000 square miles of wilderness was the fabled Lost Canyon of Gold. With his dying breath, an ancient Apache warrior entrusted Glen Mackenna with the location of the lode that would make any man - or woman - rich beyond their wildest dreams. Halfbreed renegade and captive girl, mercenary soldier and thieving scout - brave or beaten, innocent or evil, they'd sell their very souls to possess Mackenna's gold. --This text refers to the Hardcover edition. Avon Books (Mm) (June 1988).
Watch video on-demand from Amazon.com of MacKenna's Gold
.
The Mine with the Iron Door: A Romance (1936)
Movie Poster from the 1936 film The Mine with the Iron Door - Movie Poster - 11 x 17
Poster for the Mine with the Iron Door movie. Stars Richard Arlen, Ceclia Parker and Henry B. Walthall. Poster measures approx. 11 x 17. Rolled and shipped in a sturdy tube. This poster is from The Mine with the Iron Door (1936).
Printed Edition of The Mine with the Iron Door. (The Collected Works of Harold Bell Wright - 18 Volumes) (Library Binding) Library Binding: 338 pages. Publisher: Classic Publishers, Language: English. ISBN: 158201891X.
Digital CD Edition of Mine with the Iron Door: A Romance, The (CD-ROM Edition)
. The CD-ROM contains 338 pages. Publisher: Classic Books; 1923 edition (December 15, 2007).