Entertainment Magazine: Free Movies: TV Shows
Free Classic "Andy Griffith Show" Downloads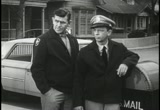 Watch online and download these public domain episodes of "The Andy Griffith Show." To find out more about downloading and watching free movies online, read our Free Movie FAQ.
Andy Griffith passed away on Tuesday morning, July 3, 2011 at the age of 86. Andy Griffith, the actor, portrayed Andy Griffith as a bachelor sheriff in the small fictional town of Mayberry, North Carolina. The series co-starred Don Knotts (Barney Fife) as the bumbling deputy, sweet Aunt Bee (Frances Bavier), and son Opie (Ron Howard).
"The Andy Griffith Show" ran on CBS-TV network between October 3, 1960 and April 1, 1968.
---
Watch and Download Free Andy Griffith Shows
These movies and TV episodes provide quick streaming video without any special software. Select a movie title to watch or download a free episode of the Andy Griffith show from archive.org.
---
The televison show's theme music, "The Fishin' Hole," was composed by Earle Hagen and Herbert Spencer. The lyrics were written by Everett Sloane.
The whistling in the opening sequence was performed by Earle Hagen. The TV show usually ran against "The Price is Right" on NBC-TV and "Stoney Burke" on ABC-TV. Read more about Andy Griffith from wikipedia.
Goober Pyle character George Lindsey dies
George Lindsey who played the smiling gas station attendant Goober Pyle on the "Andy Griffith Show" and :Hee Haw." He appeared on the "Andy Griffith Show" from 164-1968, and its successor program "Mayberry RFP" from 1968-1971. He joined the "Andy Griffith Show" when Jim Nabors, who played Gomer Pyle, left the tlevision series in 1964. He also appeared on other TV shows including M*A*S*H, "CHiPs," and others. Lindsey, who passed away Sunday, May 6, 2012, was 83 years old.
Fandango movie tickets
Fandango app can now be found on your iPhone and iPod touch. Get movie and theater listings with the flick of your finger. Watch trailers. View fan ratings. Buy movie tickets online. Get exclusive offers on movie tickets and more on Fandango!
---
© 2009-2012 All rights reserved. Free Movie Entertainment Magazin. This is a public domain archive.