Entertainment Magazine: Free Cartoons
Watch and download free Bugs Bunny cartoons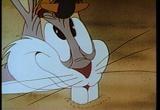 These are free Bugs Bunny cartoons that you can watch online and download to play later or transfer to a mobile device.
Many of today's U.S. baby boomers and their parents grew up watching animated cartoons, like Bugs Bunny, in movie theaters and during Saturday mornings on television.
Several Bugs Bunny movies are in the public domain, so they can now be enjoyed streaming for free.
Bugs Bunny Free Downloads and Streaming Videos
Read the Free Movie FAQ to learn how to watch streaming movies and how to download free movies.
Public domain free cartoons are marked if available without a copyright. Check with the sources for commerical use. The movies play on MPEG, Torrent and Quicktime. They should play without a problem on most PC's and mobile devices.
---
Who is Bugs Bunny?
Since the 1940's, Bugs Bunny has been one of the most favorite and beloved cartoon characters.
The Bugs Bunny cartoon series, from Looney Tunes and Merry Melodies, was produced by Warner Bros. The Bugs Bunny cartoon was a "warm up" or "opening feature" that was shown just before the main movie feature in most theaters.
When televsion became popular, the Bugs Bunny cartoon series usually ran on Saturday mornings as part of a package of other popular children's cartoons. The Cartoon Channel on cable TV still often runs Bugs Bunny cartoons. Some of these Bugs Bunny cartoons are now in the public domain, so they can be watched free online or downloaded to a computer to transfer to a mobile device.
---
---
Bugs Bunny- a cartoon legend
The Bugs Bunny character is one of the most recognized image in the world. His famous slogan "..eeh, what's up, doc?" has been uttered around the world.
The "Fresh Hare" episode was banned from television for almost 30 years because it was considered too racey for the time.
Bugs Bunny's nemisis, Elmer Fudd, Daffy Duck and Tweedy Bird are also a part of this cartoon series.
According to his biography, Bugs Bunny was "born" in 1940 in Brooklyn, New York.
Bugs Bunny was the product of many fathers: Ben "Bugs" Hardaway (who created a prototypical version of the character called Happy Rabbit in 1938's "Porky's Hare Hunt"), Bob Clampett, Tex Avery (who developed Bugs' definitive personality in 1940), Robert McKimson (created the definitive Bugs Bunny character design), Chuck Jones, and Friz Freleng (from Wikipedia).
According to Mel Blanc, his original voice actor, his accent is an equal blend of someone from the Bronx (New York) and someone from Brooklyn, New York.
In the fall of 1960, The Bugs Bunny Show, a television program which packaged many of the post-1948 Warners shorts with newly animated wraparounds, debuted on ABC. The show was originally aired in prime-time, and after two seasons it was moved to reruns on Saturday mornings.
The Bugs Bunny Show changed formats frequently, but it remained on network television for 40 full years.
When Mel Blanc died in 1989, Jeff Bergman, Joe Alaskey and Billy West became the new "voices" to Bugs Bunny and the rest of the Looney Tunes, taking turns doing the voices at various times.
In 2002, TV Guide compiled a list of the 50 greatest cartoon characters of all time as part of the magazine's 50th anniversary. Bugs Bunny was given the honor of number One.
At this time, Bugs Bunny cartoons are not available to watch or download in the public domain. To learn more about free movies online read the Movie FAQ.
This is the highly-anticipated 2008 sixth volume of the Looney Tunes Golden Collection, the studio's largest Looney Tunes compilation of animated shorts to date. Fans won't want to miss this golden opportunity to own over 60 classic, fully re-mastered and restored cartoons, presented in their original un-edited format. Most of the shorts in the collection have never been available on DVD before.
Fifteen cartoons dating from World War II give Volume 6 of the Looney Tunes Golden Collection more focus than previous sets. Many of the 1940's cartoons remain very funny. Bugs Bunny dresses up as Brunnhilda and rides in to the strains of "Tannhauser" in "Herr Meets Hare" (1945), a gag Chuck Jones re-used to greater effect in "What's Opera, Doc" a dozen years later. In "Russian Rhapsody" (1940) some of the gremlins who sabotage Hitler's bomber are caricatures of the Warner Bros. artists. Chuck Jones appears as a chunky, pinkish-tan homunculus swinging a mallet; Friz Freleng is a little green man with a saw-like nose. Younger viewers may find the references to wartime shortages puzzling--or fail to recognize the caricatures of Hermann Goering, Hideki Tojo and Joseph Stalin.
Some of the other cartoons can still bring down the house, including "Satan's Waitin'" (1954), in which Sylvester manages to lose all nine of his lives in pursuit of Tweety, and "Bear Feat" (1949), another exercise in futility for Jones' Three Bears. The early musicals featuring Bosko, Foxy (or Freddy Fox) and Buddy have not aged well. Created by Hugh Harman and Rudy Ising, these characters were modeled on Felix the Cat and Mickey Mouse, but lack charm and personality.
The rarest are five shorts Friz Freleng directed at MGM in 1938. Producer Fred Quimby lured Freleng away from Warner Bros.--only to insist he adapt the comic strip "The Captain and the Kids," Rudolph Dirks' version of "The Katzenjammer Kids." Freleng correctly predicted the films would flop as the characters were "the meanest little bastards in the world," and soon returned to Warners. (Unrated, suitable for ages 6 and older: cartoon violence, ethnic stereotypes, mild risqué humor, alcohol & tobacco use) --Charles Solomon
---
Warner Bros. Online Store
Warner Bros. Online Shop, WBShop.com, where you'll find treasures for you and gifts for any occasion. The WBShop.com has toys, games, calendars, clothing, accessories, posters and more from your favorite Warner Bros. and Looney Tunes characters like Tweety, Taz, Batman, Bugs Bunny, Superman and from your favorite Warner Bros. movies like Harry Potter and Scooby-Doo. See what's onsale today at the Warner Bros. Looney Tunes Online Store.
Find more cartoon collectibles
© 2017 Free Movie Entertainment Magazine. EMOL.org. All rights reserved. "Bugs Bunny" is a public domain archive.