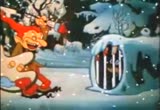 The Jack Frost character made his first animated appearance in this 1934 cartoon. Jack Frost is the fictional representation of Winter.
This free cartoon is available to watch and download without charge. Read more about the Free Movie FAQ.
Watch and Download This Free Movie
---
---
In this episode, Jack Frost arrives in the forest. He paints the leaves on the trees, pumpkins and anything else while he warns the animals of the forest to prepare for the upcoming cold winter.
But, an inquisitive young grizzly bear decides that he wants to see what the world looks like when everyone else is hibernating.
When Old Man Winter catches him unawares, however, he needs Jack Frost's help to get back home to his warm bed. Run time: 8 minutes.
---
Purchase a copy of Jack Frost (1998)
on Amazon. DVD movie with Michael Keaton and Kelly Preston in Multiple Formats, Color, Full Screen, NTSC, Widescreen. Released in 2008.
---
Free Movie Download FAQs
This movie is in the public domain. Since the U.S. copyright has expired, this movie can be watched online and downloaded free. There are no charges or registration required.
To watch free movie: a new code found in many browsers that provides quick streaming video without any special software. Read more how to watch free movies online.
Watch full screen: Click the icon on the lower right corner to watch the movie in full screen mode. Press the escape key (esc) to return.
To download free movie: A new window will open with a list of movie formats (mpg, mp4, etc.), image files (.jpg) and other available files. Select any link to start playing, then save the file when completed. These movies can also be transfered to mobile devices like iPads and smartphones. Find out more how to download movies.
---
Jack Frost Free Cartoon Download
1934 Version. Public Domain
Director and Producer: Ub Iwerks.
Production Company: Celebrity Productions, Inc.
Contact Information: www.k-otic.com
Creative Commons license: Public Domain Mark 1.0.