Entertainment Magazine: Free Movies: Cartoons
Free Superman cartoons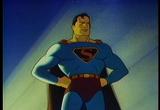 Following a mysterious absence of several years, the "Man of Steel" came back to Earth in 2006 in the epic action-adventure "Superman Returns," a soaring new chapter in the saga of one of the world's most beloved Super Heroes.
In this version, while an old enemy plots to render him powerless once and for all, Superman (Brandon Routh) faces the heartbreaking realization that the woman he loves, Lois Lane (Kate Bosworth), has moved on with her life. Or has she?
Free Superman Cartoons
These Superman cartoons can be watched streaming online or download, when marked as public domain.
Superman in the News:
---
Superman Returns
[Blu-ray]
Superman Returns (Widescreen Edition)
If Richard Donner's 1978 feature film Superman: The Movie made us believe a man could fly, Bryan Singer's 2006 follow-up, Superman Returns, lets us remember that a superhero movie can make our spirits soar. Superman (played by newcomer Brandon Routh) comes back to Earth after a futile five-year search for his destroyed home planet of Krypton. As alter ego Clark Kent, he's eager to return to his job at the Daily Planet and to see Lois Lane (Kate Bosworth). Lois, however, has moved on: she now has a fiancé (James Marsden), a son (Tristan Leabu), and a Pulitzer Prize for her article entitled "Why the World Doesn't Need Superman." On top of this emotional curveball, his old archrival Lex Luthor (Kevin Spacey) is plotting the biggest land grab in history. Superman Returns is one of those projects that was in development for seemingly forever, but it was worth the wait -- it's the most enjoyable superhero movie since Spider-Man 2 and The Incredibles. --David Horiuchi, amazon.
Studio: Warner Home Video
DVD Release Date: November 28, 2006
Run Time: 154 minutes
Discounted Superman Merchandise from amazon.com
© 1995-2015 EMOL.org Free Movies Entertainment Magazine. All rights reserved. "Superman" is a public domain archive.