Clay Aiken to Release Brand New CD Album, On My Way Here, on May 6th 2008
EAGERLY AWAITED COLLECTION IS THE POP SUPERSTAR'S FIRST ALBUM OF ORIGINAL SONGS SINCE 2003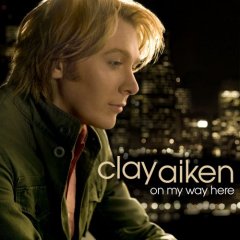 Multi-platinum selling pop singer Clay Aiken will release his fourth album, On My Way Here, on RCA Records/19 Entertainment on May 6th, 2008. The collection is the 29-year-old Raleigh, NC, native's first album of original songs since his 2003 chart-topping, double- platinum debut Measure of a Man.
On My Way Here chronicles Aiken's experiences over the past five years, ascending from popular contestant on the second season of American Idol to pop superstar. The album's theme came to Aiken when he and his executive producer Jaymes Foster fell in love with a song written by OneRepublic frontman Ryan Tedder called "On My Way Here."
The message of the lyrics -- how the lessons we learn while growing up shape us into who we become as adults -- struck a very deep chord with the artist. The title track "On My Way Here" will be the first radio single from the album to be released later this month. Additionally the single, "On My Way Here" will premiere as an "AOL First Listen" on Monday, April 7th.
"I thought if we could find songs that relate to what's gone on in my life over the past five years and address what I've learned from my experiences, it would be a great concept for my album," Aiken says. "Since I got into this business, I've learned so much about myself. I think this album covers how far I've come, personally and professionally."
The chance to record new material was an opportunity Aiken didn't want to miss. His previous two albums, 2004's Merry Christmas with Love (which went platinum within six weeks of its release) and 2006's gold-certified A Thousand Different Ways, featured 10 cover versions of well-known songs popularized by Celine Dion, Elton John, and Dolly Parton.
Aiken's vocal performances on songs like "As Long as We're Here," about not waiting until it's too late to tell someone you love them, and "The Real Me," about being in the public eye, resonate with the kind of emotion that can only come from someone who's experienced this firsthand.
"Although," Aiken says, "it was important to me that the songs be interpretable in all kinds of ways. People should be able to find their own meaning in the lyrics."
On My Way Here will be released just as Aiken finishes up his Broadway run playing Sir Robin in the Tony Award-winning musical Monty Python's Spamalot. Since January, Aiken has spent his days in the recording studio with On My Way Here's Grammy Award-winning British producer Kipper (Sting, Chris Botti), and his nights onstage in Spamalot. "I guess I'm a glutton for punishment," he says with a laugh.
For more on Clay Aiken, please visit his official website http://www.clayaiken.com/.
Source: RCA Records
NEW YORK, April 4, 2008 /PRNewswire/ --
© 2008 EMOL.org ENtertainment Magazine. All rights reserved.