Entertainment Magazine: Music: Deréon: Beyoncé Knowles
Fashion on center stage with Deréon by Beyoncé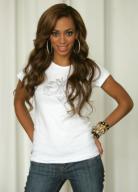 Hip-hop couture clothing fashions reign at Deréon clothing line (formerly called House of Deréon).
Beyoncé Knowles and her sister Sologne have modeled this line of clothing and accessories after the bold and daring ideas of their grandmother, Agnéz.
The flair of the fleur-de-lis insignia that marks the name, Deréon, formerly the House of Dereon, speaks to young women who want to exude confidence and style.

Only the Knowles family, with their fervor for fashion, could design apparel that embodies femininity, and yet still represents the edge of the hip hop industry. See top fashions and read more about the Deréon clothing line.
Beyonce breaks Grammy records

This year the iconic superstar took home six Grammy Awards, including the Song of the Year award for "Single Ladies." She made history on Grammy night, becoming the female artist with the most wins in one single Grammy year.

Beyonce broke the record for the most Grammy wins by a female artist in a single eligible year at the 2010 Grammy Awards.Beyoncé's wins makes the Grammy® record for most awards won by a female artist in a single year while bringing her career Grammy® total up to 16 (13 as a solo artist and 3 with Destiny's Child). Read more about Beyonce Grammy Awards.

Beyonce Index

---

Watch Beyonce's "Video Phone" with Lady Gaga
Beyonce performs 'At Last' at the request of Barack & Michelle Obama
Beyonce performed "At Last," her soul-stirring interpretation of the classic blues song made famous by Etta James, as the musical back-drop for Barack and Michelle Obama's first dance together as America's new President and First Lady.
Responding to a personal request by the Obamas, Beyonce sang "At Last" at the Neighborhood Ball, one of 10 official Inaugural Balls in Washington, DC and the first to be attended by the Obamas as President and First Lady. Her performance was broadcast live on ABC Television as part of its two-hour Neighborhood Ball Inauguration special.
Beyonce's version of "At Last," a key track from the "Cadillac Records" soundtrack, is the latest incarnation of a blues standard, written in 1941, that became the signature song of the legendary Etta James. Played by Beyonce Knowles in the film, "Cadillac Records," Etta James was inducted into the Grammy Hall of Fame in 1999 for her version of "At Last."
Earlier during Inauguration Week, Beyonce performed "America the Beautiful" on the steps of the Lincoln Memorial on Sunday, January 18, as part of the "We Are One" concert. Read more about The Inauguration of Barack Obama: A Moment in History (ABC News)
from amzon.com.
Source: Music World/Columbia Records
NEW YORK, Jan. 25, 2009 /PRNewswire/ --
---
---
© 2009-2012 EMOL.org. Music Entertainment Magazine. All rights reserved.
The exclusive Deréon Dereon Sexy Back Hoody Dress has Full zip closure, front pouch pocket, ribbed cuff and waist line. Contrasting color tribal design. Dazzled shoulder detail.
See more Deréon Clothing Line
Deréon for the Baby
EXCELLENT FABRIC: 65% Cotton, 35% Polyester, high quality machine washable material. Cleverly-constructed back designed for easy on-and-off. This cute one piece outfit features printed brand name and logo at front for lovely look. Tailored snap buttons at the leg opening give a gently snug and perfect overall fit.
See more Amazon's Deréon Baby Selection
Released as a digital download and CD single on January 20, 2009, "Diva" has already been certified as a Gold ringtone by the RIAA.
Read more about Beyonce's I Am...Sasha Fierce (Deluxe Edition)
. The Deluxe two CD set pressing containing five bonus tracks.
Beyonce Knowles
Music CDs
Beyonce Knowles DVDs