XM Satellite Radio to Broadcast 2005 Bonnaroo Music Festival With Exclusive Live Performances by Top Artists June 10-12
Artists Scheduled to Appear Include Dave Matthews Band, Trey Anastasio, Bob Weir and Ratdog, Allman Brothers Band, The Black Crowes, and Joss Stone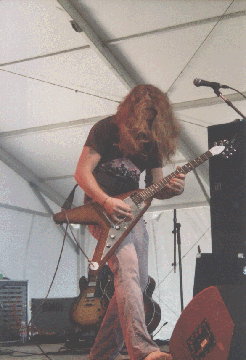 XM Satellite Radio, the nation's leading satellite radio provider with more than 4 million subscribers, will broadcast live performances from this year's Bonnaroo music festival to listeners from coast to coast. From June 10 to June 12, XM will broadcast exclusive performances originating from Bonnaroo's main stage, comedy tent and other music stages, including the XM-sponsored Sonic Stage. Artists scheduled to appear include: Dave Matthews Band, Trey Anastasio, Bob Weir and Ratdog, Allman Brothers Band, The Black Crowes, Joss Stone, Herbie Hancock's Headhunters '05, Jack Johnson, Gov't Mule, Toots & The Maytals, Amos Lee, John Prine, Iron & Wine and Drive By Truckers.

(Logo: http://www.newscom.com/cgi-bin/prnh/20000724/XMSATLOGO )

Located in the Bonnaroo Sonic Village, the XM Sonic Stage will give fans a chance to see Bonnaroo performers in a rare, intimate setting. XM will host special live interviews and acoustic performances from the Sonic Stage throughout the weekend. A team of XM on air personalities from XM's commercial-free music and other channels, including Jessie Scott of X Country, Joel Haas of XM Comedy, Grant of Squizz and Paul Bachmann of Fred will anchor XM's live Bonnaroo broadcast.

XM is turning over its Music Lab channel, XM 51, to Bonnaroo-related programming for the duration of the festival. Meanwhile, starting at Thursday, June 9, at noon and leading up to the start of this year's live coverage, XM will be playing 24 hours of live music from artists featured at this and past years' Bonnaroo festivals. This "Road to Bonnaroo" special will entertain the 90,000 fans making the pilgrimage to Manchester, TN, and ready the 4 million strong "XM Nation" for this year's live broadcast.

"XM's broadcast of Bonnaroo is part of our mission to provide music lovers with a front row ticket to the very best in live music today," said Lee Abrams, XM's Chief Creative Officer, Programming. "XM brings its subscribers the best live performances year round from the nation's top concert venues and music festivals, including Bonnaroo, South by Southwest (SxSW), Willie Nelson's Fourth of July Picnic, Merlefest and the CMA Music Festival."

About XM Satellite Radio

XM (NASDAQ:XMSR) is America's number one satellite radio service with more than four million subscribers. Broadcasting live daily from studios in Washington, DC, New York City and Nashville at the Country Music Hall of Fame, XM's 2005 lineup includes more than 150 digital channels of choice from coast to coast: 67 commercial-free music channels, featuring hip hop to opera, classical to country, bluegrass to blues; 64 channels of premier sports, talk, comedy, children's and entertainment programming; and 21 channels of the most advanced traffic and weather information for major metropolitan areas nationwide. XM Satellite Radio is the satellite radio leader in sports programming, offering thousands of live sporting events every year. XM is the official satellite radio network for Major League Baseball, NASCAR, the Indy Racing League, the PGA TOUR, and the college sports conferences ACC, Pac-10, and Big Ten. XM was named Best Radio Service at the 2004 Billboard Digital Entertainment Awards.

XM, the leader in satellite-delivered entertainment and data services for the automobile market through partnerships with General Motors, Honda, Toyota, Hyundai, Nissan and Volkswagen/Audi, is available in more than 120 different vehicle models for 2005. XM also is available in Avis, National, and Alamo rental cars. XM is the exclusive in-flight entertainment service for AirTran Airways, and will soon be available on JetBlue flights. Consumers can experience XM over the Internet through XM Radio Online at http://listen.xmradio.com/. Soon, XM and America Online will launch the world's largest combined digital radio network to be promoted to an audience of 100 million consumers online. For more information about XM hardware, programming and partnerships, please visit http://www.xmradio.com/.
Source: XM Satellite Radio
WASHINGTON, June 8, 2005 /PRNewswire-FirstCall/ --
Official festival website is http://www.bonnaroo.com/
2005 EMOL.org Music Entertainment Magazine. All rights reserved.
The Allman Brothers

A Decade of Hits 1969-1979 CD

Dave Matthews

Crash