BWB
Three of the main cats whose musical passion and groove intensity defines the truest heart and soul of today's contemporary jazz is Rick Braun, Kirk Whalum and Norman Brown who share a collective love for the old school.
Each infuses his solo projects with a mix of classic R&B and soul/jazz influences, none greater than those classic late-early 70-s CTI recordings featuring legends like George Benson, Freddie Hubbard, Bob James and Ron Carter re-interpreting contemporary pop songs in a fresh, freewheeling way.
"There's a particular process involved in making a smooth jazz record and it's something of a controlled setting," says Pierson, their producer. "Live, however, each of these guys really transcends those trappings and has a blast interacting with their rhythm section. They're more aggressive, they solo more. Individually, they're the best."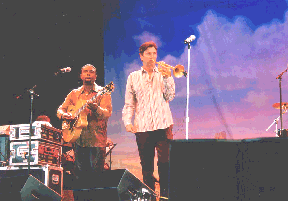 As a guitarist, Norman is a George Benson and Wes Montgomery of his generation. Kirk is the most influential sax man of his generation. Rick , with his background in straight ahead jazz, brings an authentic, classic jazz trumpet vibe to the smooth jazz world.
I thought, wouldn't it be fun to give them an environment where they could just blow, improvise, challenge themselves, have a good time and really dig into who they are as musicians as opposed to simply commercial recording artists? I liken BWB to the Wes Montgomery "Plays the Beatles," great players having fun doing beloved tunes with new funky arrangements."
The ten songs chosen for Groovin' reflects Pierson' desire to mix elements of the CTI era with pop and soul classics and a more modern R&B sensibility. The Rascals "Groovin' " sets the cool, yet fiery, tone for the whole project, it's dual horn intensity giving way to Brown's crisp, electric tones over McBride's thumping bass and Peterson's organ foundation.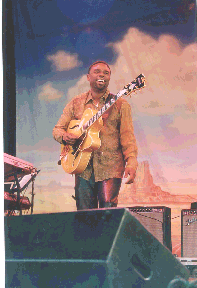 The moody, atmospheric blues flavored take on D'Angelo's "Brown Sugar" features Whalum doubling with Braun's flugelhorn on the main melody, while Brown's snappy lines carry the bridge.
"We chose that and Alicia Keys' "A Woman's Worth" because we could break them down into sections and they had the old Philly soul vibe but in a modern context," says Pierson. "We wanted to embrace a new generation of soul musicians whose style pays homage to our old favorites."
"Groovin'" wraps with a hearty celebration jam of the George Clinton party anthem, "Up For The Down Stroke." Wild, funky and heavy with it's brass swinging bravura, it's the perfect way to wind down.
"We cut the vocals for that tune and then sat around having drinks and listening back to it," recalls Pierson. "It was a total love fest. We looked at each other like, 'damn, this is real music we're making.' "
Norman Brown, Rick Braun, & Kirk Whalum have played music ever since they were small boys. Brown started playing guitar when he was eight and was already gigging while in high school. His home town Kansas City. He had played in clubs like most musicians. Having people hear what he loves to do most. People in his home town had recognized that Norman had something special within him. Over the years Norman had worked with many top names like Norman Conners for one who Brown says is responsible for MoJazz finding him.
Who helped him get a record deal for about two years till he signed with Motown? Rick Braun started his interest in music ever since he was a small child. His first interest was the drums. His other choice the violin. Although other instruments have been in his life, Rick has been playing the trumpet since he was a young boy. He did attend the prestigious Eastman school of music. The first of Rick's big "breaks" in the business came in the area of song writing and being a background musician/vocalist. One of the tunes he wrote for Reo Speedwagon "Here With Me" hit the Billboard Top 20. Over the years Rick has worked with many top names. Like Sade, Tom Petty, Tina Turner, Glenn Frey. Those are just a few names. There are many more.
Kirk Whalum first expressed his interest in music on the drums, switching to saxophone at Sherwood Jr. high school. He was awarded a music scholarship to Texas Southern University in Houston, TX beginning his road to musical maturity. In 1980 Kirk had started his own band. Kirk and his band the opening act for jazz acts in 1983 caught the ear of jazz pianist Bob James. Bob was so impressed with the young Whalum that two weeks later Kirk found himself in New York soloing on Bob's album.
Over the years Kirk has worked with many top names. Like Luther Vandross, Barbra Streisand, Quincy Jones, and many more. Just as Pierson envisioned when he set out to bring this incredible trio together to jam, BWB's Groovin' truly captures the vibe and spirit of classic improvisational soul/jazz.
"The best part was just hanging with these guys, seeing what we could come up with," says Whalum.
Braun agrees: "Matt Pierson's vision was what this was all about. He had this incredible idea and our job was to just go in there in support of his vision and materialize what he pictured. We had a great time, doing mo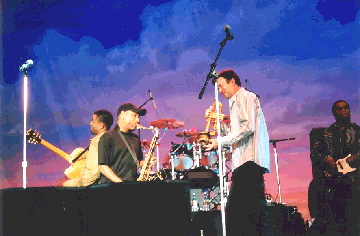 stly live takes with very little overdubbing, and we're all looking forward to more."
From Kansas City to Allentown, Pennsylvania to Memphis, TN. now all grown up and over time as these professional musicians came about and have found each other to make one of the greatest soul/jazz recordings ever produced. If you haven't listened to their new CD "Groovin'" yet, I suggest that you do. Otherwise, you will be missing out. "Groovin' " definitely has a sound that is soothing and pleasing to your ears and soul.
BWB will be on tour in support of "Groovin' " throughout November 2002, with nearly 20 gigs planned as of mid August 2002.
---
---
Return to Music Home Page