I hope you feel like dancing - because this next DJ will have you rocking out!! Meet DJ Clodagh.

By: K.Kirker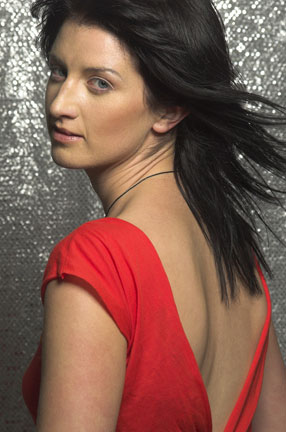 I just wanted to start off by saying that I think it is amazing you have made a name for yourself in a predominantly male career. I really enjoy watching you perform; you look like you have so much fun. So let get started with all the fun stuff.

You were born in Ireland but you live in London now, so what was is like going from one place to the other?
Hi! Thanks for the kind words. In Ireland I always loved to dance at the local discos but it wasn't until I moved to London in 1999 when I discovered real dance music & clubbing. I was totally addicted to clubbing, going out every weekend dancing all night long on the dance floor, making new friends, hearing all the wicked Djs & especially the amazing music & atmosphere's at the clubs! I lived for the weekend & went clubbing every Friday, Saturday & Sunday! So yes moving to London was totally different & changed my live forever and for the better, because in 2001 I saved up & bought decks with my then boyfriend "Nacho" and we started throwing parties in London.

Now, you started off as a fitness instructor, tell me a little bit about that.
Yes, I was a fitness instructor for over 11 years! I used to teach Aerobics, Step, Pump, Spin, Abs etc, design fitness programmes & do a bit of personal training. I was also Fitness Manager & Studio Coordinator. It was great while it lasted but was too physically exhausting jumping around teaching 10 classes a week then jumping around all weekend behind the decks & not sleeping. I always played the best music in my classes & people used to come up to me after & say, "I really feel like going out clubbing now!" No matter how tired I was before my classes the minute the music came on I was full of energy!

When you were growing up, what did you think you were going to be?
As a child I was always sporty, I played lots of competitive sport eg. Basketball, Soccer & and Irish game called Camogie (the male version is called Hurling). I also used to coach kids basketball which I loved, so when I left school I decided to do a child care course & worked 2 days a week in a children's pre-school. I left after 1 month… I hated it & it put me off kids for many years! Hehe!
So after that I trained as a fitness instructor, which was much better & worked at it for 11years!

When was the first moment that you knew you wanted to entertain people?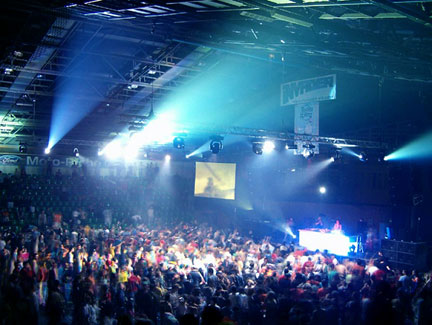 As a child I used to do competitive Irish Dancing, so I guess that was entertaining people while being on stage. I really love to dance & probably am at my most happiest when dancing. When I used to go out clubbing & see & hear what the Djs would do, I always wished I could do it, not for the cool factor but for how happy it made people. I wanted to make people dance like crazy, forget all their problems & have the best night out ever.
I think Djs should be entertainers… I love watching Djs interact with the crowd & love watching Djs who are really skillful & work the mixer & effects. I really feed off the vibe & the energy of the Djs.
Skill wise, I learned so much from watching a French Dj called Jeff Amadeus. Play & energy wise it was Carl Cox. I never thought in a million years that I would be Djing all over the world making people dance… I have to pinch myself sometimes.

How would your friends have described you growing up? (Crazy, energetic, silly, etc..)
I was actually pretty quiet & shy growing up, but still fun & totally sport & basketball crazy. I was good in school as I was afraid of the teachers. The naughtiest thing I did was that I used to wear my trainers with my school uniform & I had many teachers after me for not wearing my proper school shoes. So I def wasn't wild & crazy… that happened when I moved to London. Now my old school friends think I'm crazy… but they're proud of me too for what I've achieved with my Djing & they know I wouldn't be happy with a "normal" lifestyle.

Now you were in a show in 2003 called "THE JOY OF DECKS", tell me a little about that?
I really believe in faith & if things are meant to happen, they will happen & this was one of these occasions. I was going to a festival when a friend called & said I should check out a website looking for up & coming Djs. When I returned the next day… really tired I read through the website & it sounded great, It was a 6part ITV documentary called "The Joy Of Decks" looking for 4 up & coming Djs to work with 4 professional dj's to act as mentors, & the winner would win a 1 year contract with a top Dj agency & play all over the world. And the closing date was in 2 days time!!! I ran around like a mad woman for 2 days, calling up friends to help me make a audition video (5 years ago it wasn't that straight forward), made a mix, filled out a 20 page application form & gathered some photos together. Anyway I made it to the final 4, Sister Bliss from Faithless picked me (Mr.C, Roni Size & Tom Middleton were the other mentors).
I got to make a track with her in the studio, we all went to Ibiza for a week & played over there & partied, I warmed up for Bliss at some of her Uk gigs & in the final I had to play in front of 1,000 people at an awesome club in Liverpool. I didn't win but it didn't matter as it was an amazing learning experience & from being on TV I was spotted by Carl Cox who asked me to be his warm up Dj on tour in France & Ireland in 2005. Carl Cox is my hero & to be asked to go on tour with your hero is something only dreams are made of. From touring with Carl I got many more amazing gigs & played with Sasha & Tiesto & many more professional Djs.

How did it feel to be the first female DJ to play in Algeria and what was their response to you like?
Of course I'm really proud to be the first female Dj ever to play in Algeria. I actually didn't even know I was the first female Dj until I reached the airport in Algiers & a girl came up to me & told me. I couldn't believe it. I have an Algerian friend in London & he nearly fainted when I told him I was going to play there. He hadn't been home for 7 years & he told me to be careful. Needless to say I was a bit nervous travelling there & didn't know what to expect. But the party was great, I had loads of fun & I've played there many times since. I love playing in the city of Oran, the people are so much fun, really up for it & I'm looked after so well. Both the men & women are really beautiful & they are all great dancers. When I returned to London my Algerian friend was asking if there were women at the club, were they drinking & what were they wearing. I said the same as you would see in London & he was amazed… so I guess a lot has changed in 7years. Before my first gig I went to dinner with the promoter & his wife, I asked his wife Zahara, who is a TV presenter on a music programme if she liked house music… and she shook her head & said a big "NO"… I was like… Oh dear… during my set I saw her dancing away, arms in the air, & then after my set I said "So Zahara… do you like house music?" and she shouted out with a big smile "YES!!!" Hehehe… mission accomplished! J

You have never played in the US, so what would it take to get you over here?
I'd love to play in the US… what would it take to get me over there.., good party people, a good sound system, my flight, hotel & fee paid & I'm there! J

What goes into setting up for your show?
Ideally 2 Technics 1210's turntables, 2 Pioneer cdj 1000's CD decks, 1 Pioneer djm 800 mixer, 2 really good crystal clear monitors, a kick ass sound system (preferably funktion one!! J ) a great sound engineer who knows what their doing & a rocking crowd ready to party!!
It's really important to me that the monitors are good. I really can't play well when I can't hear what I'm doing, I don't enjoy it & it makes me really sad as I can't give 100%

Tell me a little bit about the beats you use and how you came up with your style?
Basically I play tracks that I love & that make me move. I love high energy powerful pumping tracks, big phat bass-lines, funky groovy beats, I love acid 303 sounds, I love melodic tracks, I love good vocals, I love tribal beats, I like to drop some fun bootlegs when people don't expect it. My sets involve lots of arms & fists punching the air, lots of jumping up & down, screaming, shouting, cheering, asses shaking, smiles on faces, & me sweating! Lots of fun really! I'm now starting to produce my own tracks which is great. I just finished an electronic music production course in London learning LOGIC PRO 8, which is an amazing software. This is where things regarding style become really interesting, creative & fun. I have co-produced 4 tracks so far, 2 tracks "Mechanized & Scream" with Uk producer Ali Wilson & I also made 2 tracks "Tramyard Vibes & Electro Static" with Irish producer Rhythm Technologies. Depending on the gig, I play for the crowd… eg. In Algeria & Tunisia, Morocco I play all styles of house, in France I play more electronic house, in Bulgaria, Czech Republic I play funky techno & in Poland & Slovakia I play a lot harder techno. So my music style really varies from gig to gig but the overall effect is usually the same!

How many females would you say are Djs, and why do you think that is?
Any females who mix beats together & make people happy & dance is a Dj, the same as any males who mix beats together & make people happy & dance is a Dj. What's really important is how passionate they are about Djing & why they are doing it… female or male. What really bugs me is the really selfish Djs… they just play for themselves… never even looking at or acknowledging the party people in front of them. That's really disgusting.

Where is your favorite place to do a show?
Luckily this is a very hard question for me as I have played many amazing shows all over the world, which differ hugely. So far I've played in Algeria, Tunisia, Morocco, France, Ireland, Northern Ireland, UK, Italy, Ibiza, Spain, Croatia, Sweden, Brazil, Germany and Slovakia but my favourite places so far have been Bulgaria & Czech Republic. Eastern Europe totally rocks… because the party people are amazing there… so nice, so much fun & so full of energy… the parties are totally crazy… and they dance like crazy! The first time I played in Bulgaria … I was like "WOW!!!!" … a Dj's dream! J

What is your favorite type of music to mix?
It really depends on the party & the people & the vibe & mood of the party. Whatever makes me move… I love to play that kind of music. I love techno, electro & house… but if I love it… I'll play it… I don't care what genre it comes under… basically I love to mix GOOD MUSIC!

Is there an artist out there whose music you love to mix?
There are many amazing producers out there… my favourites at the moment being Wehbba from Brazil, Stephane Signore from Belgium, Reaky from Slovenia, DAVE the Drummer, and Ali Wilson both from the UK. I also LOVE Hardfloor & Josh Wink for their Acid 303 beats. I also love Gregor Treshor & Joris Voorn. The list goes on & on. I'm learning to produce & it makes me really appreciate good tracks, it really makes me listen really deep through all the layers & sounds, every little noise & bleep & all the effects. It's really amazing. It's a real eye or should I say an ear & mind opener.

In what direction do you see your show going in or where do you want it to be?
Oh gosh… I really have no idea… with the way technology is changing so quickly you never know what's waiting around the next corner, but basically as long as I enjoy what I'm doing, and the mixing is challenging & I'm being as creative as I can be, plus the music that's coming out of those speakers is still driving people crazy… then I'm happy! I definitely want to produce amazing tracks that really move people and as a Dj I want to keep rocking it & making people happy & dance… that's the most important thing.

Okay, now that we got the professional side done, I have a few questions just to get to know you on a personal level.

I know you probably don't have a lot of free time, but if you had a chance to go out on a date, what would be your perfect date?
Hehe… The perfect date… does it really exist? I like to be surprised & I'm also a bit of an action junkie. As long as it involves lots of fun & laughter then that's cool.

Is there any music you listen to, that you wouldn't admit to?
Nope! I really do like most kinds of music. The older I've got the more I've learned to appreciate things more. Before I would have been embarrassed to say I liked pop music eg. Boy bands & Girl bands etc. but now I don't care. I even like the Spice Girls! J

If you went to a bar, what drink would you order?
Still Water… Yep! I know I'm weird… I'm Irish & I don't drink alcohol!

What is something that a lot of people wouldn't guess about you?
I'm a terrible cook & I've never drank tea or coffee in my life! And probably that I don't drink alcohol… that usually surprises people!

What is your number one favorite thing to do?
I love exercising in the sunshine… that could be dancing, cycling, walking, and jogging!

Who is your favorite artist to listen to?
No idea…

Where would your favorite place to live be?
I'd love to live near my family beside a beach where the sun always shines surrounded by nature & mountains … Oh and near an airport too, that's important! J

If today was your last day, describe for me what that day would consist of…
As long as I'm with my family that's all that matter's to me then I'd look forward to the next life, while I'm there I'd have a word with the big man & plan some really fun things for the people I left behind! …Party time!
If you would like to know more about DJ Clodagh or just want to find out what she's up to next, go check out her websites at http://www.myspace.com/djclodagh and http://www.djclodagh.com/
© 2008 EMOL.org Music Entertainment Magazine. All rights reserved.