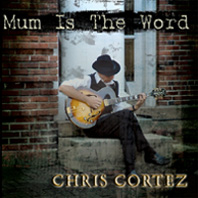 Like a tasty dish of Louisiana gumbo, New Orleans-area musician Chris Cortez mixes a broad assortment of delectable ingredients into his performances, and the latest feast is his new album MUM IS THE WORD containing traditional jazz, standards, blues, Latin jazz, humorous vocal tunes and high-speed acoustic-guitar-propelled instrumentals.
If you walk into a bar or nightclub in New Orleans or one of the surrounding burgs on the shore of Louisiana's Lake Pontchartrain where Cortez performs regularly, sit back and prepare to be thoroughly entertained by this versatile guitarist and singer who usually appears onstage wearing his trademark black fedora, a tip-off that his music harkens back to an earlier era.
"I wanted MUM IS THE WORD to be representative of my concerts where my main concern is to entertain the crowd," explains Chris. "Most of the songs on the album I have been performing for 10-to-15-years so I know the music will make the audience respond whether they are serious jazz fans or someone who doesn't know the first thing about jazz. Sometimes jazz musicians play over the heads of the listeners so I purposely choose songs and craft arrangements that have broad appeal."
Earlier in his career, after recording several well-received albums that feature instrumental, progressive and smooth jazz, Cortez decided in 2003 to record some of the songs featured when he performs live in local New Orleans clubs. The result was an album of jazz standards and New Orleans favorites titled HOLD IT RIGHT THERE. That CD showed the rest of the world what regional audiences already knew, Chris Cortez performs toe-tapping, fingersnapping, goodtime music featuring high-quality arrangements, tight musicianship and tasty solos by some of Southern Louisiana's top jazzsters.
With MUM IS THE WORD (on the Blue Bamboo Music label), he balances the recording with both vocal and instrumental numbers, and with fresh renditions of seven standards as well as five originals (one instrumental and four with hamorous lyricsr-While1his lfew-Co-features many of the same musicians who appearedon HOLD IT R1GHT THERE and continues the presentation of several standards and tunes associated with New Orleans music, MUM IS THE WORD differs not only with the addition of some Cortez originals, but also features Chris entirely on acoustic guitar.
"On HOLD IT RIGHT THERE and my previous albums, I mostly played electric hollow-body jazz guitar, usually with only the one guitarin the mix," Cortez says. "But I recently picked up my acoustic guitar to see if I could get that swinging jazz feel acoustically. For some reason, the steel-string acoustic seemed to give me permission to play rhythm guitar which I wouldn't be likely to do on electric guitar in a swing setting. It worked out well. I was surprised as the sound started to move into Django Reinhardt and Freddy Green territory. For MUM IS THE WORD I first laid down the rhythm guitar tracks on acoustic and that really propels the tempo. Then I overdubbed the lead parts on the same guitar which is a jumbo-shaped steel-string Rosewood-body Lowden, handmade in Ireland. It has a big sound with bite to it when I smack it hard."
MUM IS THE WORD is Cortez's fifth solo album, although he also has recordings with his jazz groups Rhythm Method and Groovopolis. "My last tWo solo albums are an homage to a different era when it was possible to lay down a great groove and put a nice solo over it without trying to change the world with each song. This music is about both simplicity and subtlety. It doesn't take a lot of work to enjoy this music, but there are profound musical statements just beneath the surface."
On MUM IS THE WORD Chris covers several tunes that have their roots deep in the New Orleans music tradition "Sweet Georgia Brown," Fats Waller's "Honeysuckle Rose" and the Hoagy Carmichael-penned "Lazy River." "I once heard Pete Fountain play 'Sweet Georgia Brown' incredibly fast on clarinet and I always wanted to do it that way on guitar. 'Lazy River' is just a charming old tune that epitomizes what New Orleans is all about. This is the music I want to hear when I drive through the city's Garden District."
Cortez also puts the band into high-gear with unexpected fast-paced versions of "Avalon" (first popularized by AI JOlson), "Manha de Carnival" (the theme song from the famous film "Black Orpheus"), and "Georgia On My Mind" turned inside-out as an uptempo samba ("I met Ray Charles a few times and I like to think he would have enjoyed my version."). "Every set I pull out at least one blues tune, so for this recording we did 'Everyday I Have The Blues' and I sang it as a duet with Humphrey Davis Jr. because I have performed with him many times over the past few years and I thought it should be documented."
Chris' wry sense of humor displays itself on his original materiaL The title tune was written recently after Chris and his wife had a stormy political-dialog dinner with a more conservative couple. Cortez says "My Way Is Better" is "for all the control freaks out there" "Bad Attitude" was inspired by a band Chris played in "that had no redeemable qualities as far as professionalism goes."
"Rhythm Method Blues" outlines the headaches of a man with an ever-expanding family. These types of ditties are a tip-of-the-hat to earlier musicians who displayed a humorous side such as Cab Calloway, Louie Prima and Spike Jones. As Chris says in the liner notes, "Whatever else jazz is, it should also be fun."
Cortez's core band is sax and flute player Larry Panella, pianist Sam Bruton, bassist Edwin Livingston (Los Hombres Caliente), drummer Jeff Mills and percussionist John Wooten. Panella, Bruton a'nd Wooten are all professors and department heads at the University of Southern Mississippi, and Cortez and Mills both teach jazz studies there parttime. Guests include Humphrey Davis Jr. on vocals and saxophone, Dean Fransen (Groovopolis) on piano, James Singleton (Astral Project) on bass, John Reid (KC & the Sunshine Band) on flugelhorn, and Billy Bargetzi on trombone.
Chris' musical career began in Orlando, Florida, where he was raised. He started guitar lessons when he was nine. At first Chris learned folk music, and soon was playing James Taylor and Crosby, Stills & Nash material, as well as writing his own songs.
When Chris was 15, he signed with a national record company and went to Nashville to record two original songs for a pop single using top session musicians Back in Orlando, Cortez was beginning to explore harder rock'n'roll with his band. Over the next few years Chris often performed at Disney World and toured the East Coast extensively. However, when Chris was hired to play guitar in a big showband with horns and keyboards, he was suddenly working with professional jazz musicians. Cortez started his own jazz group, Big Bamboo, while also playing in Clean Machine, a 13-piece fusion big-band.
Cortez moved to New York City "to soak up the vibe and ambience of jazz in the big city." He performed and also frequented the major clubs (Village Vanguard, Blue Note, Fat Tuesdays) every night to study the best jazz in town. He met Joe Pass who invited him over for a private guitar lesson. Cortez's influences began expanding to include Pat Metheny, John McLaughlin, Charlie Parker, Miles Davis, the Marsalis family, Art Blakey, Gilberto Jobim, Stan Getz, George Benson and Pat Martino, among others.
After returning to Florida, Chris started another jazz band, Rhythm Method, which performed at the famed Montreaux Jazz Festival in Switzerland, recorded the album UNDER THE WIRE, backed saxophonist Bill Evans and had Les McCann sit in one night. During this period Cortez got the opportunity to play onstage with established jazz acts such as Herbie Mann, Ira Sullivan, Red Rodney and Spider Martin (Count Basie). In addition, Cortez released his first solo album, THE CIRCLE BEGINS AGAIN, which focused on pop-oriented, original, vocal material. His second solo album, TERRITORIAL IMPERATIVE, was more original material, but this time primarily instrumental jazz.
After a brief stint in Miami, Cortez moved to the Louisiana-Mississippi coast to be able to perform both in New Orleans jazz clubs and all the large Biloxi casinos where he served as musical director for numerous major stage shows. His groups Music Machine and the Chris Cortez Big Band were on the marquee as featured performers at the Grand Casino. Cortez also was commissioned to write and record the theme song and additional music for the "Spirit of Broadway" show performed by the dance troupe Spirit of the Dance (formed by Lord of the Dance's David King). Cortez's music was included on the cast recording.
Cortez's next solo album, TALAMASCA, was original instrumental Latin-jazz. Chris changed direction again when he formed the smooth jazz group Groovopolis which released a self-titled album. He played in The Dream Band in New Orleans for a year. In addition, he was hired to perform with the Jimmy Maxwell Orchestra at Mardi Gras balls, back Harry Connick Sr., add guitar to AI Martino's STYLE album, play with the Caribbean calypso-reggae group Kaiso, and gig with the group Nightlife.
Chris jammed onstage one night in New Orleans with Slash (Guns N' Roses, Velvet Revolver), who was drawn in from Bourbon Street as he strolled by and Cortez's guitar-playing caught his ear. Recently Clarence "Gatemouth" Brown sat in all evening with Chris' band. A glimpse at Chris' schedule presents one with a portrait of diversity. His concert highlight event of last year was when he was invited to bring his quartet to perform selections from HOLD IT RIGHT THERE with the 50-piece University of Southern Mississippi Symphony Orchestra.
Regarding his latest project, MUM IS THE WORD, Chris Cortez states, "This is an attempt to bring more general listeners to jazz, to open their minds to the fact that there are all types of music out there, and, most of all, to make sure they are entertained. I felt compelled to put this album out because audiences have been responding positively to these songs at my concerts for many years."
Web Site: http://www.chriscortez.net/