Bob Dylan's Christmas In The Heart To Be Released October 13
All Artist's Royalties to Benefit Millions in Need Through Feeding America and International Charities More Than 4 Million Meals To Be Provided During Holidays
Bob Dylan will release a brand new album of holiday songs, Christmas In The Heart, on Tuesday, October 13, 2009 it was announced by Columbia Records.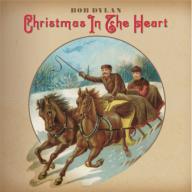 All of the artist's U.S. royalties from sales of these recordings will be donated to Feeding America (http://feedingamerica.org/), guaranteeing that more than four million meals will be provided to more than 1.4 million people in need in this country during this year's holiday season. Bob Dylan is also donating all of his future U.S. royalties from this album to Feeding America in perpetuity.
Additionally, the artist is partnering with two international charities to provide meals during the holidays for millions in need in the United Kingdom and the developing world, and will be donating all of his future international royalties from Christmas In The Heart to those organizations in perpetuity. Details regarding the international partnerships will be announced next week.
"When we reached out to Bob Dylan about becoming involved with our organization, we could never have anticipated that he would so generously donate all royalties from his forthcoming album to our cause," said Vicki Escarra, president and CEO of Feeding America. "This major initiative from such a world renowned artist and cultural icon will directly benefit so many people and have a major impact on spreading awareness of the epidemic of hunger in this country and around the world."
Bob Dylan commented, "It's a tragedy that more than 35 million people in this country alone -- 12 million of those children -- often go to bed hungry and wake up each morning unsure of where their next meal is coming from. I join the good people of Feeding America in the hope that our efforts can bring some food security to people in need during this holiday season."
Christmas In The Heart will be the 47th album from Bob Dylan, and follows his worldwide chart-topping Together Through Life, released earlier this year. Songs performed by Dylan on this new album include, "Here Comes Santa Claus," "Winter Wonderland," "Little Drummer Boy" and "Must Be Santa."
Feeding America provides low-income individuals and families with the fuel to survive and even thrive. As the nation's largest domestic hunger-relief charity, our network members supply food to more than 25 million Americans each year, including 9 million children and 3 million seniors. Serving the entire United States, more than 200 member food banks supports 63,000 agencies that address hunger in all of its forms. For more information how you can fight hunger in your community and across the country, visit www.feedingamerica.org.
Bob Dylan's four previous studio albums have been universally hailed as among the best of his storied career, achieving new levels of commercial success and critical acclaim for the artist. The Platinum-selling Time Out Of Mind from 1997 earned multiple Grammy Awards, including Album Of The Year, while "Love and Theft" continued Dylan's Platinum streak and earned several Grammy nominations and a statue for Best Contemporary Folk album. Modern Times, released in 2006, became one of the artist's biggest albums worldwide, selling more than 2.5 million copies and earning Dylan two more Grammys.
Those four releases fell within a 12-year creative span that also included an Oscar- and Golden Globe-winning tune, "Things Have Changed," from the film Wonder Boys, in 2001; a worldwide best selling memoir, Chronicles Vol. 1, which spent 19 weeks on the New York Times Best Seller List, in 2004; a Martin Scorsese-directed documentary, No Direction Home, in 2005; and several volumes of the best-selling Bootleg Series, which culminated in last year's highly-acclaimed Tell Tale Signs.
Bob Dylan was awarded a special Pulitzer Prize in 2008 for "his profound impact on popular music and American culture, marked by lyrical compositions of extraordinary poetic power." He was also the recipient of the Kennedy Center Honors in 1997, the French Commandeur des Arts et des Lettres in 1990, Sweden's Polar Music Award in 2000 and numerous other awards and accolades.
Source: Columbia Records
NEW YORK, Aug. 2, 2009 /PRNewswire/ --