Music: Falkner Evans Trio
ARC - THE FALKNER EVANS TRIO WITH BELDEN BULLOCK AND MATT WILSON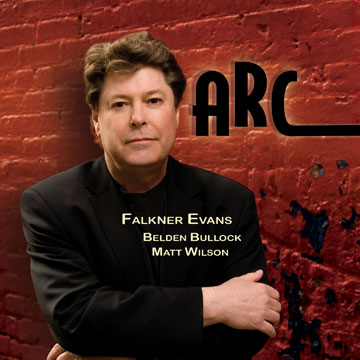 "The beauty of jazz as an art-form is the freedom of expression allowed," explains pianist Falkner Evans. "There is nothing more free in music than jazz improvisation."
So the third recording (Arc) by the Falkner Evans Trio (with bassist Belden Bullock and Matt Wilson), once again uses the classic format of introducing a melody primarily as a jumping off point for spirited, swinging, deeply-organic, exploratory improv and trio interplay.
"When I approach a piece of music, I try not to over-arrange it," Evans states. "I want to be as open to possibilities as I can. With only a bare structure, it allows each musician to bring many more ideas to the tune.
This trio is continually trying to expand its reach. Of course the further you stretch, the more likely you will occasionally slip and fall, but the excitement and the journey to new places is worth it. I truly believe that when you go somewhere new for the first time, the audience senses that and appreciates it."
Arc (on CAP Records) can be purchased online at cdbaby.com and the label's website at jazzbeat.com, and at digital download sites including iTunes, Rhapsody and others. For more information on Evans, go to his website at falknerevans.com.
In subtle ways, Evans's diverse musical background influences the improvisational solos he performs. He grew up playing pop, rock and blues before turning strongly toward jazz. For several years Evans also toured and recorded with the western-swing/country-rock legends Asleep at the Wheel. In addition Falkner has played Brazilian music and Latin-jazz extensively. Falkner's first album was Level Playing Field followed by Climbing the Gates, both of which featured several original compositions. As before, on Arc Evans recorded in the studio live-to-two-track with no overdubbing or additional mixing.
There are several changes evident on this third recording by Evans. Matt Wilson returns, but the bassist on Falkner's two previous outings was Cecil McBee. On Arc Evans brought in Belden Bullock, whom Falkner has worked with frequently in concert for the past 13 years. This new trio played together regularly for seven months before recording Arc to become completely attuned to each other. Falkner feels this may be his most cohesive recording to date. It is evident that the band-leader is relaxed and confident, and that his playing has matured and deepened in the four years since the sessions for his second CD.
Matt Wilson has spent the past decade as one of the more creative drummers on the jazz scene having played with Dewey Redman, Lee Konitz, Fred Hersch, Janis Siegel, Dave Liebman, Charlie Haden and Curtis Stigers, among others. Belden Bullock is a bass-playing stalwart in the New York City area and has recorded with Ralph Peterson, Taja, Oliver Lake, Abdullah Ibrahim, Jay Hoggard and The Cartwright/Oppenheim Quintet.
"At the recording sessions for Arc we kept ourselves completely open to the improvisation," Falkner says. "We specifically did not choreograph the solos. We just let the music flow. It all felt natural and right. What I learned from listening to John Coltrane and Miles Davis is to be as free as possible. They were the masters at perfectly blending the melody and the improvisation so it becomes one thing with no lines between."
Arc features five compositions by Evans beginning with "Regatta" (inspired by a flotilla Falkner saw in Italy) and this samba reflects his love of Brazilian rhythms. The one-take "Singing Darkness" features a strong bassline by both Evans and Bullock, plus "a solo section that starts off very quiet, but by the end of the 16-bars we are really flying with Matt accenting everything beautifully."
"Bar Enigma" (also one take) is one of the more complicated pieces with a difficult chord change, but Evans says, "I have always been interested in taking a complex tune and seeing if can make it sound simple so that it is very accessible to the listener." "Lucia's Happy Heart" (inspired by Falkner's wife) evolved out of playing some Thelonious Monk chord changes and then adding some twists, "but the key to this one is the sense of dynamics." Evans wrote "Make Tracks, Child" to challenge listeners to "get out in the world and experience life," and musically to explore his own bluesy roots.
The trio also does deep exploration of tunes by other composers. "I am a huge John Coltrane fan," states Evans. "I chose 'Central Park West' as a short, simple interlude ballad for the album. I wanted the silence within the tune to speak to the audience gently." Falkner chose "Fee-Fi-Fo-Fum" because "I consider Wayne Shorter to be one of the greatest jazz writers ever. We put our own intro on this and end up really swinging." Evans says "the band specifically never rehearsed the Harold Arlen tune 'Come Rain or Come Shine' to see if we could approach it with open minds and be totally fresh with it. It has a great looseness, especially when we push and pull the rhythm a bit."
Falkner ends the album with a solo piano piece, Kurt Weill's "Lost in the Stars" because "I wanted a simple, poignant exclamation point to close the CD."
Falkner has lived and performed regularly in New York City for many years, but he was born and raised in Oklahoma where his eclectic musical background began. Initially a drummer who formed his first band in sixth grade, Falkner switched to playing piano four years later performing material by Van Morrison, Bob Dylan and The Band. But in high school Evans also began listening to jazz like John Coltrane, Eric Dolphy and Miles Davis. Evans joined one of Tulsa's most popular bands, Friends, doing material by acts such as Chicago and Blood, Sweat & Tears.
Evans then formed his own group, The Edge Band, to play blues-rock (Allman Bros., Johnny Winter). The group evolved into Essence which became Tulsa's top jazz band playing five nights a week at the Nine o' Cups jazz club. Playing music by Coltrane, Cannonball Adderly and Rahsaan Roland Kirk, Essence opened shows for Pat Metheny, Thad Jones & Mel Lewis, and Stan Kenton. Jazz acts traveling through Tulsa often stopped in (Bill Evans caught a set) and sometimes sat in (Thad Jones, Mel Lewis, Milt Jackson). For several weeks each year, Falkner would travel to New York City to take piano instruction from Dan Haerle and to catch shows by top jazz acts there.
In the early Eighties Falkner got the call to join the country's top western swing band Asleep At the Wheel. He stayed with the band for four years of national touring, two albums (Asleep at the Wheel on Dot Records and The Best of Asleep at the Wheel: The Milennium Collection), and appearances on television ("Austin City Limits" and the CBS-TV special "From Texas to Tennessee"). One notable concert was at the closing night of the Armadillo World Headquarters in Austin on New Year's Eve with Commander Cody (Lost Planet Airmen) and Maryann Price (Dan Hicks, The Kinks) sitting in.
Evans moved to New York City in 1985 and contacted Cecil McBee who also is from Tulsa. The first time Evans played with McBee was at the Sweet Basil club after Falkner had only been in town a few days. "I was asked to sit in with Cecil's group featuring Chico Freeman and Billy Hart. It was quite an introduction to New York." In the mid-Nineties, Evans became enthralled with Brazilian music, so he put together a band in that genre that performed at Birdland several times a year.
This Latin-jazz band, which also went into the studio to record, at times included guitarist Romero Lubambo (Herbie Mann, Grover Washington Jr.) and drummer Portinho (Paquito D'Rivera). Evans also began writing his own compositions, which is appropriate because Falkner shares his first name with the last name of his third cousin, the famous novelist William Faulkner (whose publisher added the "u" to his last name). In addition. Evans has studied with jazz pianists Joanne Brackeen (Dexter Gordon, Stan Getz) and Mike Longo (music director for Dizzy Gillespie). Some of Falkner's biggest influences have been Bill Evans, Keith Jarrett, Billy Strayhorn and Kenny Barron.
Evans says, "The beauty of the trio is that the pianist gets to lead and control the harmonies, but there also is the group interplay that can inspire each of us in our improvisation and push the music to loftier heights. What is great about this current trio is that we are flexible, open to new ideas, and willing to go wherever our mood takes us."
2007 EMOL.org Music Entertainment Magazine. All rights reserved.