On June 18, 1987, her second album, WHITNEY, set yet another precedent by becoming only the fourth album by a solo artist, and the first by a female artist, to debut at the #1 spot on the album charts, joining Elton John, Stevie Wonder and Bruce Springsteen.
In early November, 1990, Arista Records released Whitney's third album, I'M YOUR BABY TONIGHT.
The release was a blend of driving rhythms, sensual mid-tempos and romantic ballads, with influences from the pop, soul and gospel genres.
It is evident that Whitney's vocal prowess had developed and matured even more since her last effort and the material is handled with the style and sophistication that makes every song Whitney sings her own definitive rendering.
The album's title track was the first single and was released in early October 1990.
The song was written and produced by the high-powered production team of L.A. Reid and Babyface and marks the duo's first-time collaboration with Whitney.
Whitney also made her debut as a producer working with Rickey Minor, her musical director, on the gospel influenced up-tempo song "I'm Knockin'.
This time out, Whitney also got the opportunity to work with some of her personal favorite performers, Stevie Wonder and Luther Vandross.
Of the duet Whitney and Stevie performed, "We Didn't Know," which was produced by Wonder, Whitney comments, "I had always wanted to work with Stevie in a studio situation, I can't believe it finally happened. Every second was pure joy - if I didn't have the track to play back, I'd have thought I had dreamed it!"
Singer Luther Vandross produced the cut "Who Do You Love" and longtime Houston associates Narada Michael Walden and Michael Masser are once again part of the production team.
On this project Whitney commented, "Working with Narada and Michael Masser is always more than just a professional experience -- it's like a family reunion. I loved working with L.A. and Babyface; Stevie and Luther, not only because I have admired their work for so long, but there's always an element of anticipation -- and some nervous energy -- when beginning a new recording relationship that usually generates some very exciting results."
In addition to the album release, Whitney was honored at the 1990 Essence Awards on October 19 at Radio City Music Hall in New York and performed at the "Carousel of Hope" benefit for the Children's Diabetes Foundation in Los Angeles on October 26, 1990.
The Whitney Houston Foundation for Children had their first "Children's Week" program of activities set for October 1990 in Washington, DC.
Although Whitney has achieved an enormous level of success in that short span of time, she is by no means an "overnight sensation."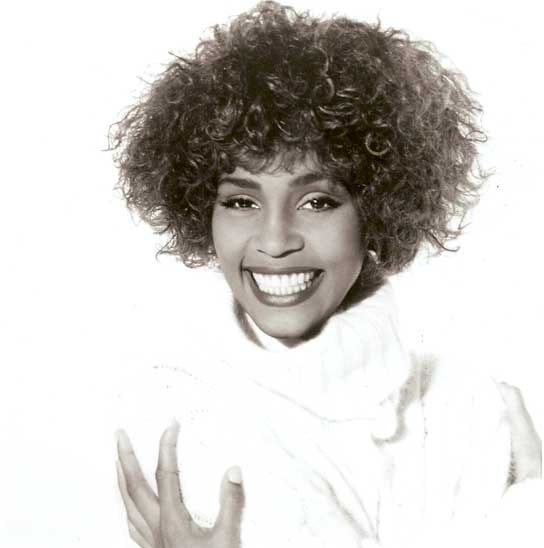 Houston's training began as a pre-teen under the expert guidance of her mother, Cissy Houston. Like her mother and cousin Dionne Warwick, singing gospel music provided Whitney with a strong musical foundation.
Starting at the age of 11 as a member of the New Hope Baptist Junior Choir, where her mother was Minister of Music, Whitney learned to project and strengthen her vocal abilities.
Coupled with this, her mother taught her studio techniques which subsequently proved invaluable.
By the age of 15, Whitney was singing background vocals on recordings by such artists as Chaka Khan and Lou Rawls.
At the same time, Whitney was also providing backing vocals in her mother's concert and night club engagements, which eventually led to Whitney performing solo numbers in the show. While developing her musical career, Whitney began modeling for such magazines as Glamour and Seventeen, whose cover she graced at the age of 18.
In 1984, Whitney came to the musical forefront when she was invited to duet with Teddy Pendergrass on the hugely successful single, "Hold Me."
At last, the time was right to record her own album. At the age of 19, Whitney signed with Arista Records President, Clive Davis.
With Davis as executive producer, a strong collection of producers, songwriters and musicians were assembled for the recording. With Whitney's own talent and dedication contributing to the project, the album, WHITNEY HOUSTON, was released to worldwide success, yielding such #1 hits as "I'm Saving All My Love For You," "How Will I Know" and "The Greatest Love Of All."
Few albums have inspired the kind of anticipation that surrounded the second album by Whitney Houston. WHITNEY reunited the singer with the producers and writers who helped to make the first album such an unprecedented triumph, including producers Michael Masser and Grammy winner Narada Michael Walden.
Walden produced seven tracks on the second album, including the first single, "I Wanna Dance With Somebody (Who Loves Me)" and "So Emotional," both of which went to #1 on the charts.
Other Walden produced tracks include "Just The Lonely Talking," "For The Love Of You, "Where Do Broken Hearts Go," and the albums only duet, "I Know Him So Well," on which Whitney shares vocals with her mother Cissy.
Masser, who produced and co-wrote the #1 worldwide hits "The Greatest Love Of All" and "Saving All My Love For You," played the same role on the new album, writing and producing "You're Still My Man" and "Didn't We Almost Have It All" which became Whitney's fifth consecutive #1 hit.
Kashif, producer of "You Give Good Love," produced "Where You Are," on WHITNEY, and the only newcomer, Jellybean Benitez, produced "Love Will Save The Day."
Whitney Houston earned the respect and admiration of her colleagues throughout the entertainment world, the media and her legions of fans around the globe.
She received numerous awards and distinguished honors from organizations across the country and abroad. In particular, Whitney chose to direct her time and energies to those charities and organizations that stress education and are geared towards children.
Whitney received an honorary doctorate in the field of the humanities from Grambling University in Louisiana and gave a benefit concert for the scholarship funds, for both Grambling and Southern Universities.
She has also had a long-standing commitment to the United Negro College Fund, appearing at their tribute to Sammy Davis Jr. in honor of his sixty-year anniversary in show business.
In addition, as her only U.S. concert appearance of 1988, Whitney gave a benefit concert at Madison Square Garden in New York, which raised a quarter of a million dollars for the organization.
The UNICEF bestowed upon Whitney the "Frederick D. Patterson Award" named after their founder, in recognition of her support and commitment. Whitney also raised public awareness for the AIDS virus by her participation in a benefit for the Warwick Foundation and the Arista Records 15th Anniversary concert at Radio City Music Hall, which raised money for AIDS research.
Whitney Houston's popularity was evidenced, not only in terms of the millions of albums sold around the world, but also by the overwhelming attendance records and positive critical acclaim she had achieved in her extensive world-wide concert tours.
In January of 1990, Whitney toured Japan playing to sold-out crowds in seven cities, while receiving rave reviews for her concerts.
Whitney attributes her success to "working with great and talented people and to many long hours and a lot of hard work. She considers her greatest challenge to be "learning to enjoy my music to the fullest, and to still realize that it is my business and my work."
Whitney Houston eloquently expressed the power, range, soul and charm of her vocal and personal presence. She was truly a singer for all time.
Whitney Houston biography edited from Arista Records, Inc. press material, 1990. Photos courtesy Arista Records.
---
---
© 1995-2012 EMOL.org Music Entertainment Magazine. All rights reserved. Robert Zucker, publisher.