Music: Don Immel
Don Immel's Long Way Home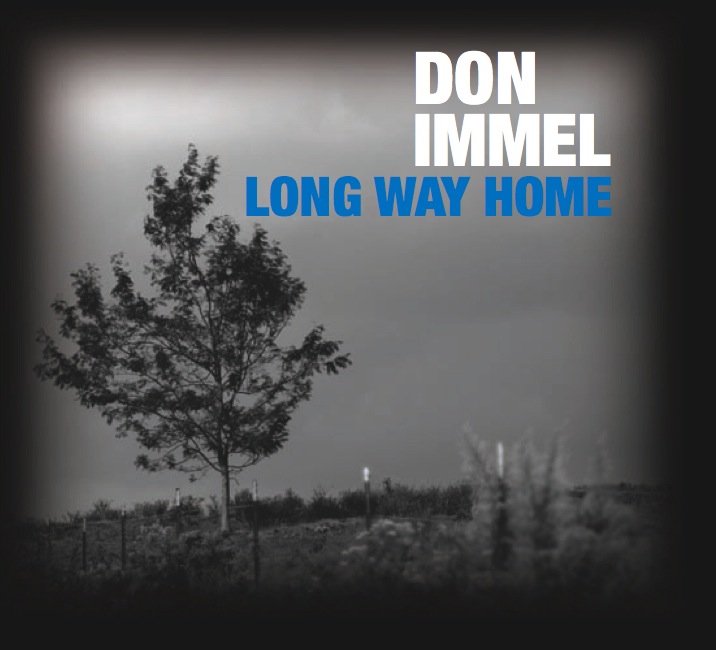 Don Immel is passionate about re-introducing the trombone into the music scene spotlight.
With the release of his debut solo album, Long Way Home, he showcases his talents as a world-class trombonist and one of the few who can play equally well in the fields of jazz, classical, pop and chill.
"It has always bothered me that the trombone has fallen out of fashion as a melodic lead instrument during the past 40 years," explains Immel (pronounced em-uhl).
"I have found that listeners love the smooth, silky, sliding sound of the trombone, but they just don't get exposed to it much anymore. Even though so few trombone-oriented recordings are made these days, I finally realized I shouldn't let that stop me. If you have lemons, you make lemonade. If you play trombone, you should make a trombone album, which is why I gave a tongue-in-cheek title to one of my tunes, 'Lemonade Alchemy'."
The CD is loosely-categorized as smooth jazz, but contains elements of pop, traditional jazz, neo-classical, chill, new age and lounge music. The recording also shows Immel's skills as a composer, producer and arranger. Long Way Home can be purchased online at CDbaby.com, amazon.com, digital download locations such as iTunes and Napster, and at his own website (donimmel.com).
Immel is one of the only trombone performers in the world who has served as the principal trombonist in major orchestras (the Honolulu Symphony Orchestra and the national Danish South Jutland Symphony Orchestra), performed onstage with top jazz acts (Chris Botti, Doc Severinson, Cyrus Chestnut, Jon Faddis, Billy Childs, Larry Coryell), backed renowned singers onstage (Renee Fleming, Elvis Costello, Bernadette Peters, Linda Ronstadt), and played on Hollywood film soundtracks ("Matrix 3: Revolutions," "The Newton Boys," "The Mothman Prophecies," "Keeping The Faith" and "Crocodile Dundee in L.A.").
But Don's versatility doesn't end there. He has led The Bryggeriet Chill Project (currently performing in Europe), his own jazz groups (The Don Immel Septet, Jazz Talk Octet), both a rock'n'roll horn band and a ska group, and small neo-classical ensembles (Quake, Lyric Brass Quintet, Hollywood Brass). Immel also has performed music for television ("Buffalo Soldiers," "Rough Riders," "Super Fire"), top video games ("Enter the Matrix," "Total Annihilation") and IMAX features ("Mission to Miur," "Elephant Kingdom").
However, Immel's uniqueness as a musician primarily stems from his ability to bridge the considerable gap between the worlds of classical and jazz. A former university professor in charge of teaching classical trombone as well as jazz band and "The History of Jazz," Immel says, "Classical music is very precise, almost completely written out, and only subject to slight variations of interpretation. Jazz is on the other end of the musical spectrum with tunes often loosely structured so that they can change with every performance; and in the case of the improvised sections, some of that music is actually being created right at that moment for the first and sometimes only time. There is strict knowledge and technical expertise required in the classical world while jazz is more about freedom, the interchange of ideas, pushing the envelope and interacting with the audience during concerts. With my music, I am attempting to incorporate the best of both fields, and mix in some ideas and sounds from a few other genres to spice things up even more."
Long Way Home kicks off with the smooth jazz title tune and ends with "Last Dance" which moves into the modern classical realm with the trombone soloing over an unusual combination of cello, vibes and the South American bandoneon. In between those bookends there is even more variety such as two songs with guest vocalists – Jake Bergevin on "Fool's Full Quiver" and Chandry Moore on "Whole Lotta" (a slow-and-sultry complete overhaul of the old Willie Dixon-Led Zeppelin classic).
Immel's gliding, sliding trombone is spotlighted on the soft-and-slow "Leaving Paradise" and "Still In Love." There is funky band-interplay on "Lemonade Alchemy" and "See The Memo." Avant-garde chill-out sounds are explored on "Dualife" and "Charm Offensive" (the chill music genre – also known as smooth electronica and soft techno -- originated in relaxation rooms just off dance floors and rave arenas).
For the recording, Immel brought together many of the best jazz musicians in the Seattle area including pianist Marc Seales (Larry Coryell, Bobby Hutcherson, Slide Hampton, Jackie McLean), drummer Gary Hobbs (Randy Brecker, Eddie Harris, Bud Shank, Glen Moore), bassist Dave Captein (Tom Grant, Rick Braun, Wynton Marsalis, Paul McCandless), guitarist Chris Spencer (Ernie Watts, Tom Scott, Mimi Fox), and percussionist and vibraphonist Ben Thomas (Jovino Santos Neto, Stephen Rush, Laura Caviani).
Don Immel has a musical bloodline. His grandfather Earl was a Professor of Music at Los Angeles Valley College; father Dean was a public school music director for 43 years; and uncle Jerrold composed music for film and television (the themes for "Dallas," "Knots Landing" and "How the West Was Won"). Don was born in Simi Valley in Southern California, was raised in San Diego and went to high school in Auburn, Washington (a few miles south of Seattle).
Don began studying classical piano from ages seven to eleven, but also started on trombone when he was nine. Early influences included classical (Richard Wagner's "Ride of the Valkyries" and later Gustav Mahler), big band (Count Basie, Duke Ellington, Tommy Dorsey), jazz (Bill Watrous, J.J Johnson) and pop-rock (Chicago, Tower of Power, Blood Sweat & Tears, James Brown). Immel played in school bands and orchestras, and in college had his own rock'n'roll horn band (Otis Elevator and The Shafts).
Immel graduated from Central Washington University with two Bachelor of Music degrees (performance and music education), and taught music in public schools for two years while playing in a ska and reggae band (The Groove). He then attended Rice University in Texas where he earned his Master of Music degree in trombone performance and also performed regularly with the Houston Symphony Orchestra. He joined Pacific Lutheran University in Tacoma, Washington, as Director of Jazz Studies before moving to the University of Washington as Professor of Trombone.
In addition, he played regularly with the Seattle Symphony, Seattle Opera, Seattle Pops Orchestra, Tacoma Pops, numerous chamber ensembles and the top traveling Broadway productions visiting the area. Immel's growing love of jazz brought new influences such as John Coltrane, Miles Davis, Gil Evans, Cannonball Adderly, Chet Baker, Stan Getz, Stan Kenton, Freddie Hubbard and Michael Brecker. But Don also began listening to Air, Talvin Singh and Thievery Corporation.
Don moved to Hawaii to serve as the principal trombonist with the Honolulu Symphony Orchestra, and while there he also played with the Honolulu Pops and his own jazz group. Most recently he was hired as the solo and principal trombonist for the South Jutland Symphony Orchestra in Denmark where he currently lives.
He teaches select students and clinics, performs in various chamber and brass ensembles, and tours Europe with his Bryggeriet Chill Project ("It's the Danish word for brewery because we got our start playing at micro-breweries"). In recent years Immel also founded Quake -- an avant garde chamber group with woodwinds, strings, percussion and trombone – that mixes Schubert, John Cage and pop tunes with painters, dancers and storytellers for a multi-media presentation that has featured such guests as Walter Gray of the Kronos String Quartet.
"With my music I want to bring the warm, earthy sound of the trombone back to the attention of today's audience," explains Immel. "I also am excited about combining the technical aspects of classical music with the freedom of jazz along with the energy and excitement of contemporary pop forms. I don't feel restricted by my instrument. I truly believe the sound of a trombone can fit into and enhance virtually any style of music. I hope to open people's ears to the possibilities."
© 2008 EMOL.org Music Entertainment Magazine. All rights reserved.
Music Entertainment Magazine
Cool, melodic, contemporary jazz, with strong classical and chill music influences.In his debut release, Don Immel returns the trombone to the musical spotlight, focusing on contemporary jazz, chill and lounge music. Long Way Home evokes the influential stylings of Sting, Chris Botti, Pat Metheny, Yo Yo Ma and Kruder & Dorfmeister in a CD of Immel s original compositions and adapted arrangements. An accomplished jazz and classical/orchestral trombonist, Immel sends his lush sound soaring through the elements of loss, desire, rebirth and bliss in each of his vibrant tunes. "The best new album I've heard in years." - Marc Seales. Listen to music samples from Long Way Home
Napster
Free trial period. Napster Subscription ($9.95/month) offers access to over 5 million songs with unlimited downloads, and Napster To Go ($14.95/month) let's Napster Subscribers transfer unlimited songs to their compatible MP3 player.
Napster.de: Music-Flatrate 7 Tage kostenlos testen!