Music: Jonas Brothers
Jonas Brothers World Concert Tour 2009
Jonas Brothers and Hollywood Records Team Up to Release, Fashionably Late, Debut Album From Honor Society

Joe Jonas, Kevin Jonas and Nick Jonas of the Grammy-nominated, platinum-selling band, Jonas Brothers announced they would team up with Hollywood Records to release Fashionably Late, the debut album from one of this summer's hottest new band, Honor Society. Continue reading about the Full Moon Crazy Tour.

The Jonas Brothers 2009 World Tour is produced by Live Nation and presented by Burger King. New Music featured from their upcoming album. Get schedule and concert dates.

Jonas Brothers 4th new CD "Lines, Vines And Trying Times" Worldwide on June 16. Major Roll-Out for First Single 'Paranoid'
2009 Kids' Choice Awards Nominees/Mega-Star Trio, Jonas Brothers

Slate of Stars also Set for Live Telecast Includes Hugh Jackman, Amy Adams, George Lopez, Keke Palmer, Robert Pattinson, Queen Latifah, Amy Poehler, Ben Stiller, Reese Witherspoon, Miranda Cosgrove, Zac Efron and Nat and Alex Wolff

"Nickelodeon Kids' Choice Jonas Jam Sweepstakes" on Tap, Too

LOS ANGELES, Calif. – Feb. 25, 2009 – Nickelodeon Kids' Choice Award-nominated mega-star trio Jonas Brothers, who clinched a coveted Blimp trophy last year for Favorite Music Group, will perform at Nickelodeon's 22nd Annual Kids' Choice Awards.

The platinum-selling singing siblings will rock the house live from UCLA's Pauley Pavilion -- Saturday, March 28 (8-9:30 p.m. ET/PT) -- and join a slate of luminaries newly set to participate in the glorious, slime-filled event, including Hugh Jackman, Amy Adams, George Lopez, Keke Palmer, Robert Pattinson, Queen Latifah, Amy Poehler, Ben Stiller, Reese Witherspoon Miranda Cosgrove, Zac Efron and Nat and Alex Wolff. Continue reading about the Jonas Brothers and the Nickelodeon Kids' Choice Awards.

MySpace movies and the Jona Brothers

MYSPACE MOVIES just released an EXCLUSIVE interview with the Jonas Brothers. Kevin, Nick and Joe interview each other, part of MySpace Movie's Artist on Artist program (www.myspace.com/artistonartist), where they discuss their highly-anticipated 3D film, their favorite MySpace moments and their recent performance with Stevie Wonder at the Grammy's and not meeting Paul McCartney.

'Jonas Brothers: The 3D Concert Experience' Tickets 'Burnin' Up' on Fandango

As a bonus available to every "Jonas 3D" ticket-buyer, Fandango users will receive a free download of the Jonas Brothers music video, "Tonight." Get a Free download of the music video Tonight on iTunes!

"Jonas Brothers: The 3D Concert Experience" debuts two weeks from today, but fans are already scooping up advance tickets for the movie at fandango.com. The highly anticipated film opened in 3D and on IMAX 3D screens at midnight, on Thursday night, February 26, 2009.

Movie Index and Photos:

CAPTURING THE INTENSITY OF A CONCERT TOUR; MAIN CONCERT FILMED OVER TWO DAYS- FILMING THE TOUR IN 3-D
Jonas Brothers CD Release 'A Little Bit Longer'
Follow Up to Platinum Selling Jonas Brothers CD and Meteoric Rise to Pop Culture Phenomenon. Read more...
Jonas Brothers 'The Burning Up Tour' Concert
OFFICIAL JONAS BROTHERS FAN CLUB OPENED MARCH 19, 2008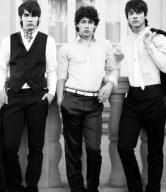 "The Burning Up Tour" kicked off in Toronto at the Molson Amphitheatre on July 4, 2008. The band once again performing across America, headlining amphitheaters for the very first time.
"We've had an awesome time touring and having an opportunity to see so many of our fans," said the Jonas Brothers. "Every time we play, we learn so much and grow both as artists and a band. We really can't wait to get back on the road this summer." The Burning Up Tour is produced by Live Nation (NYSE:LYV) .
Jonas Brothers also announced the launch of their official fan club -- Team Jonas.
Fans that join the club at http://www.jonasbrothersfanclub.com/ will be eligible for exclusive benefits including early access to "The Burning Up Tour" concert tickets. On Tuesday, March 25, Team Jonas fan club members will have the first opportunity to buy tickets to the summer tour.
The Jonas Brothers wraped up their hugely successful "Look Me In The Eyes Tour" where they played to sold-out shows in every city.
Their self-titled Hollywood Records album was co-written by the band and has recently achieved platinum status. Their latest single "When You Look Me In The Eyes" is steadily climbing Top 40 radio. The band has finished their much anticipated 3rd album and again, share writing credits on the entire album. The CD is being produced by John Fields and is scheduled for release in August 2008.
Further information and all the latest tour developments, please visit the following websites: http://www.jonasbrothers.com/ or http://www.livenation.com/.
ABOUT TEAM JONAS:
The Team Jonas fan club will be the ultimate destination for fans of The Jonas Brothers. Kevin, Nick and Joe are excited to make it home base for news, contests, messages from the band and behind-the-scenes reports.
"We wouldn't be where we are without the support of our fans. We're totally pumped up about Team Jonas and making it a special place for our fans to call home," said Kevin Jonas.
A one-year membership in Team Jonas is $34.99 and includes a welcome gift, frequent contests and giveaways (including meet & greets with the band), videos and photos of the boys from the road, and the chance to buy four concert tickets per membership before seats go on sale to the public.
Purchase fan club membership now to take advantage of fan club ticket sales on Tuesday, March 25. Please note, fan club membership does not guarantee availability or location of tickets. Visit http://www.jonasbrothersfanclub.com/ to join Team Jonas.YV."
Photo: (PRNewsFoto/Live Nation) NEW YORK, NY UNITED STATES 05/09/2007
Source: Live Nation
NEW YORK, March 19, 2008 /PRNewswire-FirstCall/ --
© 2009 EMOL.org Music Entertainment Magazine. All rights reserved.
Music Entertainment Magazine
Listen to music samples from amazon
Audio CD (June 16, 2009)
Original Release Date: June 16, 2009
Number of Discs: 1
Label: Hollywood Records

Live Nation Concerts

This bonus version of the Gold selling album contains the smash hits "S.O.S." and "Hold On" plus 2 brand new EXCLUSIVE songs: "We Got The Party" and "Take A Breathe" - a duet with Hannah Montana! The DVD contains a full length concert from their sold out show in NYC, plus the band's music videos.
Audio CD (October 30, 2007) Original Release Date: September 25, 2007 Number of Discs: 2 Format: Enhanced, Extra tracks, Special Edition Label: Hollywood Records
Listen to music samples from Jonas Brothers: Bonus Jonas Edition
More Jonas Brothers
CDs from Amazon