Music: The Kings Of Leon
The Kings Of Leon…looks like these bad boys are here to stay and I wouldn't have it any other way!!
By: K.Kirker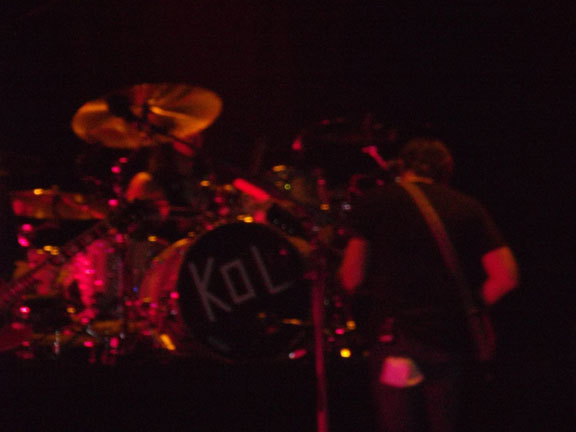 The Kings of Leon are getting a lot or popularity from their hit songs…."Sex on Fire" and "Use somebody", but they have always had tons of talent. With albums like "Because of the Times" and "Aha Shake Heartbreak" their talent shows.
These guys have been around for years and now their breakout album "Only by the Night" is getting them the fans and recognition they deserve. If you haven't heard of any of these Albums, you are definitely missing out and need to order them right now!!
The Kings of Leon are currently on tour right now, so I had to see if they were as talented live as they were on their Albums. To me the live show makes or breaks an artist and is the most important show-case of talent.
So now all I had to do was pick a venue to catch their show. Well the Kings already came and left NY leaving almost anywhere else to go... I like to avoid the big cities because, just like seeing them live; you can tell a lot about an artist by how they react to the smaller less crowded cites…and I also like to avoid their hometown because you know yourself if you go home, you put on an even better show….So in narrowing their tour cities down I decided to go see them in St. Louis Mo, yea I know you didn't see that coming right? Neither did I but I have never been to Missouri and according to their website there was a smaller crowd there; so off to St. Louis I go.
I decided to have one of my friends tag along for a road trip adventure starring ourselves and KOL (Kings of Leon so I don't have to keep writing it out)!!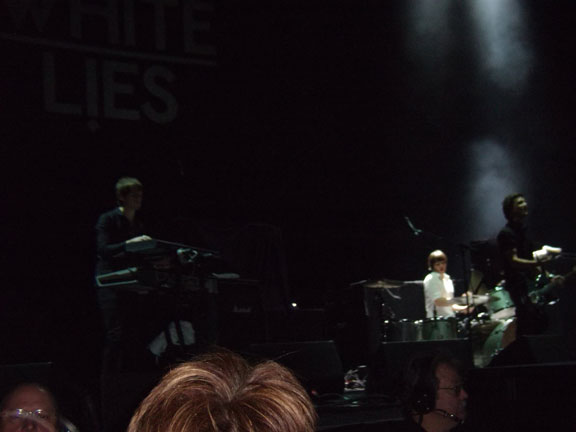 Oh yea, the White Lies who opened up for KOL. The White Lies are a band from England and I must say….I wasn't sure what to think of them. Neither My friend or I had heard of them so we looked them up on YouTube and well…..They didn't really sound all that good .
We were hoping that when they came on stage they would be a whole lot better and the verdict is…..Oh yea! They were way better than what we heard on YouTube!! And when I say way better that means that they are now on my MySpace friends list…oh yea they were that good. Both my friend and I were dancing along in the crowd. For all those late concert goers (which were more than half the seats in the place) you guys missed one heck of an opening act.
The White Lies were made up of four guys….well actually I guess they are made up of three guys and sometimes add a fourth guy. The interesting part of this was that the fourth guy was a keyboardist, which you don't usually see in a rock band. I have to say it was def. a nice touch though!! I really enjoyed their performance and especially liked "To Loose my Life" and "Death". The lead singer sounds like a mix between Johnny Cash and Jim Morrison with a little touch of Elvis's style. His voice has a unique, haunting sound that pulls you in. The White Lies have some more openings for KOL so go catch them if you have time and if not, make time….Between the White Lies and KOL you wont be disappointed!!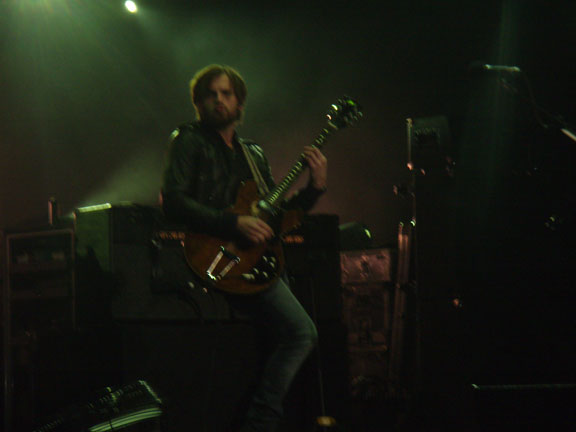 Now on to the main act KOL!! I have to be honest, as I was looking around the Arena, I thought there would be more people. We were at the Scottrade Center in Missouri and the seats were not filled. Then right as KOL came on stage all of a sudden the place became packed. I guess everyone was really there just for them. The crowd was pretty laid back listening to the openers and then once they left the stage, the crowd went from cool to rushing the stage and pushing their way into the front. I never saw a crowd go from one extreme to the other like that so quickly. It was actually Kind of irritating and the real KOL fans were getting pushed aside, for the people that just liked the songs on the radio!! The people that were getting a little crazy, happened to be the same people that were getting drunk before the show even started.
When the Kings came on stage, they were just that, Kings!! They commanded the audience and it was great!! KOL had this bad boy feel to them, but in a good way. They were just up on that stage doing what they liked to do and had fun with it. They performed some older songs as well as their newer songs. Some songs they performed were "Knocked Up", "Charmer", "On Call", "Notion", "Revelry", "Sex on Fire", and of course "Use Somebody", along with many others.
Before they played "Use Somebody" the guys took a quick break off stage and some of the already drunk Radio KOL fans (which means the fans that were only there for the radio hits), were yelling "they better play the song that's on the radio!!" "they better not leave with out playing that song…what's it called…use someone or something like that." Luckily they came back out and performed "Use Somebody, but the nice thing is, the Kings didn't finish with that song. Yea it's the song they are mostly known for now-a-days but it's not the most meaningful song to them or the fans that are there for their true talent!! The members of KOL even laughed when some of the people left after they played "Use Somebody" saying something like You guys are going to miss out on some good music but have a nice night, thanks for coming for that song….(lol) something along those lines but obviously not a direct quote.
These guys definitely appreciate their fan base and love what they are doing. They thanked everyone for coming out and supporting them and also gave a shout out to the White Lies. You can see that the guys had fun on stage and put on such a great show!! They are just here to be themselves and have fun. They have talent and everyone in the world is finally recognizing it.
Their live performance was even better than their album, which I don't find happens very often. Caleb Followill, the lead of the Followill boys, has a raw and emotional sounding voice. When Caleb sings, there is just so much realness and emotion that you can't turn the music off even if you wanted to. These guys know what they are doing and I hope this means they are here to stay!! These guys won me over, and I am now I fan for life. I don't foresee KOL changing who they are, and that is what makes them real. Take them or leave them and they are just fine with that!!
KOL has some more tour dates including their home town of Nashville, so go check out their website and support these guys, they have a lot of talent!! You can find out more about them on their website www.Kingsofleon.com or www.MySpace.com/kingsofleon and check out the White Lies at www.MySpace.com/whitelies.
© 2009 EMOL.org Music Entertainment Magazine. All rights reserved.