Live Earth: 07-07-07
Images from concerts across the planet
MTV Networks Supports Live Earth Globally Across Platforms
News, Live Performances, Short Films & PSAs Further MTVN's Global Commitment to Raising Awareness of Climate Change Through Break the Addiction Campaign in the US & MTV Switch Internationally
Building upon the momentum of its award-winning Break the Addiction pro-social campaign in the US and the recently launched MTV Switch campaign internationally, MTV Networks, a unit of Viacom Inc. (NYSE:VIA) (NYSE:VIA.B) , today announced a wide array of global activities across multiple platforms to raise awareness of global warming, in conjunction with support of the Live Earth concert taking place 7th July 2007. The activities reinforce the company's long-term commitment to the issue of climate change and unrivalled ability to encourage viewers to take action.
Internationally, MTV is producing a series of eleven 10-minute bulletins per hour on 7 July starting at 1pm BST which will include a full live performance. In addition MTV channels around the world will be producing localized content around the event. This includes links to the MSN Live Earth micro site online as well as homepage features on the event on local MTV web sites internationally. Live Earth will feature performances from some of the world's biggest artists, including Madonna, Red Hot Chili Peppers, Beastie Boys, Metallica, Foo Fighters and Black Eyed Peas, among many others.
In the United States, MTV will continue to mobilize young people in the fight against global warming with the launch of a dedicated Live Earth page, available at http://www.liveearth.mtv.com/, featuring content from MTV's award- winning Break the Addiction campaign. The Live Earth page will feature daily video tips, 12-steps users can take to break their addiction to oil and over- consumption, ways to take action globally and locally, and more. For people not able to attend the concerts, MTV has teamed up with MSN, the exclusive online distributor for Live Earth, to lend support and create awareness of the Live Earth concerts by offering a direct link to MSN's live feed and archive.
"With our award-winning Break the Addiction campaign here in the US and our global support of Live Earth, MTV is demonstrating its unparalleled commitment to raising awareness of climate change by combining two things that define the core of our audience -- activism and music," said Van Toffler, President of MTV Networks' Music Group in the US. "We will use the combined power of our television screens and online properties to unite viewers with the global community of their peers and motivate and compel viewers to make requisite changes in their daily lives."
"We have made a long-term commitment to engaging our audiences worldwide across our brands on the issue of climate change," commented Bill Roedy, Vice Chairman, MTV Networks. "We are excited to use the power of MTV Networks' global reach across platforms to support Live Earth, which will be one of the most terrific musical events this year. With live performances, news bulletins, artist interviews and other engaging web content, our participation in Live Earth complements MTV Switch and encourages our audiences to get involved."
Below are some highlights of additional activities from MTV Networks' linear and digital services across multiple territories:
-- MTV Italy -- Live Earth will be broadcast live and in its entirety on
MTV Italy over 24 hours.

-- MTV UK will broadcast an interview with Al Gore as well as produce
hourly update bulletins live from the show.

-- In the US, following the show, viewers will be able to watch the
concert on demand through MSN. Both the live and on-demand content can
be watched at http://www.liveearth.msn.com/. In addition, MTV News (US)
will provide coverage of Live Earth from New York's Giants Stadium with
reports on-air and online.

In addition to MTV News' coverage in the US, MTV Networks' VH1 and CMT
music brands will keep viewers informed of all the Live Earth
activities. VH1.com will feature news reports and a live blog
throughout the day, as well as a video playlist and photo flipbook at
http://www.vh1.com/. CMT will feature reports from New York's Giants
Stadium on CMT Insider, its weekly country music entertainment show,
beginning Saturday, 14th July at 2:00pm ET. The footage also will be
available online at http://www.cmt.com/.

-- MTV Latin America will present a variety of programming on-air,
including specially-themed music videos, shows such as the MTV-US
produced The Diary of Jay-Z: Water for Life, documentary shorts & PSAs
from MTV Switch, an interview with Al Gore along with the film An
Inconvenient Truth, and shorts shot across the region titled Agentes de
Cambio. The day will be hosted by MTV VJs and feature special packaging
themed on the issue of climate change.

-- VH1 India will broadcast the entire 24 hours of Live Earth performances
from artists across the globe on 7 July, which will be one of the
longest live broadcasts ever in India in the entertainment domain.

-- MTV Korea will run several specially commissioned Live Earth short
films including - Cough Cold and High Fever and Penguin in a Pickle.

-- MTV Southeast Asia will support Live Earth with a series of special
programming including specially-themed music videos, The Diary of Jay-
Z: Water for Life, documentary shorts & PSAs from MTV Switch, an
interview with Al Gore with excerpts from the film An Inconvenient
Truth, and Live Earth news & bulletins.

-- MTV Australia will air a 3-hour special show which will include news
bulletins from the event as well as the documentary, An Inconvenient
Truth.

In addition, multiple territories will air the MTV US-produced special edition of Pimp My Ride, featuring California governor Arnold Schwarzenegger with a unique twist on educating young people on the benefits of using environmentally friendly cars.
MTV Networks covers a variety of social issues that are important and relevant to its audiences around the world, including HIV and AIDS, healthy living for kids, human trafficking and political awareness, among others. Climate change campaigns include Break the Addiction in the US, an on-air, online, on mobile and on the ground campaign designed to educate and empower young people to make daily choices that curb the impact of global warming and preserve their communities. Already in 2007, MTV's Break the Addiction campaign has received an Environmental Media Award for Best Reality Television Program, and two Beacon Awards, the cable industry's most prestigious award for public affairs in the media.
Internationally, the company just launched MTV Switch, a multi-platform campaign which aims to promote environmentally-friendly lifestyle choices in order to reduce the carbon emissions that contribute to climate change. MTV Switch includes public service announcements, television programming, news, celebrity endorsements and online resources (http://www.mtvswitch.org/) that use a unique style and tone that resonates with MTV's audience of 15-25 year- olds. All MTV Switch material is available rights-free and cost-free to broadcasters and content distributors. More than 30 broadcasters have already begun airing the campaign, including Community Channel (UK), RTP (Portugal), ERT (Greece), UJRT (Serbia), LBC (Lebanon), Metro TV (Indonesia), ITV (Tanzania) and TV6 (Trinidad).
Live Earth was founded by Kevin Wall, CEO of Control Room, the company producing the concerts globally. Live Earth will bring together more than 100 of the world's top music acts to inspire an audience of over two billion people to trigger a mass movement to combat global warming. Live Earth seeks to inspire its global audience to make meaningful and lasting changes in their lives and spur action by corporations and governments to turn the tide on global warming.
The 24-hour Live Earth concert series will begin in Sydney, Australia http://liveearth.msn.com/concerts/Australia on July 7, 2007 and continue across all 7 continents with events in Tokyo, Japan http://liveearth.msn.com/concerts/Japan ; Shanghai, China http://liveearth.msn.com/concerts/China ; Istanbul, Turkey http://liveearth.msn.com/concerts/More ; Johannesburg, South Africa http://liveearth.msn.com/concerts/SouthAfrica ; London, United Kingdom http://liveearth.msn.com/concerts/UK ; Hamburg, Germany http://liveearth.msn.com/concerts/Germany ; and Rio de Janeiro, Brazil http://liveearth.msn.com/concerts/Brazil , before concluding in New York, United States http://liveearth.msn.com/concerts/US .
About MTV Networks
MTV Networks, a unit of Viacom (NYSE:VIA) (NYSE:VIA.B) , is one of the world's leading creators of programming and content across all media platforms. MTV Networks, with more than 137 channels worldwide, owns and operates the following television programming services - MTV: MUSIC TELEVISION, MTV2, VH1, mtvU, NICKELODEON, NICK at NITE, COMEDY CENTRAL, TV LAND, SPIKE TV, CMT, NOGGIN, VH1 CLASSIC, LOGO, MTVN INTERNATIONAL and THE DIGITAL SUITE FROM MTV NETWORKS, a package of 13 digital services, with all of these networks trademarks of MTV Networks. MTV Networks connects with its audiences through its robust consumer products businesses and its more than 260 interactive properties worldwide, including online, broadband, wireless and interactive television services and also has licensing agreements, joint ventures, and syndication deals whereby all of its programming services can be seen worldwide.
Source: MTV Networks
NEW YORK and LONDON, July 6, 2007 /PRNewswire/ --
2007 EMOL.org Music Entertainment Magazine. All rights reserved.
Music Entertainment Magazine

Live Earth "Call To Action"
NEW YORK - JUNE 28: Vice President Al Gore speaks during a press conference to announce the Live Earth "Call To Action" on June 28, 2007 in New York City. The "Call To Action" consists of a series of commitments that Live Earth will be asking people around the world to make to combat global warming. (Photo by Scott Gries/Getty Images)

Live Earth Shanghai
SHANGHAI, CHINA - JULY 07: Sarah Brightman from England performs on stage at the China leg of the Live Earth series of concerts at the Oriental Pearl Tower on July 7, 2007 in Shanghai, China. Launched by former US Vice President Al Gore to combat Global Warming, the concert is one of a series taking place over a 24-hour period on July 7 across seven continents. (Photo by Guang Niu/Getty Images) 2007 Getty Images
Live Earth Sydney - Stage
SYDNEY, AUSTRALIA - JULY 07: The Aboriginal welcome ceremony takes place on stage at the Australian leg of the Live Earth series of concerts, at Aussie Stadium, Moore Park on July 7, 2007 in Sydney, Australian. Launched by former US Vice President Al Gore to combat Global Warming, the concert is one of a series taking place over a 24-hour period on July 7 across seven continents. (Photo by Gaye Gerard/Getty Images) 2007 Getty Images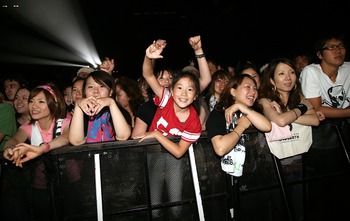 Live Earth Tokyo
TOKYO - JULY 07: Fans watch at the Tokyo leg of the Live Earth series of concerts, at Makuhari Messe, Chiba on July 7, 2007 in Tokyo, Japan. Launched by former US Vice President Al Gore to combat Global Warming, the concert is one of a series taking place over a 24-hour period on July 7 across seven continents. (Photo by Koichi Kamoshida/Getty Images) 2007 Getty Images

Live Earth Hamburg - Show
HAMBURG, GERMANY - JULY 07: View taken during the Hamburg Live Earth concert at the HSH Nordbank Arena on July 7, 2007 in Hamburg, Germany. Launched by former US Vice President Al Gore to combat Global Warming, the concert is one of a series taking place over a 24-hour period on July 7 across seven continents. (Photo by Andreas Rentz/Getty Images) 2007 Getty Images

Live Earth London - Show
LONDON - JULY 07: Genesis frontman Phil Collins performs on stage during the Live Earth concert at Wembley Stadium on July 7, 2007 in London, England. Live Earth is a 24-hour, 7-continent series of concerts involving over a 100 music artists and 2 billion people aimed at raising awareness of global climate change. (Photo by Getty Images/Getty Images) 2007 Getty Images

JOHANNESBURG, SOUTH AFRICA
Members of the Soweto Gospel Choir gather backstage before Live Earth Concert at the Coca-Cola Dome on July 7, 2007 in Johannesburg, South Africa. Live Earth is a 24-hour, 7-continent concert series taking place on 7/7/07, bringing together more than 100 music artists and 2 billion people to trigger a global movement to solve the climate crisis. (Photo by Naashon Zalk/Getty Images) 2007 Getty Images