Music: Mike Longo Trio
JAZZ MASTER MIKE LONGO PLAYS IMPROVISATIONAL PIANO WITH THE BEST OF THEM
MIKE LONGO TRIO – STING LIKE A BEE
After more than a half-century as a jazz pianist, and having learned valuable lessons early on from studying with Oscar Peterson and playing with Dizzy Gillespie, Mike Longo delivers an incredible repertoire of in-depth musical exploration on his latest trio recording, Sting Like a Bee.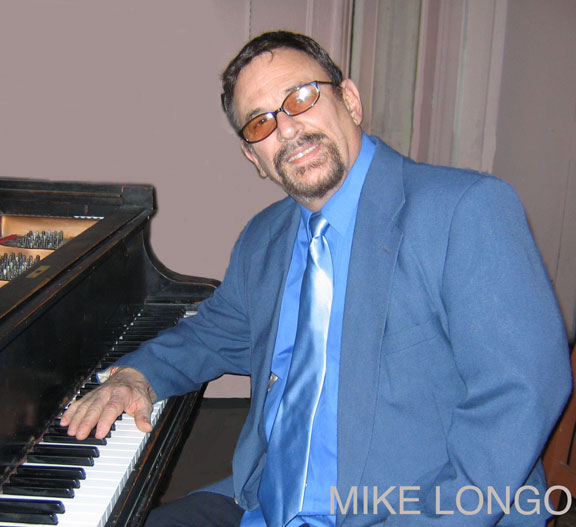 This new album, also featuring jazz stalwarts Bob Cranshaw on bass and Lewis Nash on drums, showcases Longo's always-evolutionary playing on a dozen tunes recorded "live in the studio, mostly first takes with the absolute minimum of editing" to capture the most spontaneous, rapturous, improvisational jazz possible.
They had never played as a trio before and there was only one rehearsal, but each of them had previously recorded and played live together.
"Bob and Lewis are both from the same 'polymetric school' of playing where you can have more than one meter going on at the same time," Longo states. "With them there is a contrapuntal perfection between the musicians, plus great interaction."
Sting Like a Bee is the follow-up album to Longo's 2007 trio recording Float Like a Butterfly. "That earlier album explored certain uses of rhythm in music that can produce a floating effect for both the player and listener," explains Longo.
"Sting Like a Bee, like each new recording I do, moves a little farther in the exploration. On this one we don't pull any punches." Sting Like a Bee and many of Longo's other recordings are available online at jazzbeat.com, amazon.com, cdbaby.com and digital download sites such as iTunes.
Longo's style evolved from playing during his teenage years with Cannonball Adderley, earning a degree in classical music, getting private lessons from Oscar Peterson, and performing with Dizzy Gillespie for a quarter of a century (including nine years of non-stop touring and recording, and several years as the musical director for Dizzy's band). "Being around Diz was a constant learning process," Mike says.
The Peterson and Gillespie influences are evident on Sting Like a Bee only in the subtleties, but Longo tips his hat to each of them with specific pieces. Longo does a solo piano rendition of Gillespie's "Kush" to end the album.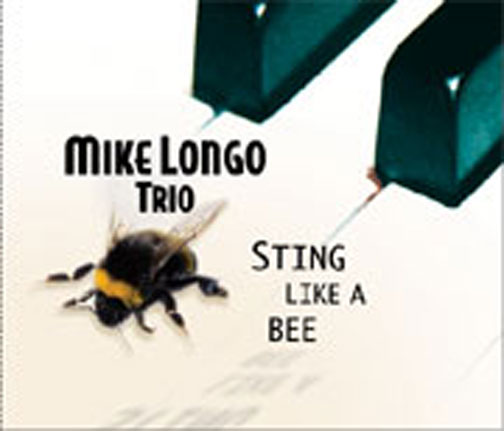 "One of the important things I learned from Diz was a 'polymetric time conception.' Briefly that means music that is in more than one meter in different tempos at the same time.
This tune was on the first album I made with Dizzy, a live recording, Swing Low Sweet Cadillac on Impulse Records. I always wondered if it would be possible for a pianist to play in one meter with his left hand against a different meter and tempo coming from the right hand, and have them mesh together. You hear the left playing six-eight and the right doing three-four at another tempo, and at one point dipping into a four-four swing in yet another tempo. It was a challenge to do it live without resorting to overdubs."
The Peterson tribute is a medley of melodies from "West Side Story" because Longo has fond memories of being invited to watch Peterson's trio rehearse these tunes before recording their classic versions in the Sixties.
"I didn't worry about my versions sounding like theirs because I learned way back how to personalize the stuff I play. When I was 20-years-old I got the chance to record my first album when I was asked to do the songs from the play 'Funny Girl' before the musical was even staged on Broadway. I knew it was impossible to do the material like Barbra Streisand was rehearsing it, so I just took the music and did my own jazz interpretations."
Mike says, "Oscar taught me true jazz piano playing." In Chicago in the early Sixties, Peterson invited Longo to study with him at the Advanced School of Contemporary Music for jazz musicians. Longo spent the next six months in what he calls "the most intense period of study in my life," often with private lessons from Peterson. "I first learned all the T's from him – touch, time, tone, technique, taste, textures and temperature. That last one has to do with intensity, how hot you play. He had me practicing 13 hours a day and I also had to make a living playing gigs most nights. It was a complete turnaround for me musically. What I learned about jazz piano playing from him was profound."
Sting Like a Bee also contains three Longo originals. The bluesy "Checked Bags" is a tribute to his good friend, the late Milt Jackson, nicknamed "Bags" and one of the few vibraphonists to delve deeply into the blues. Regarding the short-and-speedy "Bird Seed," Longo says, "I play seven bars of three-beats in four-four time. This came from a seed Charlie Parker planted in my head years ago with the tune 'Constellation,' although he did it with groups of two and I am using groups of three." Longo's other composition is the slow, haunting, love song "Someone to Love."
The recording includes tunes by several of Longo's favorite composers. "Cole Porter's music lends itself to jazz interpretation and he represents an amazing era in music composition." Herbie Hancock's "Tell Me a Bedtime Story" "seems to me to be influenced by Stravinsky and Bartok because the piece has some interesting 5/4 bars and amazing figures employing cycles of thirds and seconds." Longo's trio plays two Wayne Shorter tunes, the fast-paced "Speak No Evil" and the soft "Dance Cadaverous." Longo explains, "He is such an outstanding composer, but most of what he writes is for horn groups, so it's a great challenge to transform the material to a piano trio setting."
Longo was born in Cincinnati and began playing piano at age three thanks to his church organist mother and part-time professional jazz bass-playing father. The family moved to Florida, where Mike, at age 15, began working with his father's band on weekends. Cannonball Adderley heard Mike and soon they were playing the Southern "chittlin' circuit" together. Longo earned his Bachelor of Music degree in classical piano at Western Kentucky State University. During those years, he went on the road with the Hal McIntyre Orchestra one summer and also played with Hank Garland in Nashville. Longo toured for two years with the Salt City Six.
After the group played at New York's Metropole Cafe, the band left, but Mike stayed on as a house pianist playing with such jazz notables as Coleman Hawkins, Henry Red Allen, George Wettling, Gene Krupa and many others. Eventually Longo moved permanently to New York City which led to opportunities to work with many great singers -- Nancy Wilson, Gloria Lynn, Jimmy Witherspoon, Joe Williams, Jimmy Rushing and others. Longo did an extended stay at Embers West with bassist Paul Chambers accompanying acts such as Frank Foster, Lee Konitz, Frank Wess, Clark Terry, Zoot Sims and Roy Eldridge. In addition, over the years Mike has performed on albums by Dizzy Gillespie, Astrud Gilberto, James Moody, Buddy Rich, Lee Konitiz and many others.
Longo started his own recording career in the early Sixties and now has more than 20 solo albums to his credit (three of them with his big band, the New York State of the Art Jazz Ensemble). In New York City, Gillespie heard Mike in 1966 and hired him as the pianist for the Dizzy Gillespie Quintet, a position Mike held for nearly a decade before striking out on his own again. But even then, he worked frequently with Dizzy for another 16 years. "I was always learning from Dizzy, mostly during performances, but sometimes in odd ways. He had the greatest depth of understanding of rhythm of any musician I ever met." While Mike was with Dizzy, the band recorded many tunes penned by Longo such as "Frisco," "Let Me Out," "Soul Kiss" and "The Truth." Mike Longo also is a renowned music teacher, has helped many jazz players with private instruction, and has written ten music textbooks, primarily on jazz improvisation. The latest book is titled Functional Reharmonization.
Among the trio's multitudinous credits, bassist Bob Cranshaw has played with Sonny Rollins, McCoy Tyner, Wes Montgomery, Thelonious Monk, Oscar Peterson, Ella Fitzgerald, Wayne Shorter and Joe Zawinul; and drummer Lewis Nash, who has taught at the Juilliard School of Music, has performed with Dizzy Gillespie as well as the Tommy Flanagan Trio, Betty Carter, Sonny Rollins, Oscar Peterson, Wynton Marsalis, Joe Lovano, Diana Krall and Ron Carter. Cranshaw and Nash have each played on more than 200 recordings.
Mike Longo has never stopped studying music, constantly searching for new ideas, and freely exploring deeply into the subtleties and nuances found in the world of jazz. At times the music is like a beautiful floating butterfly spreading its wings, but other moments it's more of a bumble-bee shaking up the listener by making a stinging zinger of a point.
MIKE LONGO and the NEW YORK STATE OF THE ART JAZZ ENSEMBLE
Oasis, the new recording from Mike Longo and the New York State of the Art Jazz Ensemble, is an album of big band music, but completely different than the sounds traditionally associated with the term "big band."
Oasis is what Longo calls "contrapuntal music with a forward-propelling melodic force using a small, modern, be-bop group concept with a 13-piece horn section."
With every new recording, pianist Mike Longo practically teaches a university Masters Class on jazz as he bridges the gap between be-bop and the contemporary era, bringing the best traditions forward while also adding new innovations in rhythm and structure. Oasis, on the CAP (Consolidated Artists Productions) label, exemplifies this blending of old and new.
Longo brings impeccable credentials to the project -- he started his career with Cannonball Adderly, studied under Oscar Peterson, became the pianist and musical director in Dizzy Gillespie's band (and played regularly with Dizzy for 22 years), authored nine books teaching music, and performed onstage with countless top jazzsters over the years (Miles Davis, Milt Jackson, Coleman Hawkins, Gene Krupa, Jimmy Witherspoon, Lee Konitz, Roy 'Eldridge, James Moody, Buddy Rich and many others).
Longo's 18th album under his own name, contains his arrangements of 13 tunes (seven are original compositions) for a 17-piece big band (plus a vocalist on th(ee songs) that always include~. piano, guitar, bass, drums, four trumpets, four trombones and five saxophones (two altos, two tenors and a baritone) although the sax players occasionally play flute or clarinet, and one trumpet player takes a flugel-horn solo. A few of the horn players vary from track to track depending on which musicians were available for the sessions. The music was recorded live in the studio with no overdubs.
While Longo often records and tours with his own jazz trio, this larger ensemble began in 1999 and has recorded two previous albums, Explosion and Aftermath (which both topped South American jazz polls).
This bigger band serves several purposes. "Our primary motivation is to make music that fills the listeners with as much joy and happiness as possible, II explains Mike. "We titled the album OASIS because in the type of world we live in today, people need a special place where they can go to simply enjoy music and get away from the harsh realities."
The band also serves as a training ground for younger musicians. "We have musicians in the band who are in their early twenties and in their seventies, but the experience is invaluable for younger players.
The apprenticeship part of jazz has almost been destroyed, so we are trying to bring that back. One of the only places you can learn certain things is on the bandstand in front of a live audience playing with musicians who learned from the early masters of the artform. Now we get to pass along our knowledge."
The New York State of the Art Jazz Ensemble plays every four or five weeks at the NYC Baha'i Center in Greenwich Village in the new John Birks Gillespie Auditorium which Longo was able to name after Dizzy. Longo books jazz acts there every Tuesday night with low ticket prices (usually $15; $10 for students) to allow jazz lovers to hear great new music at prices below New York's jazz clubs and concert halls.
In addition, Longo's ensemble recordings spotlight his big band arrangements and orchestrations.
Longo brings a unique background to the task. In addition to playing in large and small bands with Gillespie, Longo studied classical counterpoint and composition with Frank Fields and Hall Overton, and Longo was commissioned to write music that combined classical and jazz for' Dizzy, James Moody and various symphony orchestras.
"This ensemble is not patterned after the call-and-response big bands from the past like Count Basie," explains Mike. "It's set up like a be-bop group that just happens to be playing with a 13-piece horn section. In the old days music was more up-and-down. This is horizontal music with a different beat where everything is reactionary to what is happening at the moment. The arrangements are a loose guide so that each musician can be creative with his parts. That way we get the jazz element of surprise every time we perform."
Often Longo orchestrates the backgrounds behind the solos, but other times his score directs certain horn players to play their own solo fills behind the written parts.
"Arranging is composing with someone else's themes. Composing is arranging with your own themes. All I need is a theme, a motive, or a germ of a musical idea, and then I just let the music go where it will. My creative tools are melody, harmony, rhythm, counterpoint and form. As I begin to add parts for the various instruments, I can hear the orchestration start to come to life in my head. For example, I might take a line similar to what Charlie Parker would improvise and write it for the entire horn section."
In addition to Longo on piano, the members of the New York State of the Art Jazz Ensemble on this recording are bassist Santi Debriano, drummer Daryll Pellegrini, guitarist Adam Rafferty, vocalist Hilary Gardner and the extensive horn section. The trumpet players are Joseph Magnarelli, Gary Guzio, Freddie Hendricks, Waldron Ricks, Nabate Isles and Seneca Black. The saxophonists are Bob Magnuson, Lee Greene, Gerry Niewood, Frank Perowsky, Matt Snyder and Claire Daly. On trombones are Sam Burtis, Bob Suttman, Eric Goletz, Curtis Fowlkes, Jonathan Greenberg and Don Mikkelsen.
"Some people have asked me why I don't take more solos with this band," says Longo. "When we're performing, I'm too busy to take too many solos. First I set up a swinging groove to kick off the tunes. Then (lead the band from one section to another, sometimes filling in between sections. All the time I am pushing various bandmembers at different spots to inspire them and to get the most out of them, and to keep them pumped up and energetic. As part of the rhythm section my role is to set up the pocket that we are playing in and determine how deep and wide it will be. Sure I take an occasional solo, but I tell people if they want to hear piano solos all they have to do is listen to any of my trio recordings."
The album kicks off with "Bag of Bones" (dedicated to vibraphonist Milt "Bags" Jackson, a longtime friend and poker partner of Longo's). "The rhythmic activity on that tune reminds me of the deep, deep waters Bags could create with his rhythms."
"Chanson," inspired by Longo's visits to France over the years, demonstrates his arranging of parts in an orchestral manner for this large ensemble.
"Mike's Lament" is a slow blues. Longo's influences can range from the funky-soul beat of James Brown on "The Godfather" to modern classical composers such as Stravinsky, Bartok and Ravel on "Infusion."
Another original tune, "Covenant City," is dedicated to New York City and employs a contemporary harmonic approach with odd bar phrases.
Outside material that Longo arranged includes Hilary Gardner singing Gershwin's classic "Love Walked In," standards such as "Alone Together" and "Lazy Afternoon," and Jobim's "No More Blues" ("That's a party time song where we do a New York jazz version of the samba").
"A journalist in the Seventies asked Dizzy if he thought his music was revolutionary, and he said, 'No, it's evolutionary'," remembers Longo. "I'm one of Dizzy's disciples, carrying the torch onward, so I make a point of always having the music evolve. I don't even play like I did last year. If you compare Oasis to our previous two big band albums, you'll hear quite a bit of growth and change in the structure of the music."
2004 EMOL.org / Creative Services Co.