MARY-KATHRYN
MARY-KATHRYN SINGS MODERN SACRED MUSIC ON NEW ALBUM
Mary-Kathryn, known for creating strongly sacred and spiritual vocal music, dreams of world unity and has visions of all humankind fully-accepting each other's traditions, languages and religious beliefs. Thus the title of her fourth album, Dreams & Visions, encourages everyone to have faith in the future.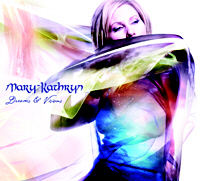 "People need to appreciate everyone else and understand that diverse cultures and a different heritage makes our world a much more colorful and interesting place," says Mary-Kathryn. "No one should have to hide their beliefs or apologize for who they are. We might even find common goals such as pushing for peace or caring for the planet. We are all on a spiritual journey and should respect each other."
Mary-Kathryn is a unique voice in the popular and rapidly-growing "New Age/New Thought movement." She is one of today's few musical artists to sing deeply spiritual lyrics over a world music-influenced sound that also includes elements of new age and adult pop. Mary-Kathryn has built a loyal following that appreciates her gentle yet passionate vocals, the mysticism of her music and the prophetic nature of her lyrics which have a broad-based sacredness to them.
Mary-Kathryn's CDs are on Rhythm House Records and can be purchased at her website (mary-kathryn.com), in many record stores and specialty shops across the United States, through major online outlets (amazon.com or cdbaby.com), and at many web digital download locations (including iTunes and Rhapsody).
Throughout her music there are themes that frequently appear including love, peace, faith, prayer, worship and angels. In addition to singing English lyrics, on previous recordings Mary-Kathryn has sung in Hebrew as well as the Sou-Sou language from Benin, West Africa. At times Mary-Kathryn sings "in the spirit" where her vocalizations are either sounds or unknown languages although they variously resemble Mid-Eastern, Gaelic, French or American Indian voices. "As with any language that is sung, you don't have to understand it to enjoy it," she explains. "The sound and the spirit is what matters."
All the songs on Dreams & Visions were either written by Mary-Kathryn or co-written with producer Paul Buono, except the traditional church hymn "My Father's World" from the early 1900s (with their new arrangement) and Buono's "Wailing Wall" which features Mary-Kathryn's wordless vocalizing. In addition, John Elefante from the rock group Kansas assisted with the melody on another composition.
Mary-Kathryn writes many of her lyrics, and she composes music either on piano or by simply singing the melody. "I look at creating music as similar to painting," she says. "I feel like certain instruments and sounds represent particular colors and that those colors evoke specific responses from listeners."
The album begins with a "humble adoration" song, "Incense of Praise." "You Are There" says that no matter where you go there is the all-pervasive presence of a Holy Spirit. In the next song Mary-Kathryn asks: "Where have all the dreamers gone."
She says, "Remember all the prophets of old, the men of God who got messages or visions, often in dreams? Right now in the world we need them more than ever, as the song says, 'To heal the sea of thirsting souls' that are out there." The tune "Psalm 91" (with lyrics from that biblical passage) "speaks of God protecting us from the evils of the world," explains Mary-Kathryn. This track has backing "angel voices" by the Finnish group Fire 4U.
According to Mary-Kathryn, "'My Father's World' is a tribute to my roots because church-hymns were very special to my mother and she passed that heritage on to me." Mary-Kathryn wrote "In Your Time" and plays piano on it. "Everyone has their own timing in their life when it is appropriate for them to find out who they are and to go out into the world with a message for others." Mary-Kathryn wrote the melody of "Flying Toward the Sun" on the piano and the lyrics are about "that all-encompassing love for God, my husband and my children."
On "Eve of Your Return" she looks to the future with hope and yearning for "peaceful shores where I will find true rest." Mary-Kathryn worships in song with "Glory Forever," encompassing earth and heaven, and featuring a large choir of backing singers.
Mary-Kathryn is joined on Dreams & Visions by top session musicians. Violinist Hugh Marsh has recorded with acts such as Loreena McKennitt, Dan Fogelberg, Bruce Cockburn, Barenaked Ladies, Mary Margaret O'Hara and Alannah Myles; and has performed on film soundtracks including "Shrek 2" and "The Lion, The Witch and The Wardrobe." Producer Paul Buono played keyboards and all of the acoustic and electric guitars as well as sitar.
Buono has produced dozens of artists (and often performs on the recordings) including Cherie Adams, Free Reign, Julie Branhan, Andrew Lawrence and Lisa Reagan. On bass and Chapman stick is Fergus Marsh (Bruce Cockburn, Pierce Pettis, Lisa Dal Bello, Steve Bell, Mark Heard) and on drums is Tony Morra (Stevie B, Jennifer Paige, Van-Zant, Selah, Rachel Farris).
All of Mary-Kathryn's recordings primarily feature original material. Her first album was Perfect Gift, unveiled to the world with a live performance on Trinity Broadcasting Network's "Gospel America" television show with an introduction by Pat Boone.
Her second CD, Stream in the Desert, was recorded in Nashville with "first call" session musicians including guitarist Jerry McPherson and drummer Steve Brewster, both of whom have recorded with Faith Hill, Amy Grant, Michael W. Smith, The Winans, Jewel, Sandi Patty, Peter Cetera, Twila Paris and other top acts.
The One Spirit CD (produced by one of Canada's top producers, Roy Salmond) had appearances by Hugh and Fergus Marsh, Spencer Capier, Phil Robertson, Steve Bell and Aboubacar "Papa" Camara. Mary-Kathryn also has two of her earlier best-known songs ("Tehillah" and "You Are The Christ") on the compilation CD Tongues of Fire (also featuring Moya Brennan of Clannad).
Born and raised in the small Texas town Cuero (90 miles southeast of San Antonio), Mary-Kathryn took piano lessons for several years as a child, played cornet and French horn in junior high, and sang in a Christian church. She became a member of the high school dance team. This turned out to be excellent training since Mary-Kathryn now often dances on-stage as part of her musical performances.
As a teenager, she enjoyed a wide variety of popular music from the soft-rock of Bread to the hard-rock of Led Zeppelin to the progressive-rock of Robin Trower. In addition, she wrote a lot of poetry. She attended Texas State University where she earned her BA Degree in journalism and also studied advertising.
"I was attracted to all forms of creative writing, but advertising taught me to say a lot in as few words as possible which later helped me with my songwriting." During her college years her musical tastes broadened to encompass the reggae of Bob Marley and the Christian music of John Michael Talbot and Amy Grant. "I also studied speech and drama, and learned about performing in front of people."
Mary-Kathryn's spiritual journey started at an early age, but her faith grew stronger and stronger throughout the years. As an adult she has had extensive experience participating in and leading the musical worship teams at churches including several years with a predominantly-Black congregation in Texas.
Her church sent her to the School of the Psalmist in Dallas where she studied the presentation of worship music. Although she had never written a song before, she began composing and recording demos of her tunes. By the time she released her first CD, she also was performing headlining concerts, averaging about one a week her first year as a recording artist, sometimes with nearly a thousand fans in the audience.
On each of her albums she has dug deeper into world music sounds including those from the Mid-East and Africa. Her recent influences include Enya, Loreena McKennitt, the Afro-Celt Sound System, Peter Gabriel, Sting, Seal and Sarah Brightman.
"I decided I wanted to create a spiritual experience through music," explains Mary-Kathryn. "I know there is a God who wants to bring us into a better place. I feel we should all share our faith. It's my duty to tell people what I believe. I care about all of the people on this planet and my dream is that we could all love one another. We also need to care about our world and be good stewards of it. I try to make my music reflect this vision."
2007 EMOL.org Music Entertainment Magazine. All rights reserved.