Music: Donny and Marie Osmond
Donny & Marie to Debut at Flamingo Las Vegas
America's favorite siblings bring variety to center Strip beginning Sept. 9, 2008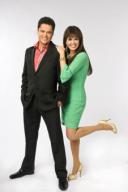 Flamingo Las Vegas announces Donny and Marie Osmond as Nevada resort's newest headliner in the Flamingo Showroom. Beginning Sept. 9, the duo will dazzle audiences of all ages with their iconic style of entertainment.
Presented by Danny Gans and Chip Lightman of GansLight Entertainment, the 90-minute extravaganza will highlight Donny & Marie's greatest hits in a multimedia spectacle presented on a custom designed stage with multiple video screens and a large cast of dancers. This will mark the first time in 29 years that they will have performed an extended residency engagement in Las Vegas.
"My version of a variety show has been what Vegas has known thus far. What we have now is a true variety show which conveys the real essence of America and the country's love of homegrown talent," said Gans. "When you couple that element with the current Las Vegas entertainment landscape, we felt Donny and Marie provided the perfect combination and something that no one else was making available."
The "a little bit country, a little bit rock n' roll" duo took the country by storm with the debut of the "Donny & Marie" variety show in 1976, becoming the youngest primetime hosts in television history. This universally popular series solidified their worldwide fan base, which still numbers in the millions.
After multiple solo successes, the pair teamed up once again in 1998, hosting the hit nationally syndicated daytime talk show "Donny & Marie." They recently hosted the "Miss USA" pageant, and on Mother's Day will be hosting "America's Favorite Mom," both NBC primetime specials.
"Donny and Marie are timeless entertainers and cultural icons," said Don Marrandino, president of Flamingo Las Vegas. "We look forward to welcoming the celebrated duo to the Flamingo and are confident that their talent, charisma and showmanship will be warmly received by audiences."
Tickets for Donny & Marie are on sale beginning on April 28. Showtime is 7:30 p.m., Tuesday-Saturday with an additional Saturday matinee at 3:30 p.m. Ticket prices are $85, $99 and $115 (plus tax and fees). A limited number of VIP packages are available for $250 (plus tax and fees), which includes a special after-show commemorative photo with the stars.
MARIE OSMOND
Singing and dancing at age three in her television debut on The Andy Williams Show marked the launch of Marie Osmond's stellar career. At age 13, Marie's first single, "Paper Roses," made history debuting as #1 on the country music charts and soon after went Gold. Her rapidly growing popularity then led to Marie's success as the youngest-ever host of a hit television variety show, "Donny & Marie". From televised movies and feature films ("The Gift of Love," "Side by Side"), to a CMA award-winning country song ("Meet Me in Montana"), Marie became a crossover star on Broadway with the lead role in "The King and I" and as Maria in "The Sound of Music."
She's a New York Times best-selling author ("Behind the Smile") and created an 18-year award-winning business, "Marie Osmond Fine Porcelain Collector Dolls," which is the top-selling doll line on QVC. Marie is a co-founder of The Children's Miracle Network, which has raised almost $4 billion for children's hospitals in North America, and will soon expand internationally.
Over 22 million people tuned in each week to watch Marie's whole-hearted performances, winning her countless new fans who voted her to the finale, on season five of ABC's Dancing With the Stars. Her proudest achievement, though, is being a mother to eight beautiful children. For additional information on Marie Osmond visit http://www.marieosmond.com/.
DONNY OSMOND
Beginning his illustrious career at the age of five on The Andy Williams Show performing with The Osmond Brothers, Donny has been awarded a grand total of 33 gold records. His most recent album (his 55th), "Love Songs of the 70s" immediately went Gold in the UK.
His multi-faceted career includes being a national television host ("Pyramid"), a best-selling author (his autobiography debuted at #1 on the UK bestseller list) and the theater (over 2,000 performances starring in Andrew Lloyd Weber's "Joseph and The Amazing Technicolor Dreamcoat" and most recently on Broadway starring in Disney's "Beauty and the Beast").
He recently co-starred with Martin Lawrence and Raven Symone in the Disney film "College Road Trip," and performed at The Concert for Diana, seen worldwide by 2 billion viewers. He has even been a champion race car driver. Reflecting his multi-generational worldwide fan base, his web site, donny.com, receives a staggering 120 million plus hits annually.
Donny and Debbie, his wife of 29 years, have 5 children and 2 grandchildren. For additional information on Donny Osmond visit http://www.donny.com/.
About Flamingo Las Vegas
Located in the heart of the Strip, the Flamingo Las Vegas has been home to top entertainers Toni Braxton, George Wallace and Gladys Knight. The resort features award-winning renovated Flamingo "GO" guest rooms and diverse entertainment offerings, including Nathan Burton Comedy Magic and The Second City comedy troupe.
About GansLight Entertainment
In 2000, Danny Gans and Chip Lightman combined their expertise and began producing shows on the Las Vegas Strip. The first such collaboration was with Gladys Knight at Flamingo Las Vegas that resulted in a highly successful three-year run. GansLight Entertainment also introduced comedian George Wallace who is now in his fifth year at the resort. Danny Gans is one of Las Vegas' most successful and highly-acclaimed headliners while Lightman continues to advise a multitude of shows and entertainers.
Source: Flamingo Las Vegas
LAS VEGAS, April 25, 2008 /PRNewswire/ --
© 2008 EMOL.org Music Entertainment Magazine. All rights reserved.