BY: LYNN MARIE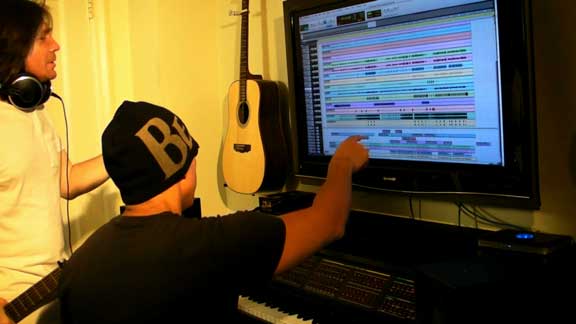 Greg Laporta and Ernie Savage truly have a love and passion for their work. The Ostinato Brothers, a.k.a. Greg and Ernie, have been writing, performing, and producing music for over twenty years.
Their award-winning work can be heard in major motion pictures, cable television and on their own CD recordings.

The Ostinato Brothers cd released in September entitled Go Commando is not your "typical" CD. (even down to its hilariously suggestive artwork) The lyrics outline the benefits of not wearing underwear in a swing, blues, jazz style all wrapped into one.
You just have to get passed the art work of the CD (which isn't that inappropriate compared to what we see on television and movies these days) because the tracks on Go Commando are just clever and hysterical.
Laporta and Savage have a unique way of expressing their musical talent; I don't know any other artists that could pull this off but these guys do it flawlessly. Their brilliance and expertise shine through in their recordings. The CD features guest artists such as Deanna Kirk, Rena Strober, and Tony Desare.

Go Commando even has its very own signature cocktail (2 oz. of Rittenhouse Rye, 1 oz. of Carpano Antica Formula, 1/2 oz. of Gran Classico, 1/4 oz. of Averna Amaro, 2 dashes of Angostura Bitters, 2 dashes of Bitter Truth Mole Bitters, Combine all in a large mixing tumbler, add a generous amount of ice, and stir. Strain into a cocktail glass and garnish with a lemon twist).
"I never in my wildest dreams thought there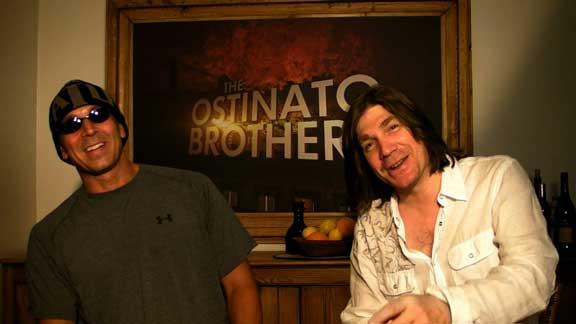 would be a signature cocktail named after one of our CD's," stated Savage. Move over Lady Gaga and Madonna, no signature drink named after these ladies.

One of the tracks on the CD is "Hell of a Day For a Heart Attack." What I love about these guys is that they remind us all to not take life so seriously and to live life to its fullest everyday. Check out some of the lyrics below;

Hell of a Day For A Heart Attack

Woke up to a spectacular day,
I headed for a shower and shave.
I was checkin' that my cable was paid,
When suddenly it all slipped away.

Ooooh la la la, Oooohhhh aaah,
Ooooh la la la, it's a hell of day!
Oooh la la l, Ooooh ah,
It's a hell of a day for a heart attack!

Pizza's cool, but burgers are best,
makin' my arteries a big yellow mess.
I've got a terrorist alert in my chest,
But "til this mornin' I would never have guessed.



Greg Laporta was born in the Bronx and graduated from State University of New York at Fredonia with a triple major in Music Theory and Composition, Applied Piano Performance, and Sound Recording Technology with a minor in Computer Science.
After a few years in NYC recording studios, Greg landed a job with New England Digital, creators of the Synclavier, one of the foremost leaders in digital sampling and sequencing technology.
As a product specialist, he provided creative and technical support to musical artists such as Sting and Pat Metheny. This led to staff composing jobs at some prominent NYC music houses (Lavskymusic and National Sound), where Greg eventually met fellow Ostinato Brother, Ernie.
Eventually, Greg became a full time free-lance composer writing for film and television, and accumulating a top notch list of clients (PBS, National Geographic, Discovery, NBC, ABC, and CBS). Greg has provided MIDI orchestrations and score enhancements to such blockbuster films as Peter Jackson's "The Lord of the Rings" trilogy and Martin Scorcese's "The Departed."

Ernie Savage was born in Nyack, N.Y. and graduated from Hunter College School of Arts and Sciences majoring in English with a concentration in Literature, Language and Criticism and with a minor in Sociology. A multi-instrumentalist adept at guitar, piano/keyboards, flute, harmonica, as well as voice, Ernie received attention by members of the Nyack/Rockland artistic community, most notably record producer John Simon, saxophonist Zoot Sims, and singer/songwriter, Harry Nilsson.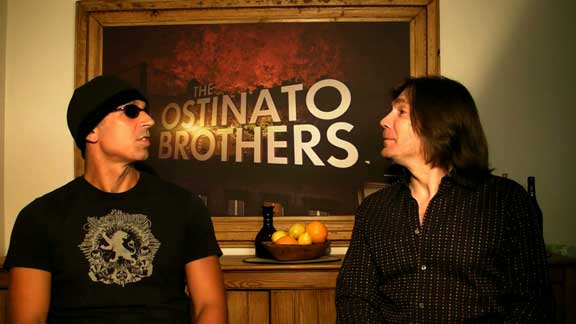 Ernie later landed a job as assistant to film composer Joe Delia where he worked on T.V. series "War of the Worlds", feature film "King of New York" (directed by Abel Ferrara) and with the "Killer Joe" band which features Max Weinberg. Ernie then transitioned into the NYC studio scene composing and producing, T.V. theme/promo packages and scores, jingles and record dates.
Utilizing his network of studio musicians, he also launched into the live music scene, fronting a 10 piece swing/jump blues R&B dance ensemble "The Ernie Savage Revival." Based in both New York City and Houston, Texas, "ESR" regularly performed corporate dates worldwide, for such clients as American Express and IBM. They also performed at Bob Hope's 100th birthday celebration.

Ernie met fellow Ostinato brother, Greg Laporta, while working at National Sound in NYC. They both decided to start a Manhattan based film and television music production company called "Savage & Laporta" which later became branded as "The Ostinato Brothers" rolling out productions of their original songs and introducing The Ostinato Treatment.

The musicians, this past summer started The Ostinato Treatment. It's a songwriting contest where anyone can have their song produced, arranged, recorded, mixed and mastered by The Ostinato Brothers COMPLIMENTARY.
They wanted to share their expertise to aspiring songwriters/musicians. Also the winner of the contest owns the newly produced master recording of their song. All visitors to the site may upload their own original song demos and share them with the world.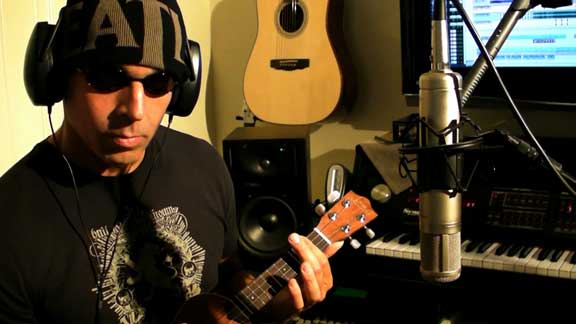 "We just enjoy what we do so much and want to give other people a chance in an industry that is very competitive," explains Laporta.
"It's great to hear the talent of other artists out there and being able to put it all together for them is truly amazing and exciting to Ernie and myself", explains Laporta.
Additionally, the winning songwriter each month will be featured in an Ostinato Treatment video webisode, where they will hear and comment on the newly produced version of their song for the very first time.

The Go Commando CD is available on iTunes. It would make a great stocking stuffer. For more information on the Ostinato Brothers and the songwriting contest visit the website at www.ostinatobrothers.com.
---
---
© 1995-2012 EMOL.org Music Entertainment Magazine. All rights reserved.