Music: Katy Perry
Katy Perry rocks!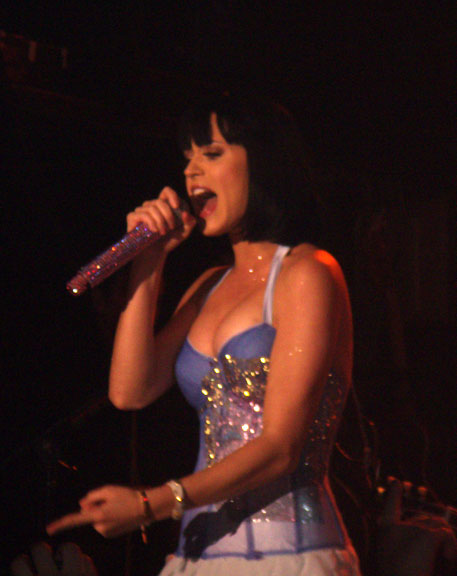 A kick-ass, totally off the wall, non ordinary girl is how I would most definitely describe Katy Perry!! Read my review of her concert below and find out why Katy Perry Rocks!!
By: K.Kirker
The date is April 7,2009. The day is a Tuesday night. The place is the Fillmore in NYC. Who, well that is another story…..
People are lined up around the block just to see Katy Perry. There were only General Admission tickets, so if you got there early, you could be front row. As people lined up around the block, you could see the difference between the hard core Katy Perry fans and the ones that were there just for a good time. The dedicated Katy fans, also known as the "Katy Kats", were dressed in bright outfits, high heels and barley anything to cover themselves in the cold city night. I froze just looking at them. If you had to go to the bathroom, you were out of luck. Most places that had a bathroom, were for customers only, and don't try to mess with them because you will lose!!
From the outside the Fillmore doesn't look like much, but once you're on the inside, it is a pretty decent venue. There is a coat check, a bar area and two levels for viewing the concert. The people up in the balcony section had very good seats. I feel like no matter where you stood in this place, you had a good view and were able to interact with the entertainers.
The downside to no seats……if you had to leave for any reason, trying to get back to your spot was a little tricky…..okay a lot tricky!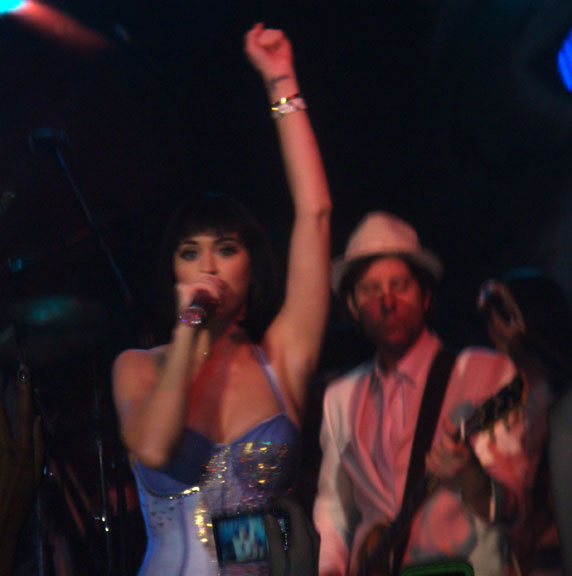 You also had people stepping on you and getting a little bit irritated with others around them. Occasionally you would see an argument breakout and etc…..of course this was before the show started and was mostly done with the younger then 18 crowd. All this non-sense really happened while people were waiting around and had nothing better to do. In the future a good idea might possibly be, to have a D.J or somebody on stage interacting with the crowd, or even having no one under 18 allowed in unless with a parent or something along those lines.
Now lets get to the opening act!! Usually I don't really care to much for the opening act, but in this case I really enjoyed them. The opening act was The Daylights, a band from Ca. They are made up of three guys and they really rocked the Fillmore and won over the Katy Perry fans as well. They did a pretty good set while they interacted with everyone in the crowd. After their set they stuck around to meet everyone and take pictures. That was very enjoyable and the fans got a kick out of it. Very good show from these guys and we will definitely see more to come from them.
Now on to the main Act, Oh yes Ms. Katy Perry!! Well how to start……..hmmmm…..well, Katy came out on the stage and everyone went nuts!! Including Katy herself. She had such a great energy about her and just knew how to get her fans going. Katy also had a very sarcastic-ness about her which was so funny. She came out on stage and everyone was screaming for her. Katy would tell the crowd stories before most of the songs, that had something to do with the content of the song to come. That was real nice, because it made the fans feel like they were really getting to know her. I think that Katy could just stand there and entertain people with out actually singing!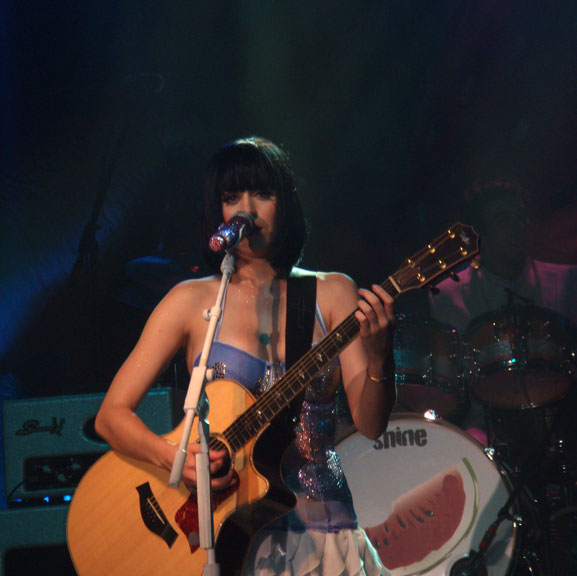 Katy performed songs such as "Hot N Cold", "Thinking of you", "I kissed a girl", "Ur so Gay", "Waking up in Vegas", and my favorite, "One of the Boys". Katy really had a lot of energy with these songs and I feel like she just had a lot of fun. At one point Katy threw out these giant blown up strawberries into the crowd for everyone to hit around. The crowd seemed to love this.
Now on to the music part of the review. Katy sounded awesome live, even better then her CD. Katy has a unique sounding voice, which makes for a refreshing change in the music scene. Katy's voice is a little deeper with a raspier tone and this really goes hand and hand with her unique look. Katy looked like a pin-up girl from back in the day with a hint of fruit flair. Katy has a thing for liking fruit and clothes with fruit on them. I think that Katy is the only one that could actually pull this look and sound off.
So lets get things wrapped up! If you ever get a chance to go check out a Katy Perry show…..Jump on it!! Definitely a great show and she has talent too, (which we all know is a rare thing now a days). You will get a comedic, unique, different type of show with an easy on the eyes talented girl. Want to see and/or hear more from Katy? Go to www.myspace/katyperry.com, and www.KatyPerry.com.
© 2009 EMOL.org Music Entertainment Magazine. All rights reserved.