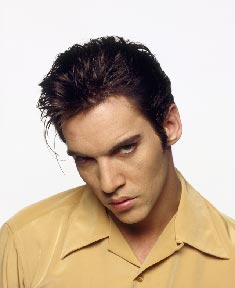 ELVIS, a new four-hour movie event, will be broadcast as the "CBS Sunday Movie" Sunday, May 8 (9:00-11:00 PM, ET/PT) and Wednesday, May 11, 2005 (8:00-10:00 PM, ET/PT) on the CBS Television Network.
The fact-based drama is about the life of Elvis Presley, one of the greatest entertainers who ever lived. With the full cooperation and participation of the Elvis Presley Estate, his electrifying yet tumultuous story -- from his humble beginnings to his meteoric rise to fame -- will be told. Presley's master recordings will be heard in a biographical film for the first time.



Jonathan Rhys Meyers ("Bend It Like Beckham") stars as Elvis Presley, Emmy and Golden Globe Award-winner Camryn Manheim ("The Practice") stars as Gladys Presley, Golden Globe Award-winner Randy Quaid ("LBJ: The Early Years") stars as "Colonel" Tom Parker, Rose McGowan ("Charmed") stars as Ann-Margret, Robert Patrick ("Terminator 2: Judgment Day") stars as Vernon Presley and Antonia Bernath ("Living Neon Dreams") stars as Priscilla Beaulieu Presley.



ELVIS was executive produced by Robert Greenblatt and David Janollari ("Six Feet Under") for The Greenblatt Janollari Studio. Howard Braunstein and Michael Jaffe ("It Must Be Love") are the executive producers for Jaffe/Braunstein Films, LTD. Ilene Kahn Power ("Gia") is the co-executive producer and Judy Cairo ("Gleason") is the producer. James Sadwith ("Sinatra") directed from a script by Patrick Sheane Duncan ("Mr. Holland's Opus").

Night One
Dressed in a black leather suit, a nervous 33-year-old Elvis Presley (Rhys Meyers) is backstage preparing to sing in front of a live audience for the taping of the "The '68 Comeback" television special.

Flashback - 18-year-old Presley lives in a small apartment in Memphis, Tenn., with his mother Gladys (Manheim), and his father, Vernon (Patrick). Although he is currently working as a truck driver, Presley promises that someday, when he makes it big in the music business, he will buy his parents a Cadillac and a house.

As a teenager, Presley spends a great deal of time hanging out on Beale Street in Memphis, listening to R&B music. He shares his dreams of becoming a famous recording artist with his girlfriend, Dixie Locke (Jennifer Rae Westley). He confides to her that he wants to record a song for his mother on Sun Records in the hopes that someone will hear his singing and sign him to a recording contract.
Presley walks into Sun Studio with the beat-up guitar his mother gave him when he was a child and tells the receptionist, Marion Keisker (Jill Jane Clements), that he would like to record a song for his mother. He asks her to let him know if they ever need a singer, then goes into a booth and sings "My Happiness."
Record producer Sam Phillips (Tim Guinee) is not impressed by what he hears and doesn't even come out of the booth after Presley finishes singing. Always supportive of her son, Presley's mother is moved to tears when she hears the song.

Presley does get a call from Sun Records that they have a song that could be right for him. But after hearing him sing it, Phillips thinks Presley sounds like other singers of the day. Frustrated, Presley begins to sing "That's All Right, Mama" with a different sound. Phillips records the song, which turns into a smash hit.

October 16, 1954, Louisiana Hayride Auditorium - Presley belts out "Good Rockin' Tonight" while perfecting his gyrations and soon the crowd is so out of control that the promoter must announce at the end of Presley's performance that he has left the building to avoid pandemonium. It is during one of his performances at the Hayride that Presley first meets "Colonel" Tom Parker (Quaid), who manages some of the biggest singing acts in town.

Parker tries to persuade Presley to make him his manager, promising that he will get him a record deal with RCA and roles in feature films. Although Parker doesn't like Presley's kind of music, he believes he can make him a worldwide star because he is a good salesman. Presley eventually signs with Parker, who makes good on his word.

Presley's first RCA song, "Heartbreak Hotel," goes to Number One on Billboard magazine's pop, R&B and country charts. The song goes on to sell one million records and becomes Presley's first Gold Record.

Presley and Parker argue about playing small venues. Presley wants to play big houses, but Parker wants lines outside of theaters because selling out shows makes Presley look appealing. When Presley questions Parker's tactics as a manager, he quickly tells Presley that a famous movie producer wants him to come to Hollywood for a screen test and that he has booked Presley to perform on "The Milton Berle Show."

Presley tests for his first film, "The Rainmaker," and is beside himself with excitement at the prospect of working opposite Katharine Hepburn and Burt Lancaster. He is disappointed when Parker tells him they are turning the role down because Presley will not be the star of the film.

While in Hollywood, Presley performs "Hound Dog" on "The Milton Berle Show." Critics pan the performance, saying that Presley's stage presence is suggestive and vulgar. Presley worries about the bad publicity but listens to Parker, who advises him to keep doing the gyrations because they help sell records.
Presley is told by a judge that he will be arrested if he makes lewd movements while in Jacksonville, Fla. During a performance of "Don't Be Cruel," he is observed by police officers. Although he is not allowed to move his hips, Presley wiggles his pinky, still managing to make girls in the audience go wild. Soon Southern politicians, religious leaders and radio disc jockeys are condemning Presley's music.

Presley is brought to court after a gas station manager hits him because he drew a large crowd of fans who wanted his autograph. The judge finds Presley to be innocent but the incident is enough to make his mother beg him to quit singing.
Presley tells his mother that the music is stronger than he is and he could never walk away from it. He asks her to find a home in Memphis that will give them more privacy. She finds a home that Elvis names Graceland.

While shooting "Love Me Tender," his first movie, Presley is disappointed to learn that he will have to sing in the film. Once again, he questions Parker's managerial decisions and tells him that he does not want to sing in films. Parker tells Presley to leave the managing to him and informs him that he has booked Presley on "The Ed Sullivan Show," a show on which he has longed to appear.

Parker encourages Presley to go into the Army after he is classified 1-A because he thinks it will help clean up his image and would be good publicity. He tells Presley that he will be a bigger star than before when he returns from the Army.

Night 2
In the Army, Presley is homesick and frequently calls his mother, telling her that he fears his fans will have forgotten about him when he is discharged in two years time.

When his mother is hospitalized with liver failure, he is granted a leave so that he can visit her in Memphis. The night Presley goes to the hospital, Gladys Presley dies in her sleep. At his mother's funeral, he is inconsolable and feels guilty about his mother's death, believing that he contributed to it because he caused her to worry about him.
Afterwards, Presley tells Parker that he wants to quit the music business because he thinks that's what his mother would want him to do. He quickly changes his mind once Parker reminds him that he will have to pay Parker for all commitments and obligations that he will be unable to fulfill by quitting early.

While stationed in Germany, Presley begins taking pills to help him fall asleep and to help him wake up. He is also introduced to opera and records "It's Now or Never," which becomes a Number One Billboard hit.

In Germany, Presley is introduced to 14-year-old Priscilla Beaulieu (Bernath), whose father is an officer in the Army. Presley and Beaulieu begin dating, and he is warned by his father to be careful because he could go to prison for having a sexual relationship with someone who is underage. Presley meets Beaulieu's parents and promises to respect their daughter. When he is released from the Army, he asks Beaulieu to remain faithful to him when he returns home, and he promises to stay in touch with her.
Upon his return to Memphis, Presley holds a press conference in the lobby of the airport, where he denies that he and Beaulieu are involved. He also announces that Frank Sinatra, who condemned his music years earlier, is now embracing Presley by hosting a television special for him.

Presley tells Parker that he wants to star in the feature film "West Side Story," but Parker turns the role down because he believes that Presley needs to confine himself to shooting films like "GI Blues," which make a lot of money. When Presley questions Parker's managerial style, he is again reminded that Parker has created his success and Presley should stick with him.

Presley persuades Beaulieu to stay with him permanently in the United States by enrolling her in Catholic school instead of having her live with him at Graceland. Presley is now taking large quantities of drugs, and people close to him begin to wonder if he is becoming dependent on them.

Presley goes to Hollywood to shoot "Viva Las Vegas" with Ann-Margret (McGowan) and they begin an affair. When Beaulieu questions Presley about rumors of his infidelity, he denies them. Parker doesn't like Presley's relationship with the actress and tries to put a stop to it by telling Presley that it would look bad for him to toss Beaulieu aside after he moved her to the United States with the promise of marriage. Presley ends the affair only after a magazine quotes Ann-Margret as saying that she and Presley are engaged, which is untrue. When Presley confronts Ann-Margret about the item, she accuses Parker of planting the story.

April 1964 -The Beatles begin to outsell Presley's records, but he is still earning a good living and is very generous to those around him. Parker and Presley's father warn Presley that he is spending too much money and ask him to stop giving gifts to his friends. Presley's father also tells him that he thinks he is taking too many pills and asks him to stop. Presley tells his father to mind his own business.

Presley becomes interested in religion and metaphysics, though he continues to use drugs. Parker warns him to get his life together and finally marry Beaulieu, who is now of legal age.

Presley and Beaulieu are married in a hotel in Las Vegas. Parker makes the arrangements for the ceremony and holds a press conference after the wedding. Nine months after Presley and Beaulieu are married, Presley's only child, Lisa Marie, is born.

February 1968 - In an effort to revitalize Presley's career, Parker makes a deal with NBC for a Christmas special and introduces him to producer Steve Binder (Jack Noseworthy). The plan is to tape the special over three days in front of a live audience. Backstage in his dressing room, Presley has a case of stage fright and tells Binder that he cannot go on stage and sing. Binder convinces him to go out in front of the audience, where he sings "Lawdy Miss Clawdy" and feels the passion he once had for singing return. The audience roars, there's a fire in his eyes - the King is back!
Backstage, Presley and Parker argue over the songs that will be performed in the special. For once, Presley stands up to Parker and says that he won't sing another song he doesn't believe in or appear in a movie he doesn't care about.
After a heated exchange, Presley fires Parker, but Parker won't go away that easily. He tells Presley that he will have to pay back the money Parker has advanced him, as well as future earnings from movie profits and residuals from his records. Presley realizes that there's no way out and must keep Parker as his manager. Parker tells Presley that he has signed him to do another film and wants him to do concerts in Las Vegas. A disheartened Presley returns to the set to sing the heartfelt "If I Can Dream."

Presley never went on tour overseas. He played Las Vegas and one-night stands for the rest of his career. Elvis and Priscilla Presley divorced in October, 1973. Presley died at Graceland on August 16, 1977, at the age of 42. Colonel Parker died in 1997, having gambled away most of the fortune he earned from managing Presley. Posthumously, Presley is more popular than ever and is consistently recognized as one of the most significant icons of pop culture.