Qwiksand
Interview by Tracie Reed
Color photos by Tracie Reed; black and white photos by Jim Shea.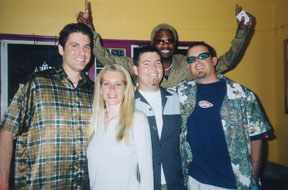 It's all in the name for this fast rising band. Qwik indeed!
These four young hard working musicians already have their first CD out called "THE MORE YOU GROOVE... THE DEEPER YOU SINK" and are on tour as we speak.
The CD has 8 great songs recorded live!
1. R U Ready
2. Friend
3. Lemonade Of My Soul
4. No One Knows
5. Mr. Coolman
6. Get Off My Line
7. Only Human
8. Move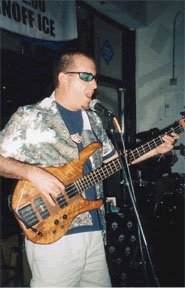 Their music is described as funky hot music with a modern rock groove edge. I have to definitely agree. Seeing them live is even better. They all have great character within themselves as musicians! They are already working towards their next CD. You can order their new CD on line at planetsquared.com.
These guys have a lot to say other then in their music. Here are some questions that I asked singer Marlon Hawkins, Drummer Mike Wagner, Bassist T.J. Ferrugia and Guitarist R~A~S:
TR (Tracie Reed): To compare your music to other bands. What would you guys say you would fit in with?
R~A~S: Funk, soul, some reggae, lots of rock and then this thing that we all throw together -- we call it groove. That's our deal. The title of our first album is The More You Groove...The Deeper You Sink and that's a pretty good representation of what we're about. As far as other bands that we may sound like, the reviews that we've gotten so far have been comparing our music with elements and style from the Chili Peppers, Sublime, maybe even a little Living Color.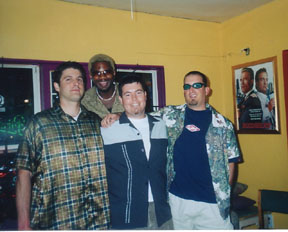 Mike: Having to distinguish what's fascinating about us, is if you take a look at our music catalogs, everyone here listens to different music. And that's the mentality that we come in with too. Everything feeds off of each other so much. Someone will come in with something that they've written down and it's usually just a simplified form. Our improvisational style of writing is unique and each person in the band adds different elements with their respective instrument. What ends up coming out is something different each time.
TR: How long is your tour for? Are you going to tour throughout the year?
R~A~S: We're doing a regional circuit right now. We're touring through about 13 different cities in the U.S and we'll be working on our next record around the end of July. Then we'll be back on tour again and should have the next record out towards the end of the year. We're just taking it one step at a time. We put this record out in January and now it's getting rotation in about 17 different cities. So, we're just getting started.
TR: You guys are already writing for your next CD?
The Band: Yeah!
TR: Are you guys planning on doing a Europe tour?
TJ: Well, there's a station in France, who is pretty excited about what we are doing. Honestly, I think we're just kind of focused on building our fans base here in the U.S. And I think as we get a little bit more established. We can start advertising out with things like that. We just take it with one step at a time. We're having fun right now. I mean every show for us it's like it just keeps getting better. The sound I think everybody is starting to feel comfortable with the material.
TR: What are your ages?
R~A~S: 30
Mike: 27
Marlon: 25
T.J.: 32
TR: The bands that you mentioned earlier. Would you say that is your influences?
Marlon: Do you have more tape? (everyone laughs)
TR: I have one!
Marlon: I'm speaking for myself. I listen to like everything. I swear everything! Certain artists who change their name every so often. Prince, whatever. Some people here don't like it, but I appreciate them for what they do. It's like Prince, he does everything. He does r&b, rock, everything. That's one artist. Stevie Wonder, very, very talented. Gospel music definitely. I grew up singing in church and stuff. Tim McGraw.
TR: There's a lot of them!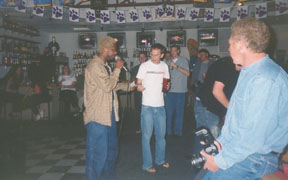 Marlon: I told you man! Everybody I pick here it's the same way. We've all have done technical musical. You know in school.
TR: When you guys first started out did you do a lot of cover songs?
Marlon: What didn't we do!
T.J.: Pretty much Macy O'Parker, Magic Sam, Trent Darby. We do a lot. Then all of a sudden people were like, oh! Wow! Do you guys play any Aerosmith? No we don't! Sorry!
R~A~S: There's a lot to choose from and you will notice that if you hang out tonight. As we go from song to song, we play a lot of different styles of music, but we make it all fit. We're covering a lot of ground, but I'm not saying that we're trying to go out and do something completely out there. We're just mixing a lot of different sounds together that we like and I think that's the best way of keeping music exciting for our fans and us.
TR: What's the craziest thing that has happened on stage? Like with the fans?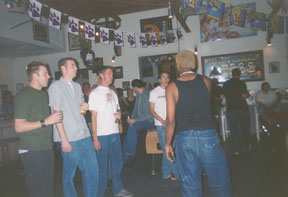 T.J: Last time around, a fan sprained R~A~S's ankle. A fan got on stage and stepped on his cord, he tripped and twisted his ankle. That's why he has crutches. (Laughs)
TR: Are you guys going to take a brake before you jump back into your next tour?
R~A~S: We're gonna be out on tour through the summer and will be taking a brake for a couple of weeks to record our next album and then jump right back on the road. We're gonna take some time off and rest up at the end of the year. Right now this is just an incredible experience for us. We started out with just the ideas of what we wanted to do musically, and then we basically threw them down on a record. We recorded it live in one take with no overdubs. We didn't sit there and try to sculpt piece of art on this one. We wanted to simply capture the essence of the music. As far as what we will be doing on the next record, we're obviously gonna take it a lot further. But that's us, we're on a musical adventure and that's hopefully where we'll be in the future. Right?
The rest of the guys: Right!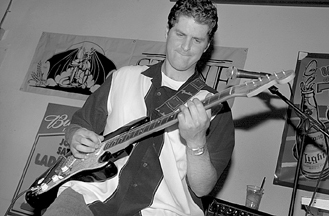 R~A~S: All I can say is that it's a trill to be in this group. The fact that all four of us are here is amazing. Everybody's down, comes out and dedicates themselves. It was really hard finding a good group of musicians with chemistry and respect for one another. I'm so thankful that we do not have a lot of weird vibes or bad drama going on behind our music.
For some people, it may help to fuel their music but for us that stuff doesn't help at all, it just suppresses the groove. I think we're pushing each other to be better and that's the real challenge. You know, we were all freaking out about two weeks ago because we finally got the chance to realize what was happening and it was a lot of fun. I actually like everyone and I consider them as some of my best friends.
---
---