Music: MICHAEL SAMSON
ACOUSTIC SOLO PIANO PLAYING AND ORIGNAL COMPOSITIONS ARE FORTE OF MICHAEL SAMSON
On his second album, A Still Motion, solo pianist Michael Samson has created a work of art that musically and philosophically explores what he calls "The Big Paradox" -- a hidden world beneath the surface of everyday life where you can discover meaningful movement and rhythms, the beauty in opposites and contradictions, and often-unrecognized connections between people.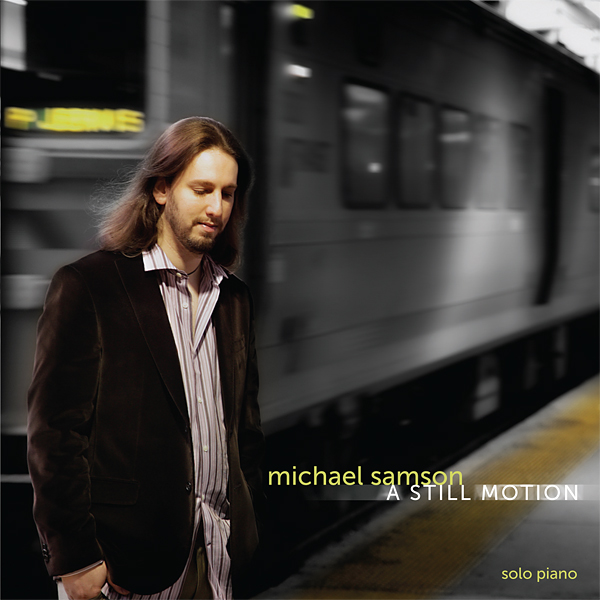 "On the surface of our lives, we see the world with a necessary, practical day-to-day superficiality -- let me get some food, make some money and find some entertainment or pleasure," explains Samson.
"But if we explore a little deeper, we begin to understand that our actions affect others and can have far-reaching consequences along the lines of 'The Butterfly Effect' theory that even an insect flapping its wings might change the fate of the world. In addition, movement and rhythm are everywhere in our world, all the way down to the level of sub-atomic particles that are always in motion. And it eventually becomes apparent that there is beauty in opposites -- darkness and light, sadness and happiness, and stillness and movement.
The title of the album and the first song reflect that. The music also utilizes some of these concepts such as opposing time-signatures, combining major and minor modes, a composition with two very different sections, or strong emotion running beneath the surface of a melody."
Michael Samson's music (the 24 tunes contained on his CDs Until Tomorrow Comes and A Still Motion) can be purchased singly or in cost-effective package deals at his comprehensive and user-friendly website www.MichaelSamson.com. Other sales outlets include Amazon.com, CDbaby.com, iTunes.com and most major digital download locations.
The music has appeal to fans of neo-classical, new age, zone music, contemporary instrumental and acoustic piano. Samson's music is strongly melodic, sometimes purposely simple and at other moments amazingly complex, often building from gentle beginnings to faster and more forceful conclusions.
Although Samson listens to a wide variety of music, his most direct inspirations are pianists such as Suzanne Ciani, George Winston, William Joseph, Stephan Moccio, Clara Ponty, David Nevue and David Lanz. Samson enjoys other new age artists including Enya, Nicholas Gunn and Yanni. But since childhood, Michael also has been influenced by movie music and has studied film composers -- John Williams, Jerry Goldsmith, James Horner, Michael Nyman and Ennio Morricone. In addition, Samson has a love of classical music that goes back to his school-days and early music training (Beethoven, Chopin, Debussy, Satie).
Since Samson creates instrumental music, he included short self-penned poems inside the CD package (and available at his website) to offer listeners some of the meaning and inspiration for each piece. He explains the title tune by saying, "Our world is full of paradox and contradiction, of opposing forces, ideas, thoughts and realities. But those same paradoxes make the world beautiful because they exist in balance. Without it, the world would have no form and our lives no meaning."
For "Beyond My Question," he writes, "Some truths lie not in the answers, but in the questions themselves. It is the search itself that defines us." Samson goes on to say, "Life is really just about making connections. Our lives intersect, join with and reflect onto others. The motion of our lives influences all around us. We are kinetic. We are connected" ("Where Ocean Meets Sky"). "Our lives are part of a great history, a story that connects each and every one of us in common brotherhood and experience that stretches back to the dawn of mankind," he explains in regards to the composition "Of Times Long Past." Other pieces on this recording include "In the Music Box" ("Some moments seem to be frozen in time"), "After the Rain" ("I felt a sense of renewal") and the seven-minute-plus "Words Left Unspoken" ("Some things we just know").
Samson continues the philosophical musing when discussing "When Light Dances" by making the observation: "There is a rhythm that surrounds us. It is there in the simplest of things -- when light shines through water or reflects on newly-fallen snow; when the rain falls or thunder crashes down; when the wind blows and the trees sway; with each step you take and with the beating of your heart; in the ways we look at one another. In every nod, smile and kiss there is a beautiful rhythm to be heard, seen and felt."
Although Michael Samson has concentrated on solo piano performances on his first two albums, interestingly enough he began his musical studies playing viola and was in school orchestras from elementary through high school while growing up on New York's Long Island. However, at age ten he began playing piano "by ear." Two years later he embarked on formal piano lessons and in just a year or two he was learning advanced pieces such as Debussy's "Arabesque No. 1" and Beethoven's "Piano Sonata No. 8 (Sonata Pathetique)." At a state-wide music competition, he performed the latter piece from memory without sheet music which impressed the judges and earned him an extremely high score. Samson wrote his first song, "Walkabout," and put together a rock band (Michael on piano with three singers, two guitars, bass and drums) which performed in public several times including a concert at school. His teenage years also included singing in the school choir as well as a selective Chamber Singer group. Outside of school he was part of the vocal jazz act Voco-Loco, which sang a cappella.
Samson attended the University of Maryland at College Park for several years. Based on a musical audition tape, he was asked to participate in the prestigious "College Park Scholars Program" for talented students and he graduated from that program after two years with an Arts Citation. He went on to study at HOFSTRA University where he earned a BA Degree in Fine Arts with a specialization in Graphic Design. He took honors courses in art and music at college, but he also spent most of his free time in the dorm basement practicing on a Steinway acoustic grand piano or teaching himself computer skills and web design. During college Michael began improvising on piano and turned some of the melodies into polished compositions. He recorded six of them and put out a mini-CD that he sold on campus.
After graduation Samson continued to write new solo piano material while pursuing a successful career in web development and graphic design. His first official, full-length recording, Until Tomorrow Comes, contains all of the best songs he wrote from 1997 to 2005 presented in the order he wrote them. "When you listen to my first CD, you hear a chronicle of my personal story during those years told through the emotions embodied in the music, and you also hear the progression of my songwriting."
The material for A Still Motion was written from 2005 through 2008. "It was very important to me that my second album didn't repeat ideas I had used in the first album. I am constantly pushing myself to improve my playing techniques, my melodic structures, my compositional form and the overall complexity of my musical presentation. I wanted this album to embody more ideas of nuance and juxtaposition."
In 2009 Samson decided to pursue his music career fulltime, launched his inventive and far-ranging personal website, began actively marketing his music to the public and started offering all of his compositions as sheet music (available at his site). Great care was taken with every aspect of Samson's artistic presentation including the sound of the recordings, the photography and the CD packaging (from the graphic design to the paper and printing).
"In beautiful things there is a truth to be found, and the experience is unique for each person," Samson states. "For me, it was in music that I discovered a deeper meaning. Music speaks to me. It makes a connection, both profound and intimate. In music I have found joy and rapture. I have felt my spirit lifted beyond the expression of words. In these deeply personal moments I have found truth -- a truth that can only be found in beauty. I try to pass along that feeling of truth through my music."
© 2009 EMOL.org Music Entertainment Magazine. All rights reserved.