Interview with SuperJoint Ritual
Story and photos by Tracie Reed
Entertainment Magazine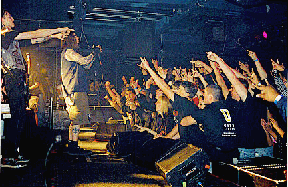 SuperJoint Ritual is a really heavy, thrashing, metal band that showed their fans a great time by their music and letting their fans get up on stage and jumping into the crowd on Dec. 19, 2003 at the City Limits in Tucson, AZ.
I must say it looked painful from where I was standing. It was so packed and the fans were literally pushed right up against the stage. But the fans reaction was a keep rockin and give me more attitude. Fans reached out for the touch of their favorite musician and they got the touch back. After the concert I heard fans say "that was so awsome!"
The band members are Philup Anselmo on guitar and vocals; Jimmy Bower on guitar; Joe Fazzio on drums; Hank III on bass; and Kevin Bond on guitar.
I interviewed Jimmy Bower. Here's what he had to say. I hope you enjoy!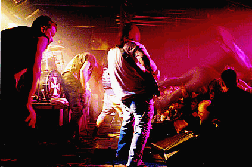 TR- What does it feel like when you play in front of thousands of fans, thousands of people?
JB- It feels killer! You don't really concintrate on the people. It depends on what band your with. If your with a band that your completly comfortable with and you can enjoy it and look around and have fun with them. But if your in a band that kind of challenges you. Then you have to like pretty much like doing that. That's how it is for me with SuperJoint cause it's challenging on guitar for me.
TR- Did you teach yourself guitar?
JB- Yeah!
TR- How long have you been doing that?
JB- Since I was 18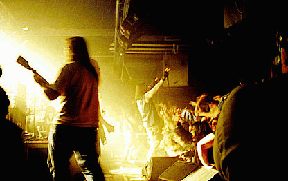 TR- How old are you now?
JB- 35
TR- Do you know all the ages in the band?
JB- Everybody's in their thirties.
TR- Not bad! So am I!
JB- Yeah! Thirties are beautiful!
TR- How did you guys come up with the name of the band?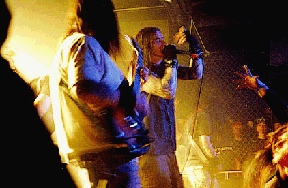 JB- It actually comes form a Dark Throne song. But the name kind of. In the beginning the band wasn't really about weed or anything. It was just about trying anything. I remember when we had the name SuperJoint then Ritual, then what were we going to call it? Phil SuperJoint Ritual! There was just a bunch of names that we were going to go through. Then just SuperJoint Ritual seemed good because we all smoked so much pot. That's not what it started out to be. But it just kind of turned into the whole like you know. We do all definitely do smoke weed together before we play everynight. We have that ten minutes alone everynight on the bus. I guess that's where the kind of the name comes from. But it really came from a Dark Throne song.
TR- How did you guys end up with Philup or did he find you guys?
JB- I've known Philup before he was in Pantara and when he was living in New Orleans playing in a different band. And I remember when he moved out there. And I moved to Atlanta with my mother in 1991 after I used to play in this band I still play in this band called I hate god. We did our first record and I moved to Atlanta. I used to call Phil and me and him would talk on the phone (Dude I miss New Orleans!) (Me Too!) He was really into the. We were both really getting into like Black Flag and Melvins and stuff like that and we were like ( Man let's play guitar together. It would be much fun!) And that's where it all started out to be. And when Phil moved back home I brought our drummer Joe Fazzio with me to help him unload his truck at his house and that's where Joe came in. Me and Joe were jammin and me and Phil had the want to jam. So that's kind of how it came together around 1993. So it's been together for a long time. We just never had the time to do anything with it. Everybody was always busy with their other projects.
TR- So it was right timing?
JB- Yeah! Well, we made timing. We stamped our foot down and said we're doing this band. So and I think it's a real heavy band and it's heavy from the old school. Which I think metal needs right now. I'm not saying that new kids need a crash course in Bruce Dickenson again. But they do! It's like metal wasn't Yo! Yo! What's up!
TR- Right!
JB- That's not metal! It's gay! It's not gay! It's gay to put it in metal.