Original Members of THE TIME Reunite for 1st Concert In 20 Years at the Flamingo
Jimmy Jam, Terry Lewis, Morris Day, Jesse Johnson, Jerome Benton, Jelly Bean Johnson & Monte Moir Will Put The Fun Back In The 'Funk' In Las Vegas!!!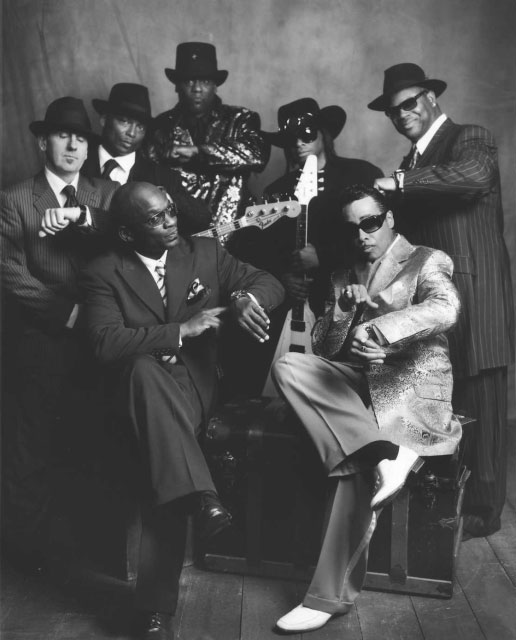 The original members of the legendary, genre-busting funksters THE TIME will reunite beginning with a series of shows at Flamingo Las Vegas beginning June 24, 2008.
It will be the first time in 20 years that the original members, the outrageous Morris Day, master producers Jimmy Jam & Terry Lewis, dazzling guitarist/songwriter Jesse Johnson and 'the fellas,' Jerome Benton, Jelly Bean Johnson & Monte Moir have performed in concert.
The band began rehearsals in Los Angeles this week. Said Day, "We don't know what the show will be yet. It's just like the beginning of sex. You know what the goal is, but you don't know what the path is to get there."
The Time's unique blend of outrageous, swaggering fun combined with some of the wittiest lyrics and most sizzling dance/ R&B grooves in music received worldwide critical acclaim in the 1980s.
They released four groundbreaking albums, THE TIME, WHAT TIME IS IT?, ICE CREAM CASTLE, and after a ten-year hiatus, the acclaimed, platinum-selling PANDEMONIUM.
After several years of discussing a reunion, it was the camaraderie they experienced during rehearsals for their show-stopping performance at this year's Grammys that motivated them to 'get their act together.'
"After the first chord, it all comes back, the feeling of why you started doing this in the first place," said Johnson who wrote several of the band's biggest hits, including "Jungle Love" and "The Bird."
"I never planned on playing again, since I had already been in the best band," said Jam, who along with partner Terry Lewis is one of the most successful record producers of the last 25 years. "It's only MY band that could get me back on stage. It's a great hang. I don't have to think about what everyone else is doing. I just have to get my part right and enjoy myself."
The Time's limited engagement is June 24-July 5, July 29-August 2. Showtime is 7:30pm, Tuesday - Saturday. Tickets are at the Flamingo Box Office or go online at http://www.flamingolasvegas.com/
Source: THE TIME
LAS VEGAS, June 4, 2008/PRNewswire/ --
© 2008 EMOL.org Music Entertainment Magazine. All rights reserved.
Music Entertainment Magazine
Napster
Free trial period. Napster Subscription ($9.95/month) offers access to over 5 million songs with unlimited downloads, and Napster To Go ($14.95/month) let's Napster Subscribers transfer unlimited songs to their compatible MP3 player.
Napster.de: Music-Flatrate 7 Tage kostenlos testen!