Montgomery Gentry
MONTGOMERY GENTRY TO APPEAR ON JERRY LEWIS MDA TELETHON
(Nashville, TN) - Country music duo MONTGOMERY GENTRY will lend their support to assist in eradicating muscular dystrophy by performing on legendary comedian Jerry Lewis' annual MDA Telethon live from Las Vegas on Sunday, September 2nd, 2007.
First broadcast over Labor Day weekend in 1966 by just one TV station in New York City, the unique event quickly caught the public's attention and raised more than $1 million. Now the show will be broadcast on "190 MDA Love Network" stations across the country.
For more information or to find your local station, please visit www.mdausa.org/telethon.
Montgomery Gentry is currently touring throughout the country and promoting their latest album, Some People Change. Their latest single, "What Do Ya Think About That" is currently climbing the country music charts.
Duo celebrates success of SOME PEOPLE CHANGE with national appearances on The Morning Show w/ Mike & Juliet, Hannity & Colmes, and taping of Bloomberg TV's Night Talk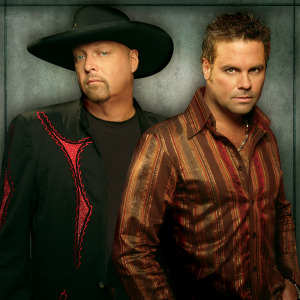 NASHVILLE, TN - Country duo MONTGOMERY GENTRY gears up for national television, Farm Aid 2007, and CMA nominations!!! Surrounding the success of their current album Some People Change, and their two-week #1 hit Lucky Man, Montgomery Gentry will be performing on The Morning Show w/ Mike & Juliet, which is nationally syndicated, on Thursday, August 16th.
The Morning Show w/ Mike & Juliet features a unique mix of celebrity interviews, audience participation, and engaging segments about topics relating to viewers' lives.
Montgomery Gentry will also make an appearance on Fox News Channel's Hannity & Colmes that evening to continue the promotion of the Hannity Freedom Concerts, which will end on September 11th in New Jersey.
Watch for the dynamic duo to perform at Farm Aid 2007 on September 10th in New York.
MONTGOMERY GENTRY TO AID WILLIE NELSON IN FARM AID 2007
(Nashville, TN)- Country music duo MONTGOMERY GENTRY will join the legendary Willie Nelson in Farm Aid 2007 which will be held for the first time in New York on September 9th at Randall's Island.
Montgomery Gentry is the only other country act announced thus far on this star-studded lineup for the day-long festival.
The show will promote food from family farmers and raise funds for Farm Aid's work throughout the year to strengthen family farm agriculture.
"Thanks to a warm welcome from Mayor Bloomberg and New Yorkers, Farm Aid is bringing their annual concert to New York for the first time in 22 years," said Carolyn Mugar, Farm Aid's executive director.
"With inspiring music from generous artists and a menu of family farm food, Randall's Island will be transformed into a music festival to be remembered."
"Farming was the way my family was raised. We were farming in the morning and playing music at night," said Eddie Montgomery. "I'm playing for my granddaddies and grandmamas who gave their blood, sweat and tears farming to put clothes on my back. People don't realize what lots of farmers have to go through to get food to the stores. I can't wait to do it."
"Sharing the stage with these legendary performers to help family farmers is an incredible honor," said Troy Gentry.
"We have always respected what Farm Aid accomplishes, but have never had to the chance to attend one. We believe family farmers help form the backbone of our nation."
Among the artists who will perform at Farm Aid 2007: A HOMEGROWN Festival are Willie Nelson, Neil Young, John Mellencamp, Tim Reynolds, who will join Dave Matthews, The Allman Brothers Band, Counting Crows, Matisyahu, Guster, The Derek Trucks Band, Warren Haynes, Supersuckers and The Ditty Bops.
Farm Aid artists and board members Willie Nelson, Neil Young, John Mellencamp and Dave Matthews host the annual concert to raise funds to support Farm Aid's work with family farmers and to inspire people to choose family-farmed food.
Since 1985, Farm Aid has raised over $30 million to support programs that help thrive, expand the reach of the Good Food Movement, take action to change the current system of industrial agriculture and promote food from family farms.
2007 EMOL.org Entertainment Magazine